2016 Acura RLX Sport Hybrid Test Drive – Fox News
Posted: Friday, August 21, 2015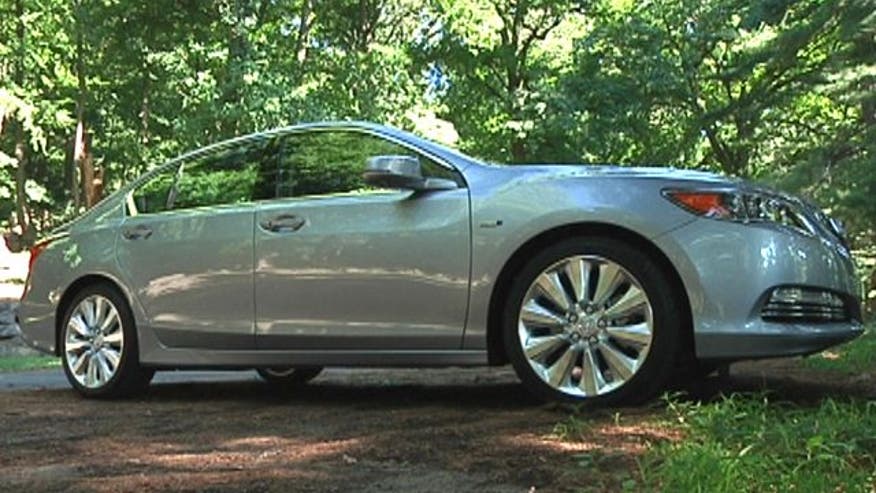 Bad news, supercar fans: The long-awaited reboot of the Acura NSX has been pushed off for a few more months. The 550 horsepower hybrid was supposed to start hitting the streets right around now, but after some last-minute engineering updates, its launch has been rescheduled for next spring.
But there's a bright side, because the delay just gives you more time to prepare yourself, and Acura may have just the thing to help.
Related: American designer injecting Acura's new supercar with red, white and blue blood
The 2016 RLX Sport Hybrid sedan doesn't appear to be much of a high-tech and high-performance machine, but it's similar to the NSX in many ways. Its powertrain features a 3.5-liter V6 and 7-speed dual-clutch automatic transmission, combined with an electric motor up front and a twin-electric-motor power unit between the rear wheels. It's essentially the same layout as the one in the mid-engine NSX just with different components, and in reverse.
The RLX's version is rated at a combined 377 hp and 30 mpg, an unbeatable hand among sedans without electric plugs. The $60,870 RLX's most direct competitors are the Infiniti Q70 Hybrid and BMW Active Hybrid 5, but neither of those has an all-wheel-drive system. The RLX's is its secret sauce.
Gently pull away from a stop and the rear electric motors do the pushing, relying only on battery power over short distances. Press a little harder on the accelerator and the engine starts and the front wheels kick in to help. As speeds rise, it transitions to a front-wheel-drive car driven primarily by the engine, tapping the electric motors whenever it needs a boost.
There's a little delay when it does, unless you leave it in Sport mode, which keeps the engine on at all times and offers instant response from all forms of propulsion. When you hit the accelerator, the RLX pulls like a rail gun, the electric motors filling any power gaps as the V6 works its way through the gears.
It makes that creamy Acura V6 sound as it does, with hardly a whine from the electric motors, which really get to work when you turn the steering wheel. Do that, and more power is fed to the outside rear wheel while the inside one adds resistance to help pivot the car around a curve. Other non-electrified cars, including many Acuras, use differentials and brakes to achieve the same effect, but only the RLX comes with a cash-back bonus. That's because as that inside wheel slows, it turns into a generator that recaptures a little bit of the energy being spent to drive the outside wheel.
Clear your mind of all that, and you'll find the RLX to be an unexpectedly quick, nimble and smooth dance partner, despite its size. This is a big car everywhere but the trunk, which loses a few cubic feet to the hybrid battery pack and will be challenged on airport pickups.
The interior is typical Acura chic, with excellent leathers, carpets and soft plastics throughout, but is a little short of pizazz at its price point. That price, by the way, is just $5,500 more than the non-hybrid RLX, which has just 310 hp and front-wheel-drive. That premium is definitely justified by the boost in performance and a 25 percent fuel economy gain.
Both models suffer from Acura/Honda's flat-seat-bottom syndrome, which my knees won't let slide. There isn't much side support for very spirited driving, either, but the car automatically tightens the seatbelts when it senses you're getting aggressive. Nevertheless, the RLX Sport Hybrid is pretty good at taking it easy, too.
Dawdling along, it's as quiet as a fully electric car inside, and the ride is very comfortable, thanks to shock absorbers that get progressively stiffer as they compress. This lets them make small bumps disappear while maintaining body control over humps and through curves. The only chinks in its plush armor are the stiff-sidewall low-rolling-resistance tires that don't play well with the sharp edges potholes present.
You can be on the lookout for them while the RLX handles most of the driving for you. An appropriately techy $6,000 Advance package, the only option, brings a suite of driver aids that'll avoid rear-end collisions, actively steer the car between the lines and play follow the leader with the vehicle in front of you in low-speed traffic jams, plus an "ultra-premium" 14-speaker Krell audio system to amuse your bored self.
Unfortunately, you can't do anything about the RLX's looks, which are crisp and clean but as anonymous as a hacker collective. This point was driven home when the car wash guy asked me if it was "the new Honda." Not the Accord, or Civic, or any particular model, just "the new Honda." This is no doubt a big part of the reason Acura only sold 1,413 RLXs – 147 of them hybrids – through July. Personally, I think they would've had more luck with an MDX Sport Hybrid crossover, which would probably be pretty great.
Then again, perhaps staying under the radar isn't such a bad thing. You'll want to keep your license clean for when that NSX finally gets here, right?
———-
2016 Acura RLX Sport Hybrid
Base price: $60,870
As tested: $66,870
Type: 5-passenger, 4-door sedan
Drive: 3.5-liter V6 and 3 electric motors
Power: 377 hp, 341 lb-ft torque
Transmission: 7-speed automatic and direct drive
MPG: 28 city/32 hwy
CommentsWrite a Reply or Comment: