2018 Honda Accord Review: First Drive – Cars.com News
Posted: Monday, October 02, 2017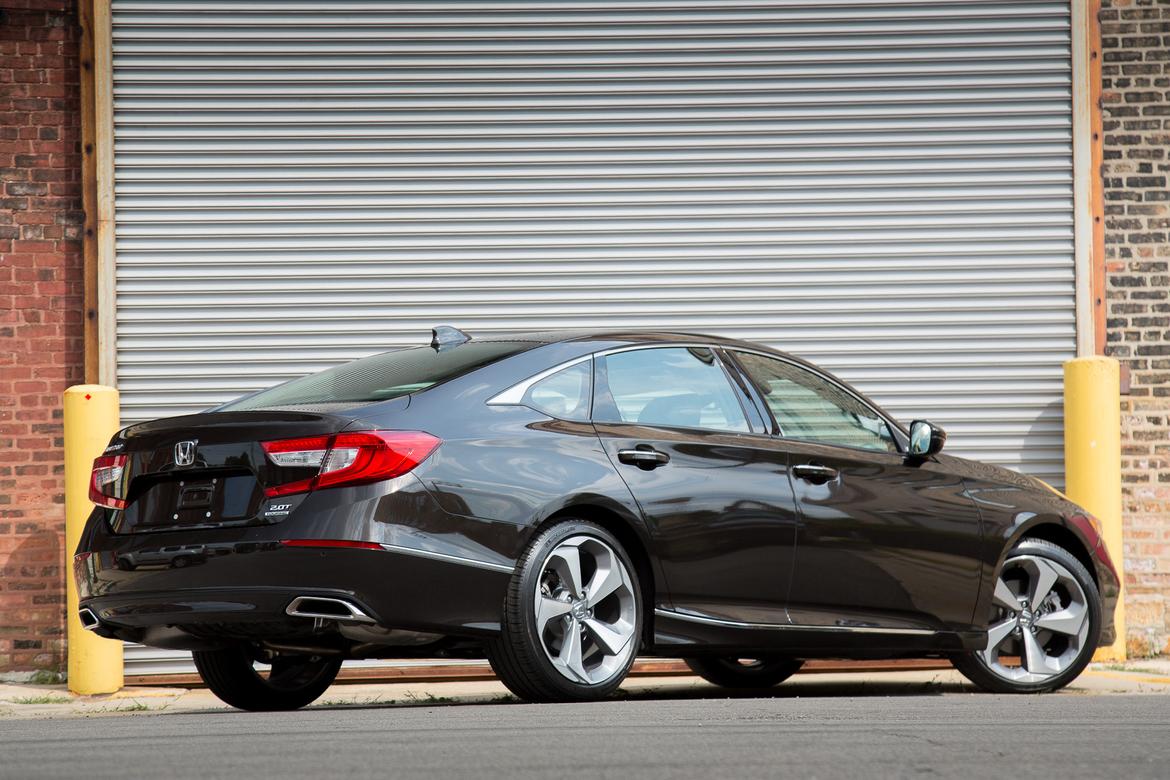 CARS.COM — The redesigned 2018 Honda Accord boasts impressive technology and drivability, and it's enough to overcome a few missteps — though the car's newfound sportiness could drive away as many shoppers as it attracts.
Related: 2018 Honda Accord Starts at $24,445
Now in its 10th generation, this Accord is lower and wider, with sunken seating positions and a more coupelike profile. It goes toe to toe with the solid 2018 Toyota Camry, and it gives compelling rivals like the Ford Fusion and Volkswagen Passat a run for their money when it goes on sale Oct. 18.
But the Accord isn't for everyone.
Honda's mid-size sedan comes in five trim levels — LX, Sport, EX, EX-L and Touring — with its base drivetrain, a turbocharged 1.5-liter four-cylinder (192 horsepower, 192 pounds-feet of torque) and continuously variable automatic transmission. Come late November, you can opt for a turbo 2.0-liter four-cylinder (252 hp, 273 pounds-feet of torque), which replaces 2017's optional V-6 engine, and 10-speed automatic on the Sport, EX-L and Touring. The Sport also offers a six-speed manual with either engine, which marks the first time in a decade you can get a stick shift with the top engine on an Accord sedan. Honda hopes that will satisfy those who mourn the deep-sixed Accord coupe.
At a Honda media preview in New Hampshire, I drove automatic and manual pairings with both engines. (Per company policy, Cars.com pays for its airfare and lodging to such events.) I've also driven the new Camry and every major Accord competitor.
How It Drives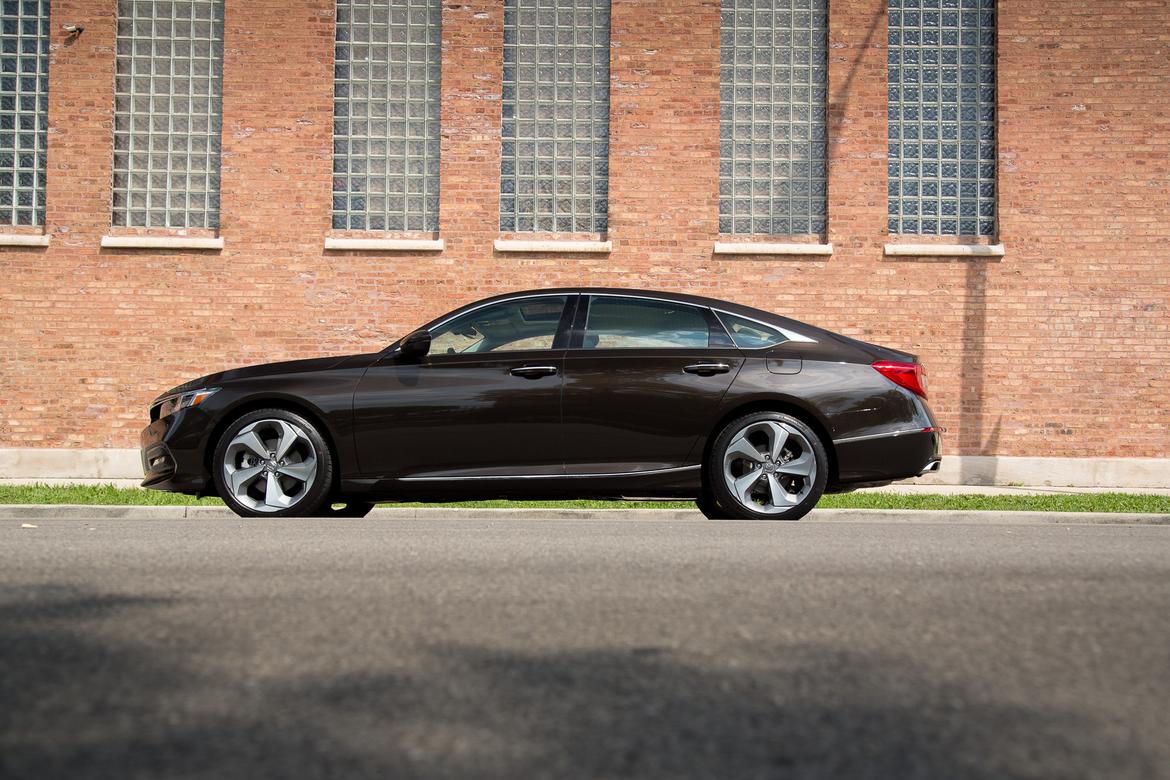 The turbo 1.5-liter four-cylinder has more than adequate oomph for a base engine, with enough on tap for sustained uphill climbs on twisting mountain roads. The automatic transmission has some telltale nonlinearity starting out, which is common of CVTs, but it fakes a nice kickdown sensation when you call for more power at cruising speed. The optional turbo 2.0-liter, which Honda hopes will account for a fifth of all Accord sales, is palpably quicker off the line. Stand on the gas, and it launches with a degree of fierceness reminiscent of the Chevrolet Malibu's excellent turbo 2.0-liter. The Camry's big V-6 feels quicker if you rev it all the way out — the Toyota thunders ahead while the Accord plateaus a bit — but Honda's 2.0-liter turbo brings snappy punchiness that's entertaining in its own right.
Row your own gears, and the 1.5- and 2.0-liter engines feel more similar to each other. The six-speed manual has a high clutch take-up and medium throws but swift accelerator response, which makes for easy rev-matching. Aside from some noticeable turbo lag with the 1.5-liter, both engines bear similar power characteristics, with torque that comes early and stays late. The 2.0-liter just has notably more of it.
The Accord Sport has a sport-tuned suspension with fixed-firmness shock absorbers, while the Accord Touring has regular suspension tuning with adaptive shocks and adjustable firmness. I drove both, and ride quality is firm either way given that 19-inch wheels and low-profile P235/40R19 tires accompany both trim levels regardless of engine. The adaptive shocks add a degree of control that evokes a pricier car, and even the Accord Sport stops short of the prior Accord's deliberate choppiness. The adaptive shocks change firmness in Sport mode, but I didn't observe a huge difference between the modes. Both setups are busy nonetheless. If isolation and comfort is all you want, look elsewhere in this class or consider the other trim levels, which pair a third suspension setup (regular, non-sport tuning and fixed-firmness shocks) with 17-inch wheels and higher-profile tires. Honda didn't have any such trims to evaluate at my drive event.
Handling recalls the well-mannered Honda Civic, with quick-ratio steering and limited body roll. Flick the wheel a few degrees, and the noise repoints immediately. Nose-heavy understeer comes steadily if you push the car hard — an area the Camry (yes, really) and Ford Fusion have an edge — but the Accord's dynamics are far from a liability.
Outside and In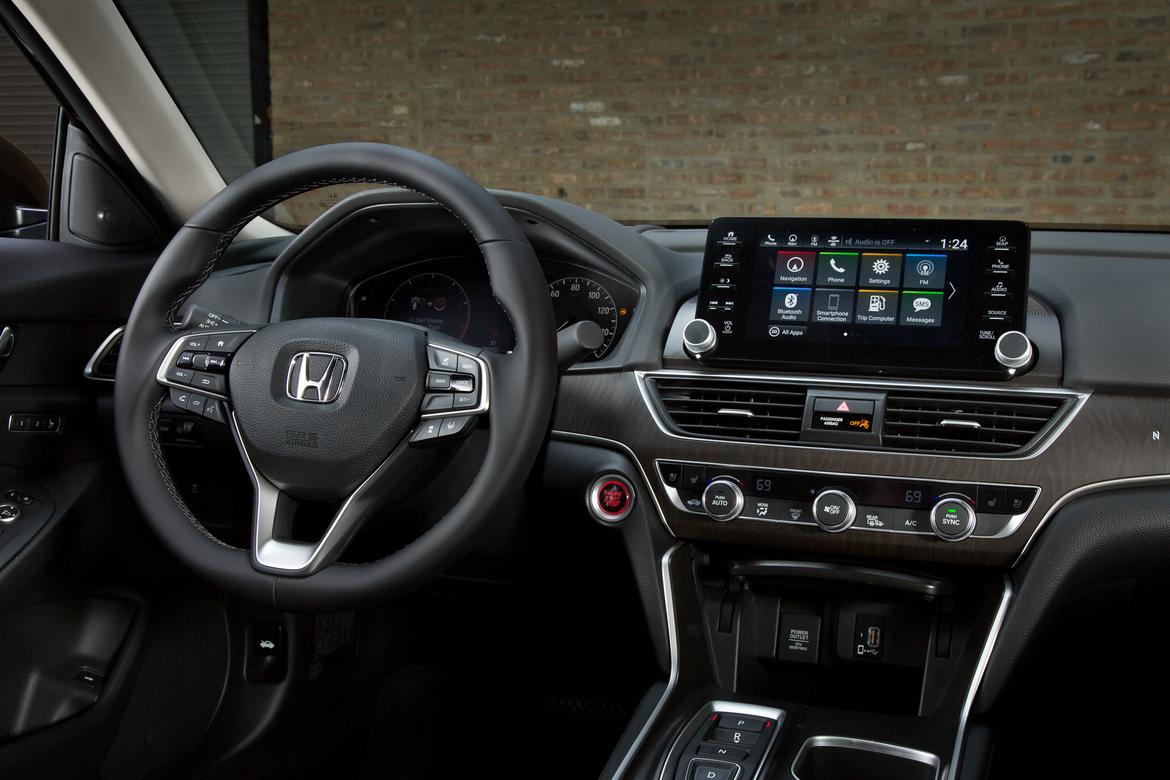 No longer an Acura lookalike, the Accord charts its own styling territory with a plunging grille and C-shaped taillights. Slightly lower and wider than the prior sedan, it bears a coupelike profile and cab-rearward glass. The A-pillars sit some 4 inches back versus the old Accord, and the roofline settles into a continuous descent toward the trunk that's reminiscent of the Civic sedan.
It's all part of a hunkered-down stance that translates into a slightly lower seating position for both rows. Some may not like the driving position, which feels distinctly lower than many rivals — the Camry in particular — even when you raise the driver's seat. The passenger gets no such provision; the Accord is overdue for a passenger height adjustment. The same situation goes for the backseat, which has abundant legroom but sits low to the floor. Adult passengers may find their knees uncomfortably elevated — a characteristic common in this class, though higher-seating sedans like the Fusion avoid it.
The Accord's dashboard is simple and low-set, with a tabletlike multimedia system and prominent knobs for the climate and stereo controls. Speaking of which, sanity has prevailed at Honda: The Accord gets physical stereo buttons plus volume and tuning knobs instead of the aggravating touch-sensitive controls on many versions of the old car. The touchscreen itself (a 7-inch unit on LX models or an 8-incher with Apple CarPlay and Android Auto everywhere else) has intuitive menus and quick response, with tiled apps on the home screen that you can customize as on a smartphone. Honda needs to spread this across its other cars pronto.
The opposite is true for the 10-speed automatic transmission's push-button gear selector, which — like in other Hondas with this gear selector — is needlessly complicated and doesn't save any console room, a purported advantage of electronic shifters. In 1.5-liter cars, at least, the CVT has an ordinary mechanical shifter.
Cabin quality takes two steps forward and one step back. Soft-touch materials cover the upper doors and armrests up front, and stitched padding girds the center console on higher trim levels. Many controls have elegant two-tone detailing, and none felt rickety in my preproduction test cars. But ribbons of cheap, shiny plastic span mid-level areas on the doors and dash, and the rear doors revert to cheaper materials — an area where many competitors and the prior Accord maintain better consistency.
Value and Pricing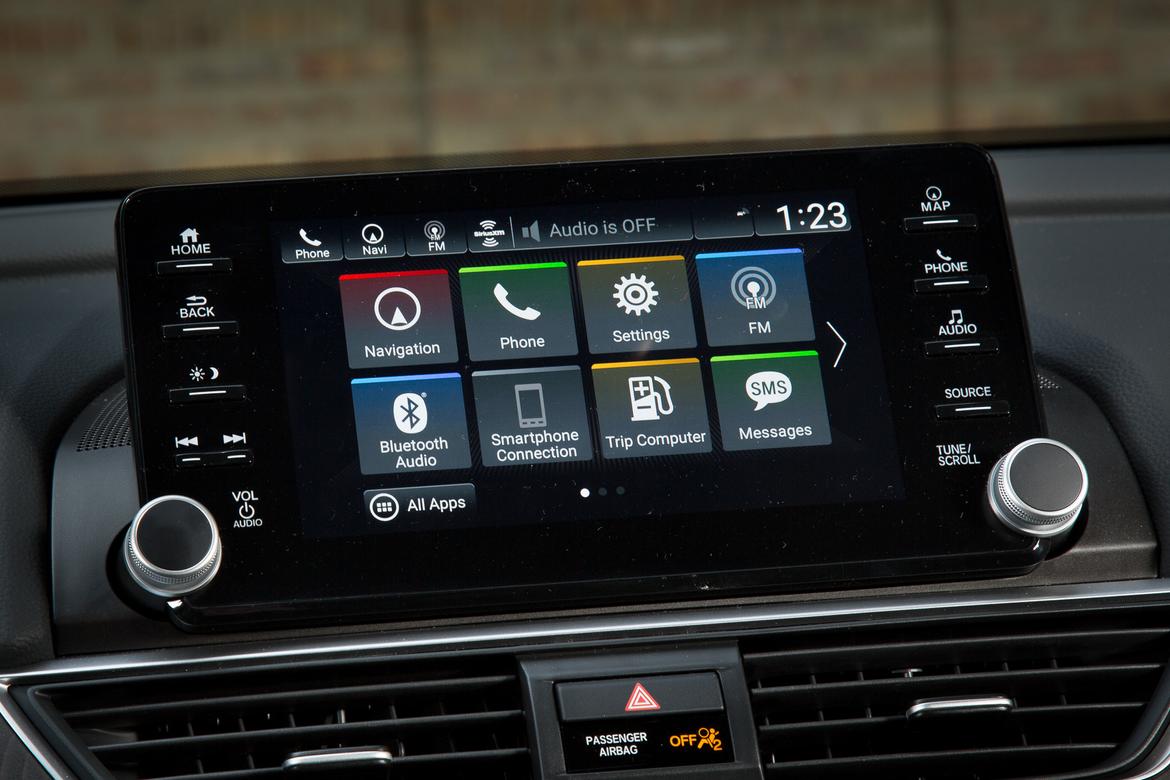 Impressively, standard features include full-speed adaptive cruise control, forward collision warning with automatic emergency braking and true lane-centering steering, not just the gradual assist that pinballs you off lane markings. Pricing starts around $24,500 for a 1.5-liter LX — competitive with rivals that have standard auto braking — and tops out at nearly $37,000 for a 2.0-liter Touring with the full slate of factory options. (An Accord Hybrid is coming in early 2018, but complete details are still pending.)
Climb the trim levels and you can get power front seats with heating and ventilation, heated rear seats, wireless smartphone charging, leather upholstery and in-car Wi-Fi with over-the-air system updates. All of that should bring plenty of shoppers despite a tough environment for mid-size sedans. Nearly one in six new cars sold five years ago was a family sedan, per Automotive News. Today, the group accounts for about one of every 9.5 sales.
Still, one thing is common between those two eras: the dominance of Camry and Accord, sales leaders for both periods. On back-to-back driving loops, the new Accord fights its rival to a draw. Honda's redesign is far from the best at everything — indeed, some shoppers may find it aggravating on several counts — but its qualities demand a hard look from all family-sedan shoppers. Plenty of them will end up choosing the Accord, and that should cement Honda's sales popularity for years to come.
CommentsWrite a Reply or Comment: