Aston Martin has criticised the leave campaign's failure to plan for Brexit and called on politicians to clarify Britain's future relationship with the EU after last week's referendum.
The luxury carmaker had remained neutral before the referendum and did not advise its employees how to vote, unlike BMW, the owner of Rolls-Royce, which told UK workers a vote to leave could affect trade and job numbers.
But Mark Wilson, Aston Martin's finance director, said a continuation of current tariff-free trading between Britain and the EU would have been ideal and that politicians should seek a deal as close to that as possible.
With uncertainty over the timing of withdrawal and the UK's future trading relationship with the EU, Wilson called on politicians to clarify the situation. The leave camp have said little about what kind of deal they will seek amid political drift after David Cameron's decision to resign.
"I hesitate to say this outcome was 50% likely," Wilson said. "What is a little disappointing to see is the lack of a plan on the side of the leave campaign. I would have hoped to see a bit more joined-up thinking but we are where we are. We can't do anything about the fact the political class were ill-prepared.
"There is a lot of confusion and we have EU people who want us to go and to press the button very quickly and most of the government who are slow-walking and saying: 'We want to think about this.' Until the political class says what they are going to do it's hard to work out the direction of travel.
"The quick answer isn't necessarily the best answer but we want to see people moving towards defining how they are going to do this. Let's not waste time spinning our wheels."
Announcing its annual results, Aston Martin said its expansion plans remained in place, including building a new factory at St Athan in south Wales that would create up to 750 jobs to make the new DBX crossover model.
The 103-year-old company, whose cars have been driven by various incarnations of James Bond, now hand-builds its cars at a factory in Gaydon, Warwickshire, and employs about 1,900 people.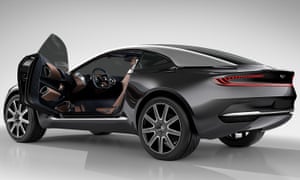 Wilson said with a strong order book and most of its sales outside the EU, Aston Martin's short-term prospects would not be damaged by the vote.
He said Aston Martin could benefit from the market reaction to Brexit because most of the company's sales were in dollars. About 80% of its sales are in the US, Asia and other markets outside Europe.
"For us, perversely, a weak pound is a good thing. There is a level of insulation in terms of that [currency] volatility. We have got over 2,000 orders in the bank which is substantially in excess of what we expected."
Wilson said introducing tariffs between the UK and the EU would be bad for all carmakers. "BMW, Mercedes and Audi all have a significant market presence in the UK and it would hurt them proportionately more than businesses like ours."
The company sold 3,615 cars last year, down from 3,661 in 2014. Wilson said the fall was small and that the launch of its £155,000 DB11 model had created strong demand this year.
Aston Martin's operating loss widened to £58.3m in 2015, from £18.4m the year before, as revenue rose 8.9% to £510.2m. Wilson attributed the wider loss to £161m of investment spending, up 40%, and one-off charges of £30.2m as he wrote off the value of old products in his first year in charge of finances.
EEF, the manufacturing trade lobby, on Monday called on the government not to leave companies in limbo but to set out a plan to maintain tariff-free access to the EU's single market.