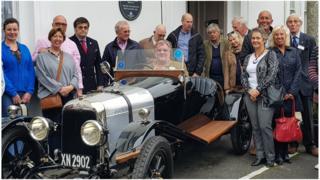 A plaque has been unveiled to the founder of the luxury carmaker Aston Martin.
Lionel Martin, who co-founded the marque in 1913, was born at Nansladron House in Pentewan, Cornwall on 15 March 1878.
The plaque was unveiled there amid a gathering of Aston Martins old and new.
They included an A3 from 1921, which was the third Aston Martin built and the oldest one still existing, as well as a new DB11.
Martin, whose family wealth came from the china clay industry, co-founded Aston Martin with business partner Robert Bamford.
Aston Martins have been the car of choice for James Bond and have had success on the racetrack since the company's early days.
Rob Smith, chairman of the Aston Martin Heritage Trust which organised the plaque unveiling, said that Martin's wealth allowed him to "squander a lot of money on playing with cars".
"But if Lionel Martin hadn't started the ball rolling 104 years ago we wouldn't have one of world's favourite cars," he added.
"I have been an enthusiast since I was a small boy to so celebrate the founder is very significant."
The plaque where Martin lived was unveiled by David Richards, chairman of Prodrive which runs the Aston Martin racing team.