Audi Announces The New A8, Featuring Nvidia Tech – Seeking Alpha
Posted: Saturday, July 15, 2017
Rethink Technology business briefs for July 14, 2017.
Audi claims the A8 is the first production automobile developed for autonomous driving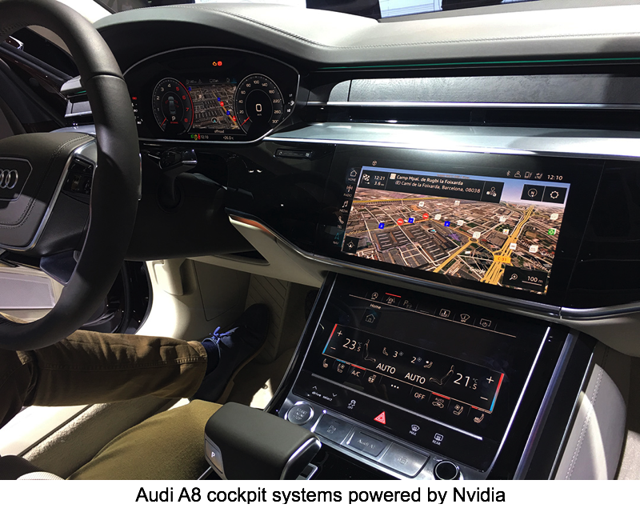 Source: Nvidia
Audi (OTCPK:AUDVF) unveiled the 2018 flagship A8 at the Audi Summit in Barcelona, Spain. In its press release, Audi claims:
The new A8 is the first production automobile to have been developed specially for highly automated driving. The Audi AI traffic jam pilot takes charge of driving in slow-moving traffic at up to 60 km/h (37.3 mph) on freeways and highways where a physical barrier separates the two carriageways. The system is activated using the AI button on the center console.

The traffic jam pilot manages starting, accelerating, steering and braking. The driver no longer needs to monitor the car permanently. They can take their hands off the steering wheel permanently and, depending on the national laws, focus on a different activity that is supported by the car, such as watching the on-board TV. As soon as the system reaches its limits, it calls on the driver to take back control of the task of driving.
Nvidia (NVDA), in its press release, emphasized the various ways that Nvidia tech is used in the new car. Nvidia chips are in the central computer that manages autonomous vehicle functions, as well as in the new virtual cockpit and infotainment systems.
Nvidia went even further than Audi in claiming that the A8 is the "world's first Level 3 autonomous driving car to go into production". It's possible that Tesla (TSLA) might take issue with this. After checking the SAE official definition of autonomous driving levels, I think it could be argued that Tesla's Enhanced Autopilot is already Level 3, even though it's still a work in progress.
But I wouldn't want to argue over definitions. The Audi system can drive the car in slow moving traffic up to 37 mph. Audi is confident enough in the system that it claims the driver can use the on-board infotainment systems, but only those, so that the driver can be alerted to take over the car if needed.
Why the A8 doesn't use Nvidia's Drive PX
The A8's autonomous driving system uses a custom Audi developed processor called zFAS. ZFAS was the result of a collaboration between Audi, Mobileye (NYSE:MBLY), Nvidia, and Delphi (NYSE:DLPH) and was announced in March 2015. ZFAS features the Mobileye's EyeQ3 processor and the "new" (at the time) Tegra K1 from Nvidia.
At the time of the announcement, Audi already was able to show prototype hardware, as shown below.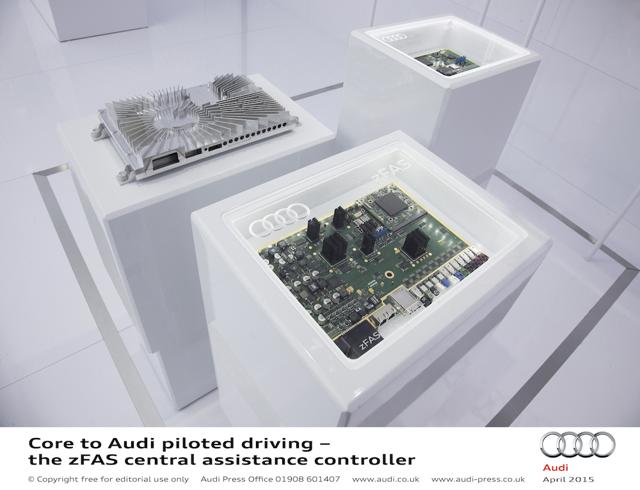 This indicates that the zFAS team had probably been working on the design for about a year. In other words, work for Audi's first autonomous vehicle system began in 2014, and Nvidia was involved.
This illustrates the point I keep trying to make about long lead times in the automotive industry, and how it affects hardware development. The design of zFAS reflects what was available at the time the effort started in 2014. The Tegra K1 (32 bit version) was introduced in 2014 Q2, while the 64 bit version was introduced in 2014 Q3.
Audi didn't use the Drive PX, because that wasn't available in 2014. In fact, based on the probable timeline of zFAS, Nvidia may well have gotten the idea for Drive PX from its work with Audi. The first Drive CX and PX systems would be introduced at CES in 2015.
Not too much should be made of the fact that this first Audi autonomous vehicle system uses Mobileye. So did Tesla's first system. Investors need to keep in mind that whatever we see this year from automakers is going to be several years old tech, except for Tesla, of course.
When Audi America President Scott Keogh joined Jen-Hsun Huang on stage at his CES 2017 keynote, they alluded to the fact that Audi and Nvidia had been in a years-long collaboration. Audi's continuing partnership with Nvidia doesn't obligate them to use the next generation Drive PX 3, but I doubt that Audi is holding its breath for what the Intel (INTC)/Mobileye partnership may develop.
Audi, like most other automakers, will commit to the technology that is the most mature, capable, and production ready for cars to be produced in the 2020 time frame, and that remains Drive PX 3.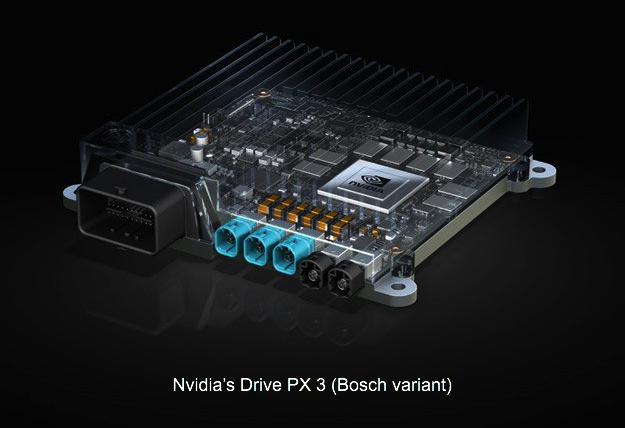 Source: Nvidia
Nvidia is part of the Rethink Technology portfolio and is a recommended buy.
Apple gives third-party app developers that depend on advertising a break
There are a large number of apps on the Apple (AAPL) iOS App Store that are free to download, but which contain in-app advertising. That advertising helps support the developer of the app and is important for small developers who might not be able to successfully market a for-pay app.
Lately, the popularity of ad blocking has led to apps that can block in-app advertising as well as web advertising. For developers who depend on that advertising, it's like someone creating an app specifically to choke off their revenue stream. It seems more than a little predatory.
Now Apple is moving to curtail ad-blocking apps, according to Mac Rumors. Apple has informed Future Mind, the developer of AdBlock, that its latest revision of the app has been rejected because it violates App Store guidelines. Specifically, AdBlock uses certain APIs related to app VPN and root certificate profiles to block the ads in other apps. Apple has decided that since this is contrary to the intended purpose of the APIs, this is now a no-no.
It now appears that only Safari content blockers (for which there are dedicated APIs) will be the only type of ad blockers allowed on the App Store. All the thousands of developers dependent on advertising can now breathe a sigh of relief.
Apple is part of the Rethink Technology portfolio and is a recommended buy.
Disclosure: I am/we are long NVDA, AAPL.
I wrote this article myself, and it expresses my own opinions. I am not receiving compensation for it (other than from Seeking Alpha). I have no business relationship with any company whose stock is mentioned in this article.
Editor's Note: This article discusses one or more securities that do not trade on a major U.S. exchange. Please be aware of the risks associated with these stocks.
CommentsWrite a Reply or Comment: