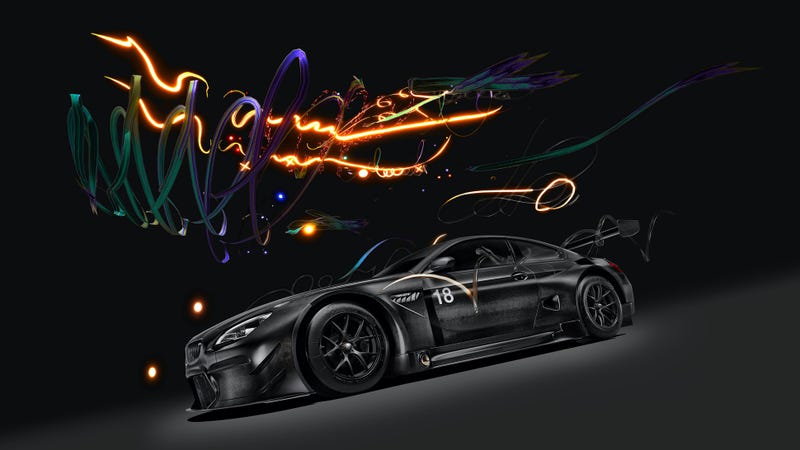 BMW somehow managed to one-up the artists who put images of the race car on the race car with an even wackier art project. The art on the 18th BMW art car—an M6 GT3 set to be driven by Augusto Farfus in the FIA GT World Cup in Macau this November—can only be viewed in an augmented reality app.
The car will look somewhat unfinished to the naked eye, wearing a carbon black livery that sort of looks like they forgot to wrap the car. However, to view the light painting work around the car and the video of a time traveling spiritual practitioner that really make it the Art Car, people will have to view the vehicle through the "BMW Art Car #18″ app.
In doing so, the art itself lives in a sort of digital parallel universe, which actually kind of rules. There's a higher than usual chance of it getting messed up on the tight, narrow Macau circuit, so this at least ensures the artwork will stay intact even if the car hits a wall and flips.
Art Car No. 18 is done by multimedia artist Cao Fei, who is the youngest artist and the first Chinese artist ever to create a BMW art car. Fei explained her work in BMW's announcement:
To me, light represents thoughts. As the speed of thoughts cannot be measured, the #18 Art Car questions the existence of the boundaries of the human mind. We are entering a new age, where the mind directly controls objects and where thoughts can be transferred, such as unmanned operations and artificial intelligence. Which attitudes and temperaments hold the key to opening the gateway to the new age?
Fei even did a "racing experience" with driver Cyndie Allemann ahead of doing this project to research the concept further.
BMW goes on to call it "a reflection on the speed of change in China, on tradition and future" which calls back to ancient traditions. The subject of her video does spiritual movements akin to those of a traditional blessing which echo in the patterns of light around the car. BMW explains:
This narrative reflects on a traditional spiritual ceremony very common throughout Asia in which new objects such as automobiles are being blessed, in this case wishing good luck to car and driver. On a broader level, the light elements mirror what the eyes cannot see and the mind cannot picture.
At this point, I feel like BMW is intentionally picking projects that will annoy goofballs who think art must be pretty, pleasing, and easy to "get" at all times. If so, it's a public service disguised as an über-pretentious marketing stunt. There is more to art than splashing a pretty design on something, so the idea of intentionally not putting the art physically on the Art Car amuses me greatly.