Escalating Competition As Electric Vehicles Aim To Become Mainstream – Seeking Alpha
Posted: Saturday, October 14, 2017
Government support, in conjunction with rising consumer interest in sustainability, is a positive for the overall growth of the EV (electronic vehicle) space. These trends are also likely to attract new entrants such as Dyson, which, in turn, will probably help the industry address price, range and other issues. However, we believe these new industry participants will have a competitive impact on incumbents such as GM (GM), Tesla (TSLA) and Nissan (OTCPK:NSANY), which have had first-mover advantage. At the same time, several automotive manufacturers are gearing up to develop EVs with sleek designs, potentially making inroads into the high-end EV consumer market.
The number of manufacturers developing or producing EVs is increasing, which is good news for consumers, but portends increased competition for incumbents. Volvo (OTCPK:VOLAF), Jaguar Land Rover and Mercedes-Benz intend to have all-electrified powertrains in their vehicles by 2019, 2020 and 2022, respectively. BMW (OTCPK:BMWYY) plans to have 25 EVs available by 2025.
Recently, U.K.-based Dyson, "a technology company with over 1,000 engineers worldwide," announced that it would develop an EV. Dyson hopes to have a car ready for launch by 2020. The company already has over 400 employees, including engineers, developing the vehicle and has earmarked an investment of about $2.35 billion.
Dyson is well-capitalized and has been involved in EV R&D since the 1990s. Dyson is also an innovator: The company introduced the first bagless vacuum cleaner in the early 1980s. Moreover, similar to Tesla, Dyson has also committed to developing new battery technologies and has indicated that it intends to invest roughly $1.3 billion in battery technology. In 2015, it acquired battery company Sakti3 for $90 million. Dyson will receive a grant of up to $21 million for R&D for battery technology. Since 1990, Dyson has invested billions into developing motors, batteries and other technologies. This does not guarantee that Dyson will be successful, but it does signal increased interest in the emerging EV space, in our opinion.
In the two decades since Toyota (NYSE:TM) introduced the Prius, the first mass-produced hybrid EV, in 1997, EVs have boosted the range per charge, recharging infrastructure has improved, and the cars themselves have become sleeker and more appealing. Even so, the consumer market for EVs remains in the early stages and can likely support increased competition. Globally, EV sales grew by about 60% in 2015 off a very low base, according to Bloomberg, although U.S. EV sales fell 6% "largely due to the known timing of upgraded 2016 models," according to Green Car Reports, and low fuel pump prices, according to IHS.
Nevertheless, at this early stage, EVs and hybrids comprise less than 1% of the total number of cars sold in the world. EV sales have been held back primarily by two factors: price and range anxiety. Until recently, EVs have been unaffordable for mass market adoption. The Chevy Bolt EV launched at the end of 2017 and was the first priced below $40,000. It has a range of 238 miles, which alleviates some of the range anxiety that consumers have had regarding EVs. The Bolt has garnered positive reviews. According to U.S. News & World Report, "the all-new 2017 Chevrolet Bolt rewrites the electric car playbook, providing over 230 miles of driving range per charge and oodles of high-tech convenience features its competitors don't offer. These benefits justify its price tag, which is higher than most rivals'."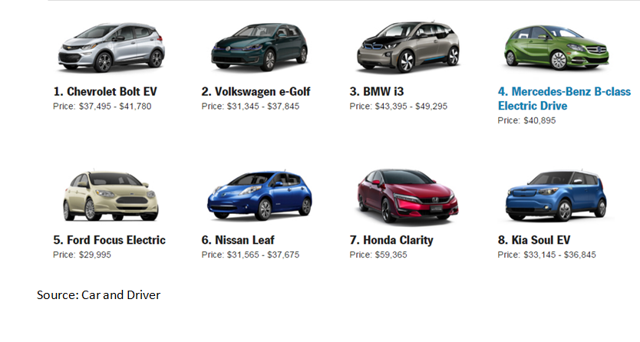 The Bolt, Tesla Model 3, which has a formal range of 220 miles, and the next-generation Leaf are expected to give drivers greater confidence in EVs, even though most drivers will probably not use the ~200-mile range often. Even so, because the mile capacity is available if needed, it will allay drivers' concerns about possibly getting stranded far from a recharging station. According to a 2013 study by the California Center for Sustainable Energy, 70% of potential drivers said they'd be satisfied with an EV that can drive 200 miles on a single charge. c|net concurs, noting that "the 2017 Chevrolet Bolt is an extraordinary EV built for ordinary people with class-leading range that nearly eliminates range anxiety and a price tag that most people should be able to afford."
Growing Government Support for EVs
According to Motor Trend magazine, "knowing its budget-friendly sticker price would have the Bolt seeing more EV converts than ever before, GM baked two distinct driving modes into the Bolt's one-speed transmission." Converting drivers of traditional cars to EVs is important, as several governments have stated a desire to phase out traditional automobiles. Many governments supporting a transition to EVs are expected to offer financial support and consumer incentives. "A number of countries around the world are looking to move away from fuel-burning automobiles. India, France, the U.K. and Norway all want to see the use of green vehicles grow," according to CNN. France, for example, hopes to ban gasoline and diesel cars by 2040.
The prices of the cars are declining and, at the same time, government incentives have also helped drive customer adoption in several markets, according to IHS Automotive. We would expect the increasing number of EV manufacturers and growing government support to drive greater consumer adoption.
Government initiatives have boosted EV sales in the past. For instance, Norway historically has led the global electric vehicle/plug-in hybrid vehicle (EV/PHEV) market. It continues to "lead in global PEV uptake" through Q1 2017, according to the IHS Automotive Plug-in Electric Vehicle Index. More than 25% of the cars sold in Oslo annually are electric, according to Wired magazine. There are no import taxes on EVs, which is a key incentive.
Upcoming EVs Targeting the High-End Niche
Electric cars, in general, have become more stylish and appealing. Road Show notes the following about the Bolt:
Most battery-powered machines feature interiors vastly compromised by the need to make room for big, bulky battery packs. Not here. The pack slots in beneath the front seats and runs beneath the rear, where it doubles up beneath the rear cushions. This does result in a higher seating position than in many cars of this sort, but it also provides a nice flat floor between the rear seats and crucially, a spacious trunk.
Yet, the Bolt and most other EVs or hybrids do not match Tesla's stylish design, which we believe is one reason why the Tesla Model S outsells competitors. According to Hybridcars, "with its 50,366 sales for the calendar year [2015], the luxury performance S model was the number-one best-selling PEV eclipsing the second-place Nissan Leaf, which accounted for about 43,000 global sales. The Model S is also the cumulative second-best seller with 107,148 sales since its mid-2012 launch — behind the Nissan Leaf which had a 1.5 year head start from Dec. 2010 and ahead of GM's Volt/Ampera also released Dec. 2010 and now credited with 106,000 sales."

Source: Tesla
GM's attempt at the luxury EV market failed with the Cadillac ELR, which disappointed and led the company to say that there will be no second-generation ELR. However, other high-end automotive manufacturers such as Mercedes and BMW are developing EVs that could compete in the high-end niche. At the Frankfurt motor show, Mercedes showcased several EV concepts that could eventually become part of a planned EV line. We also expect GM to improve upon its Cadillac ELR concept in the future.
What does this all mean for investors? For one, it probably means that competition in the compact, economy and high-end segments of the EV market will get steeper. We do not believe this potential trend poses that much risk to GM. First, GM shares trade roughly in line with competitor Ford (NYSE:F) on a price/revenue basis, with little seeming EV premium built in. Second, GM appears to have a strong lead in the compact/economy category of the EV market, but the Bolt is still only a small portion of its total sales. As that green category grows, we expect GM to participate. Moreover, as noted, we would also expect the company to learn from the mistakes of the Cadillac ELR, improve upon the concept, and have a viable product in the luxury category of the EV market.


For Tesla, however, we believe the risk is greater, as the vast majority of Tesla's business comes from this market, with some small contribution at this point from the energy market. However, Tesla is not an automotive company as much as it is a pure-play EV and technology company. TSLA shares also do not trade like those of a traditional automotive company, as illustrated in the table above. However, the premium on TSLA shares puts them at greater risk from the impact of escalating competition, in our view.
Disclosure: I/we have no positions in any stocks mentioned, and no plans to initiate any positions within the next 72 hours.
I wrote this article myself, and it expresses my own opinions. I am not receiving compensation for it (other than from Seeking Alpha). I have no business relationship with any company whose stock is mentioned in this article.
Editor's Note: This article discusses one or more securities that do not trade on a major U.S. exchange. Please be aware of the risks associated with these stocks.
CommentsWrite a Reply or Comment: