Sometimes the best improvements don't have to be flashy. Or even very noticeable.
For instance, when it comes to plastic surgery, the people with the best work are the ones you'd swear have never done it.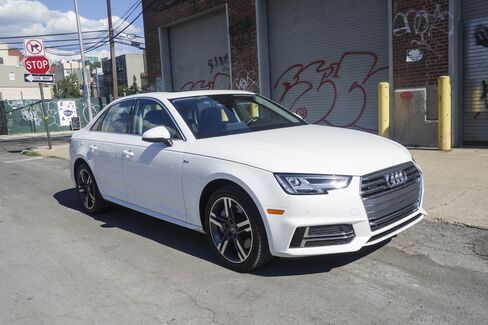 The same might be said for the 2017 Audi A4, the completely redone version of the entry-level luxury sedan Audi debuted in 1994. Even with a total overhaul, the car essentially looks and feels the same—only better.
This is the $37,300 car that you might consider against BMW's $33,150 3 Series and Mercedes's $38,950 C-Class. (The $34,900 Jaguar XE isn't quite on par yet.) With a roomier interior and improved entertainment and crash-avoidance technology, the new A4 more than meets the bar set by the two more-established brands.
In fact, for those looking to buy a premium sedan at this point, the choice among the three front-runners is a matter of style and driving personality, rather than straight performance. If you appreciate progressive technology, precise steering, and a firm, nuanced ride wrapped in a mildly boring exterior, the A4 is for you.
A Ride With Humble Finesse
Audi has dropped a four-cylinder turbocharged 252-horsepower engine in this car, set with a seven-speed, S tronic, dual-clutch transmission and electronic stability control. Do pay the $2,100 extra for the quattro AWD version; it adds some additional connection with the road. As the car rounds corners, you feel a firm grip that softens the edges you'd otherwise complain about when you got out.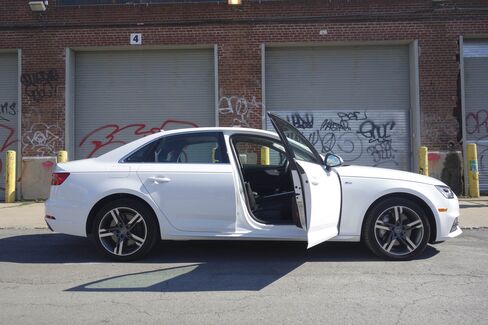 Top speed is 130 miles per hour. Zero to 60mph in the base version takes 6.1 seconds—slower than, say, the BMW 328i, which does it in 5.8, but a full second faster than the 320i. (The quattro AWD I drove does the sprint in 5.7 seconds; the excellent C300 Merc does it a hair slower.) So the A4 is right in the pack. You won't get near what the top-line Audi R8 can do, but you don't need to. The A4 does its job with humble pride, quietly and well, like the perfect bellhop at your favorite hotel. You don't need him to be flashy, you just want him to be happy, helpful, and there where you need him.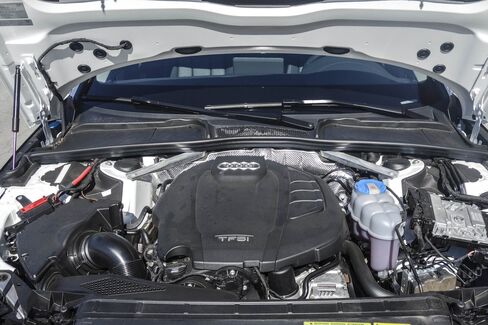 Underneath it all, Audi has given us firm, ventilated disc brakes that inspire confidence, electronic torque vectoring that complements your own driving style, and four drive modes that let you adjust settings for steering, engine, and a suspension rendered more even than in previous years. The A4 weighs 3,620 pounds in the quattro version, 67 pounds less than in the previous version, and the newfound slimness shows. Nothing is out of place: no wrinkles or unsightly rolls (speaking symbolically).
Fuel efficiency has been bumped from 25 miles per gallon to 27mpg in combined city and highway driving. (This is in the quattro AWD, comparing versions from 2016 and 2017.) This small improvement is due, in part, to that lightened body, but it's nonetheless a step forward.
Handsome Face, Bland Body
To that end, much of the new A4 looks exactly the same as the old one. If it's possible, this version may even be blander. The focal point of the car is the freshened grille with horizontal bars set like a silver ladder and shaped like a diamond solitaire at the front of the car. It's offset by the full LED xenon headlights that Audi perfected before everyone else caught up. They look very good.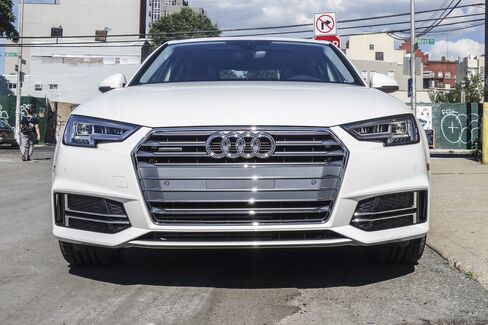 Otherwise, the car is as innocuous as a saltine. You'll need to get something—anything—to make it feel like yours. The $3,800 Premium Plus package will help. It includes such things as S-line exterior badging, 18-inch, five-spoke gray wheels, and aluminum, high-gloss trim around the windows.
Well-Done, Progressive Interior
There are, in fact, three trim levels, which max out at a $45,900 starting MSRP. The version of the A4 I drove cost $47,900, which included the midlevel Premium Plus package, a very good technology package ($3,250), and a cold-weather package ($500—useless in July but a boon come December, with heated rear seats and a heated, flat-bottom steering wheel).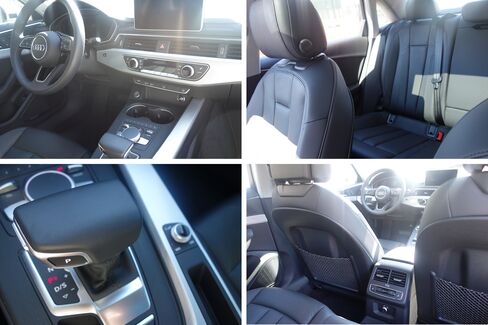 You'll love the interior layout and trappings. The car has an 8.5-inch control screen that shows everything—parking, heads-up, impending crashes—in a big dose of high-def reality. (A 12.3-inch virtual cockpit is available; full parking cameras and system come only with the top-tier Prestige level.) The digital instrument cluster behind the steering wheel is wide and easy to read while driving. The sunroof is standard, as is the rear parking camera. Bang & Olufsen sound is included at Premium Plus level.
Additional room for heads, shoulders, and legs adds several inches to the cabin, equal to buying your long legs a further hour of driving, if needed. That's enough to make you notice the difference between last year's car and this one. The trunk is the same size as in previous years—more than large enough for five adults to travel with overnight bags, at least.
Sound a little mundane? It is. But that's OK. This is what the pace of most auto advancement looks like. Incremental changes aren't as sexy as, say, gullwing doors or all-electric powertrains, but they do make for better driving and riding experiences day in and day out. With the 2017 A4, Audi is moving on the good side of progress.