New York auto show is all about technology – Fox News
Posted: Wednesday, April 16, 2014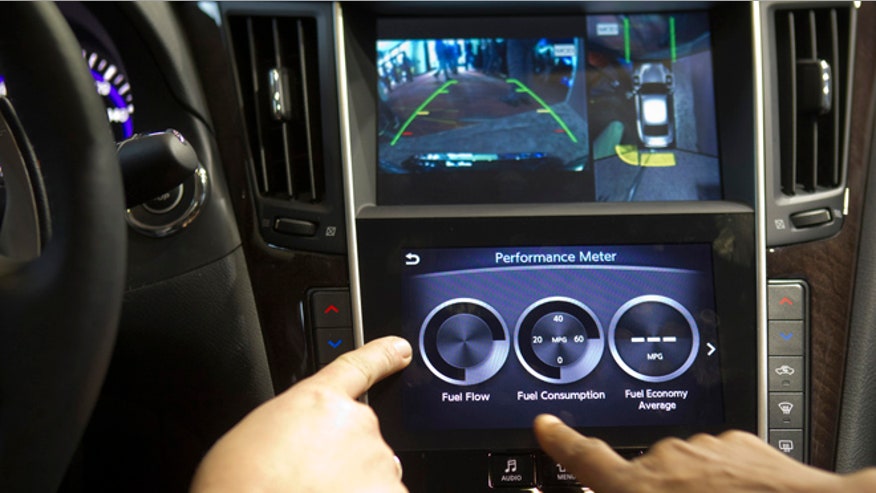 Auto shows are becoming more of a venue for companies to trot out new technology rather than more horsepower. 
The New York International Auto Show, which opens to the public this Friday, is a demonstration of how cars are now viewed as four-wheeled computers, touting new safety features but also introducing a level of complexity that concerns some engineers and has piqued some drivers.
While there are usual planned publicity stunts reminiscent of Harry Houdini, such as putting a spanking new 2015 Mustang on the observation deck of the Empire State Building, much of the focus at the auto show will be on new connected car systems and technologies. Safety advocates are already talking about two long-awaited initiatives, rear-view camera systems and vehicle-to-vehicle communications.
Rear visibility rules for cars was initiated in 2008, but the National Highway Transportation Safety Administration (NHTSA) flouted numerous deadlines, finally coming out with a mandate last month. As of May of 2018, all vehicles weighing less than 10,000 pounds will have to incorporate some technology to eliminate the blind spot behind vehicles.
Currently, backover accidents kill 210 people annually — often children related to the driver — and injure 15,000 annually, according to the NHTSA. The rule means rear view video cameras will no longer be optional. Indeed, Ford is making such cameras standard equipment on all 2015 Focus models coming this fall.
NHTSA also recently announced it would publish recommendations for implementing vehicle-to-vehicle (V2V) communications in U.S. cars. Rather than using cameras or radar, wireless V2V systems can warn drivers of approaching vehicles that are hidden in blind spots or stopped over the crest of a hill. Several automakers, such as Toyota, are keen to begin offering such systems, but federal rules for establishing dedicated wireless frequencies and standards are needed first.
These technologies promise significant safety advances, following in the footsteps of airbags and electronic stability control. However, they also introduce a level of complexity (hundreds of processors and sensors), leading some engineers to privately fret that the technologies must be introduced cautiously in order to avoid any missteps. Just one highly publicized false V2V warning that causes an accident could sour the driving public on the new technology, some say.
As an example of overly complex technological solutions, many drivers point to the dashboards of so-called connected cars. The new infotainment systems that connect to smartphones to deliver live information on traffic and messages from the Web can be convoluted with abstruse controls. 
There are no software standards in this area, so automakers continue to offer a wide variety of alternatives. Some use in-dash touch screens that connect to driver's smartphones to run apps like Pandora. Others rely on buttons and focus on car-centric options, such as remote start and vehicle tracking services.
Tech companies are slugging it out to cut deals with automakers and put their software into the dash. Apple is finally getting serious about automotive with its CarPlay app that will allow iPhone 5, 5c, and 5s owners to run a handful of music, messaging and navigation apps from behind the wheel. Volvo will be demonstrating a new touch-screen system that includes CarPlay at the show. 
Meanwhile, Ford is rumored to announce changes to its Sync system, switching from a Microsoft-based system to one powered by Blackberry-owned QNX software. And Google will be talking up its Open Auto Alliance to bring standards to the dash.
Consumers may be wondering about all the high-tech gimcracks and gadgetry, given the high-profile recalls that have proceeded this auto show. 
GM is facing investigations revolving around the recall of 2.6 million cars with faulty ignition switches. Toyota, which just last month had the Justice Department levy a $1.2 billion criminal penalty against the company for concealing information relating to sudden unintended acceleration in several models, has already recalled 2.9 million vehicles in the U.S. so far this year.
Such recalls in the face of increasing technical complexity means the industry faces some serious challenges going forward. In order to continue to improve safety and save lives with new technologies, automakers will have to redouble their quality control efforts and the speed with which they correct glitches, otherwise the driving public could become disenchanted and set back potential advances that researchers have been working on for years.
John R. Quain is a personal tech columnist for FoxNews.com. Follow him on Twitter @jqontech or find more tech coverage at J-Q.com.
CommentsWrite a Reply or Comment: