Paris is taking old vehicles off its streets starting July 1 in a pollution fight that has car-share companies saying "Oui!."
In a move to cut pollution, the French capital is banning cars that have passed the 20-year mark, leaving many Parisians looking for alternatives, from low-cost new vehicles to car-sharing and taxi-hailing apps such as Heetch, Drivy, Koolicar and Uber.
"It will push individuals to drop their cars and look for alternative transportation modes," said Frederique Lorentz, marketing director for the French car-sharing startup Koolicar, whose users can rent cars owned by others through an app.
Paris, a laggard on air quality compared to other European cities, is barring cars registered before October 1997 and motorcycles registered before June 1999. The goal is to remove vehicles that contribute around 5 percent of polluting elements linked to diseases such as asthma. By 2020, only cars registered after 2010 will be allowed on Parisian streets.
The ban adds to scrapping incentives set up by the state. Car owners get up to 3,700 euros ($4,109) if they acquire a new, low-pollution vehicle and scrap their old diesel model that's more than 10 years old. France also has an "ecological bonus" paid to buyers of "clean" vehicles. Buying an electric car can bring the aid up to 10,000 euros.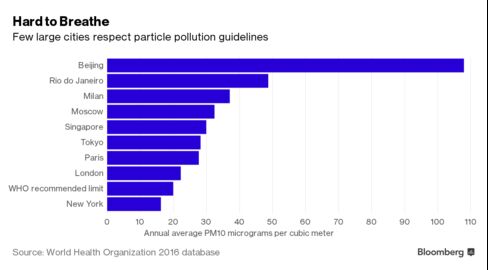 In London, the new mayor Sadiq Khan announced plans to extend the city's "Ultra-Low Emission Zone," where vehicles that do not conform with emission standards have to pay tolls. In the U.S., New York and four other states are exploring ways to put a price on the air pollution from vehicles, including new taxes, tolls or a pollution-trading system.
Week-Day Ban
In France, fewer than 1.5 percent of all registered vehicles will be hit by the ban in the region around Paris, according to automobile consultancy Inovev. The ban will be in effect on week days, from 8 am to 8 pm, and does not apply to collectioners' antique cars.
People with small budgets will most likely turn to public transportation. Renting an urban car from Koolicar for six hours to ride 20 km costs 18 euros, including fuel. A trip with the taxi-hailing app Uber would cost around 35 euros. A round-trip metro ticket costs 3.6 euros. Paris also offers public-transport incentives to people who scrap their old cars.
Individuals using old cars could face a fine of 35 euros from October 1, and of 68 euros from the beginning of 2017, according to French daily Le Monde.
Renting vs Ownership
The ban may tilt the balance toward car renting rather than ownership.
"In the very short term, its may not bring that much to us, but it's a heavy background trend," Koolicar's Lorentz said, echoing competitor Drivy.
"There are two models: the one where everyone has two cars in his garage, and our model, where you get a car when you need it," said Drivy founder's Paulin Dementhon. "The more we make car owners pay for the real cost of their vehicles, the more incentives they have to use it moderately."
Teddy Pellerin, co-founder of Heetch, a French ride-sharing app created in 2013 that offers a service similar to UberPop, says a driver for the app can be reimbursed for the cost of their new car and participates in the renewal of the fleet.
Renewing old diesel cars
Carmakers may not immediately benefit from the ban since many old-car owners may not be able afford a recent vehicle, even low-cost ones. But some in the industry say it bodes well.
"We've been saying for a long time that the most efficient answer to pollution in urban areas will be to renew old diesel cars," said Patrice-Henry Duchene, head of sustainable development for Peugeot maker PSA Group. "In the short term, it is a global signal for the market that will boost renewal."
Laurent Petizon, managing director for Alix Partners consultancy in Paris concurs.
"There will be more and more bans in large cities," he said. "That's going to impact purchase decisions."