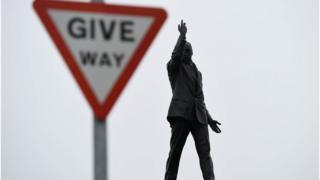 The use of ministerial cars by civil servants in the absence of a Northern Ireland executive has been criticised.
BBC News NI has obtained details of how ministerial cars are being used while the executive is not functioning.
About 600 journeys were made in six months – four of those were 300-mile round trips to bring a civil servant from Londonderry to Belfast and back.
Stormont departments have defended the actions saying officials used the cars when it made sense to do so.
Eight Stormont departments have a ministerial car.
According to information supplied following a Freedom of Information request, all but one, the Department of Finance, have been using the vehicles to shuttle civil servants around on official business.
Some of these trips were very short, taking civil servants from one building to another within the Stormont estate.
On occasion, senior civil servants were picked up at home and chauffeur-driven to events – some were dropped off at home after attending meetings or functions.
The journeys included:
A chauffeur drove officials from the Department of Education in Bangor to Dublin, waited and brought them back again on two separate occasions.
An official from the Department for Infrastructure was driven to Dublin Airport in a ministerial car to catch a flight to Paris. The official did not come back the same way.
Civil servants being brought to Coleraine for staff training for "DVA driver licences."
A government press officer took the ministerial car from Causeway Exchange in Belfast city centre to a meeting in north Belfast, and four staff at the Department for Communities used it for a return journey to attend a meeting at Windsor Park.
One journey drew particular criticism. A car was dispatched from Belfast to Derry, to Belfast, back to Derry and then back to Belfast again. The car was sent to collect a civil servant based in Derry but the journey amounted to a 300-mile round trip.
The use of the cars has been criticised by the SDLP's John Dallat who says the vehicles should have been "mothballed" when the executive collapsed.
"I think it is very sad that we have got to that stage," he said.
"Those ministerial cars should have been moth-balled when the election was called.
"I think there has to be greater accountability because we can't simply be looking at cost-saving exercises, departments, and making people redundant and at the same time having this fleet of luxury top-of-the-range Skodas swanning around the country and indeed adding enormous mileage to a trip."
Translink, which comes under the Department for Infrastructure, is encouraging people to use its enhanced timetable on the Derry to Belfast route. The company says it has 50 services each day between the two cities.
James Orr from Friends of the Earth says civil servants should set a better example.
"Bear in mind we need to see leadership at this time. We don't have a government. We don't have politicians.
"What we do have are senior civil servants who are encouraging us at the same time to shift away from private car usage to public transport. And for senior civil servants to use privatised, subsidised, insulated vehicles to go from our two major cities is simply irrational."
Not consistent picture
The Department for Infrastructure defended the use of the car, saying the journeys happened when the civil servant was "suffering from an ongoing health issue".
A spokesperson added: "Officials will use the car when it makes sense to do so – including when they have to travel to multiple meetings or when the ability to work and make phone calls is necessary."
Although various departments encourage the use of cars for official business "where possible as a more cost-effective and economical means… of travel", there is not a consistent picture.
The Department for the Economy's car is the busiest – it is often taken on short trips round the Stormont Estate, while the Department of Finance car has only been taken out for short maintenance runs to make sure it remains in working order.