Stuffing the auto channel – Fortune
Posted: Thursday, January 30, 2014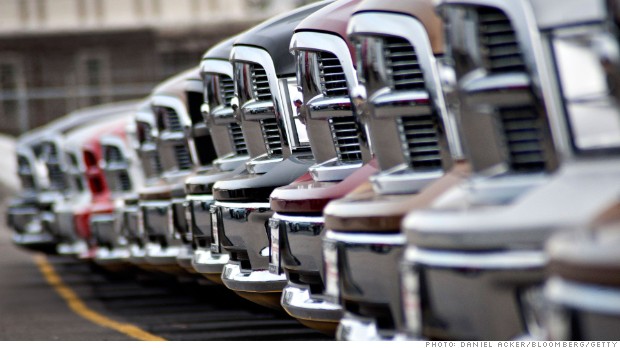 Three years ago, Mike Jackson, chairman and CEO of
AutoNation

(AN, Fortune 500) warned about the return of an insidious industry practice that sapped profits and complicated the lives of dealers: overproduction, or to use a less euphemistic term, "channel stuffing."

"As the recovery takes hold," Jackson said at the Detroit auto show in January 2011, "there will be a temptation to go back to a production-push system." He went on: "Why? Because initially it feels good. It's like heroin shot into the arm, feeling so good at first but being so destructive in the long term."

Jackson's worst fears have been realized: The industry is hooked. Despite 2013 being the best year for auto sales since 2007, automakers entered the year with nearly 3.5 million units of unsold stock and are expected to build as many as 1.4 million additional light vehicles in the month in January, traditionally a slow month for sales.

That's a lot of cars that haven't found retail customers. A forecast by WardsAuto calls for the U.S. supply of unsold cars to rise to 90 days by the end of the January, compared with 76 at the end of December. Sixty days is usually considered normal.

Not surprisingly, Jackson, who runs America's largest chain of retailers, is close to apoplectic. "Is this any way to run a business?" he railed at a recent industry gathering. "Is this where we want to end up again?"

MORE: 2015 Honda Fit: The secret star of the Detroit auto show

Manufacturers usually point to the other guy when asked who's to blame for rising inventories, but this time there's enough blame to spread around. According to industry sources, General Motors (GM, Fortune 500) significantly reduced its inventory in December compared to a year earlier but still logged a steep 81-day supply. Ford (F, Fortune 500) stock was up 22% from January 2013, while Chrysler turned in its highest numbers since December 2006.

Several Asian producers also looked guilty. Nissan was down slightly in December but only after running up its highest ever stock in November, while Hyundai's inventory climbed 36% year-over-year.

The good news is that thanks to low interest rates, dealer carrying costs for all that inventory are unusually low, but finding parking space for unsold cars can be problematic, and storing cars outdoors doesn't help their salability. Dealers call the inevitable deterioration that occurs when cars are parked out in the open "lot rot."

In the pre-bankruptcy era, domestic automakers continually overproduced because selling the additional vehicles at discounted prices helped amortize high fixed costs stemming from worker wages, benefits, and capital equipment. The excess production went into rental fleet sales, which had the effect of undermining residual values and cannibalizing retail sales when the barely used cars were sold six months later.

To be fair, managing inventories is an inexact science. Automakers had planned that December sales would run at an annual rate of 16 million vehicles and were surprised when it was only 15.7 million. "The U.S. industry right now, in my opinion, is at a stage when every major OEM is doing everything it can to grab every tenth of a point of share," veteran analyst Tom Libby of IHS Automotive points out, "and the last thing any of them wants to do is not have the vehicles available."

But the inventory problem is even worse than it appears at first glance. As Jackson argues, the days-supply benchmark understates the dimensions of the overproduction because it includes fleet sales. If retail sales alone were counted in inventory levels, the days supply would be 30% higher. He figures that retail inventory today amounts to about 3.5 million units, a pile-up of vehicles worth $100 billion that will take three to four months to liquidate.

The big question is whether manufacturers will resort to profit-draining incentives to move the excess product. Signs of artificial stimulus are already showing up in year-end financial statements. Ford reported that its operating margin in North America declined to 7.6% in the fourth quarter, from 8.4% a year earlier. It spent 27% more on incentives in the fourth quarter than a year ago, according to figures compiled by Kelley Blue Book and reported in Automotive News.

MORE: How TrueCar won auto dealers over

Libby is optimistic about the future. "If the domestics didn't learn from 2009-10, when would they learn?" he told me. "I myself believe them when they say they have learned to more closely match production with true retail demand." But he warns, "I would say there is risk in that if one OEM decides to build inventories and buy share through cutting prices with heavy incentives, that action could trigger something wider that no one wants."

Jackson frames the issue in more dramatic terms. "2014 is going to be a test, the first real test after four easy years of a million units of growth. Do we really have the discipline to run this business in a rational way for the long term?"

It won't be long before we know whether the grade is pass or fail.

Full disclosure: I've known Mike Jackson for many years. He wrote the forward to my book Sixty to Zero published in 2010, and I have been compensated by AutoNation for consulting work.

CommentsWrite a Reply or Comment: