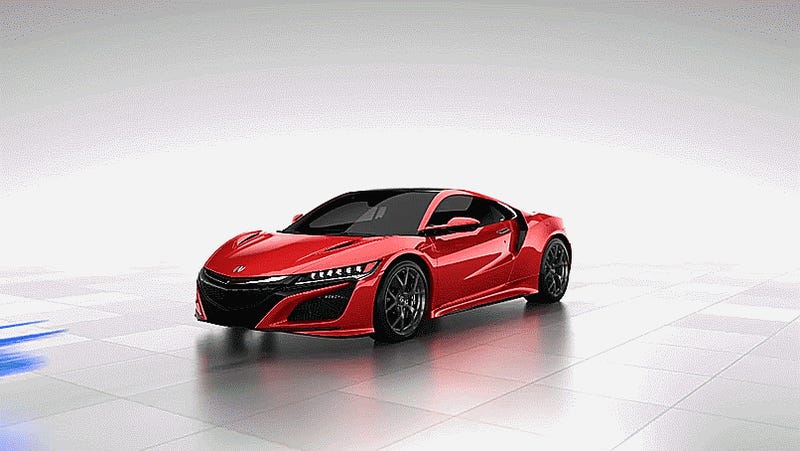 Jay Leno finally got his hands on the 2016 Acura NSX. All of those years of development resulted in a car that wraps the iconic heritage of the classic NSX with the aerodynamics and technology of a modern supercar into one big love knot.
Acura spent a lot of time getting the new NSX right. Like, a lot of time. But it's finally here, and Jay Leno's Garage got to walk around the car with the lead designer and the project manager, revealing all sorts of interesting details about the design process and the journey of the new car.
As we know, the original new-NSX was to be a mid-engined V10 due out by 2010. Then it sort of got lost in the whole economic crisis thing and re-emerged around 2012 eventually becoming a twin-turbo V6 hybrid—which is essentially what we have now. In 2016. Six years late.
http://jalopnik.com/heres-how-the-…
So what did we learn from the lead exterior designer Michelle Christensen and product manager Ted Klaus?
The original 2007 concept had to undergo (obvious) major changes to adapt to the need for increased air flow to the new twin-turbo engine, which manifested in a body that wraps air into large intakes just behind the driver door.
The design team had to leave visual cues of the old NSX behind to adapt to modern regulations and technical needs, but still hold the "heritage" of staying pure and limiting what's unnecessary—which is probably debatable with the new car.
The performance is baked into a design that's meant to weave in and out of itself, particularly to use the airflow around the car instead of just having it pass over.
The new NSX definitely needs a lighter color.
The rear-view mirrors are huge so that the driver can see beyond the huge rear fender and side intake.
Acura won't talk about the drag coefficient.. but it's "comparable to the best." Acura "won't talk numbers." Okay Ted.
Acura is launching in the Middle East with the new NSX.
CHMSL, pronounced chim-zal, stands for Center High-Mount Stop Light, so that's nice.
The spoiler on the back of the NSX doesn't help that much with down-force. The car's design does plenty on its own.
The trunk could fit a pack of cigarettes, a golf bag, the kid's stuff, but maybe not all at once. It's the largest trunk in the NSX's specific class. It's not really clear what that class is, though.
http://jalopnik.com/what-exactly-w…
The Ferrari 458 is the "emotional center" of the new NSX.. oh yea and the original NSX, too.
Jay Leno is getting one.
And some other goodies. We haven't gotten an opportunity to test the new NSX out for ourselves just yet, but that doesn't mean we don't already have an opinion:
---