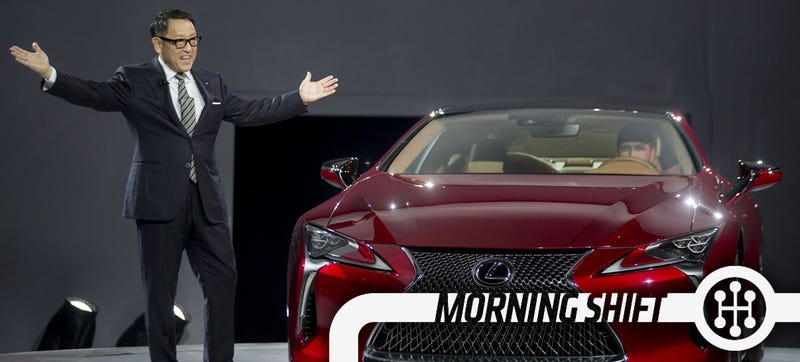 Good Morning! Welcome to The Morning Shift, your roundup of the auto news you crave, all in one place every weekday morning. Here are the important stories you need to know.
Today's Day Two of the biggest auto show in America, and while the schedule of press conferences and reveals isn't as packed as yesterday, we'll be scouring the show floor to bring you some cool-ass stories and videos.
Also, we continue to live in vans at Cobo Hall. Come see us if you're around for the preview today.
http://jalopnik.com/we-are-living-…
1st Gear: Asian Exports Rise As Americans Demand SUVs
As Morning Shift regulars know by now, Americans can't stop buying SUVs and crossovers! And so exports from Asian countries are expected to rise as the U.S. begins to negotiate a very important trade agreement. From Reuters:
The rise in exports to the United States comes as lawmakers in Washington are gearing up to debate the Trans-Pacific Partnership, a wide-ranging trade liberalization deal with a dozen Pacific Rim nations, including Japan, that has drawn fire from the United Auto Workers and other American unions worried about losing manufacturing jobs to overseas competition.

South Korean automaker Hyundai Motor Co (005380.KS) is rushing to develop a subcompact crossover SUV to expand its lineup, said Mike O'Brien, Hyundai's product planning chief for the U.S. market. The new model will hit U.S. showrooms soon, but not this year, O'Brien told Reuters in an interview on Monday on the sidelines of the Detroit auto show.

Hyundai plans to boost the number of Tucson SUVs it brings in from Korea for the U.S. market to more than 80,000 vehicles this year, O'Brien said. Hyundai sold roughly 63,000 Tucsons in the U.S. market in 2015.
2nd Gear: John Edwards (Remember Him?) Vies For VW Lawsuit
Remember John Edwards, the onetime Democratic presidential contender turned all-around scummy guy? He's still practicing law, and is one of many attorneys vying to lead the customer lawsuits against Volkswagen related to Dieselgate. Here's Reuters again:
"This case has ingredients I've spent my life working on," Edwards told Reuters in an interview on Monday. The litigation against Volkswagen, he said, requires trial expertise, regulatory know-how and a global perspective.

In his letter, Edwards highlighted his acquaintance with foreign heads of state, including German Chancellor Angela Merkel. His work with international leaders, he said, gives him "a deep understanding of the global impact" of cases like Volkswagen's.
I hope he gets it. That would make Dieselgate even weirder. I'm salivating at the thought of the stories and headlines I could write if he leads that case to trial.
3rd Gear: The Plaintiff In The GM Ignition Switch Case
Speaking of litigation, Bloomberg has a profile on the plaintiff in the General Motors ignition switch "bellweather" lawsuit underway this week in New York:
Robert Scheuer, whose 2003 Saturn Ion ran off an Oklahoma highway in May 2014 and smashed into a tree, is the first plaintiff in General Motors Co.'s ignition switch scandal to have his case heard by a jury. Flawed switches could be jarred into the "accessory" position, shutting off the engine, disabling power steering and brakes and preventing air bags from deploying.

Afflicted by neck and back pain, Scheuer missed 169 days of work, can't lift more than 20 pounds and needs surgery, said his lawyer, Robert Hilliard, the lead attorney for the personal injury and death claims in the so-called multidistrict litigation. The trial begins Tuesday morning in federal court in Manhattan.

America's biggest carmaker faces at least 16 trials on death and injury claims in state and federal courts in the U.S. in 2016.
That case will be a very interesting one to watch.
4th Gear: Big Safety Accord Coming Friday
Automakers and the U.S. government will announce a supposedly landmark safety agreement on Friday, but some say it may not go far enough. Once more via Reuters:
The accord could set the framework for further discussions on safety reforms and mark a new era of cooperation between automakers and regulators after a record-setting year of safety fines, recalls and investigations into malfunctioning vehicles made by General Motors Co (GM.N), Fiat Chrysler Automobiles NV (FCAU.N), Honda Motor Co (7267.T) and others.

But it stops short of what many safety advocates have urged Congress and the National Highway Traffic Safety Administration (NHTSA) to adopt: new binding legal requirements to toughen safety rules. And automakers may be able to raise the voluntary agreement to argue against future proposed regulations, saying the accord makes legally binding rules unnecessary.
5th Gear: Fiat Chrysler/GM Merge Off The Table
It was worth a shot. Maybe. Via The Detroit News:
Marchionne, speaking with auto industry journalists at the opening press day of the 2016 Detroit auto show, said his company has ceased its efforts not because the ideas in his "Confessions of a Capital Junkie" consolidation presentation from April were wrong, but because there were no willing, suitable partners.

"We've had expressions of interest from more than one party over the fact that they were interested in pursuing the discussions," he said. "We had to make a choice as to whether they offered us enough of an upside to engage."
Reverse: Ford Speed!
http://www.history.com/this-day-in-hi…
Neutral: Favorite Car From Detroit?
Man, I love that Lexus LC500. Concept car looks in a huge luxury coupe with a naturally aspirated V8? More of this, Toyota.
---
Contact the author at patrick@jalopnik.com.