The fancy-car selfie is a social media staple. And there will be a steady stream of them starting Saturday, when the masses pour into the annual North American International Auto Show in Detroit. But it will be difficult to picture people actually buying many of this year's crop of fancy cars.
This is de rigueur at a vehicle convention where regular people with regular paychecks intersect with six-figure speed machines. But the disconnect between the cars and the commerce is more pronounced at this year's show, because the newest vehicles aren't really the kind of rides people are lusting after these days. They're also quite expensive.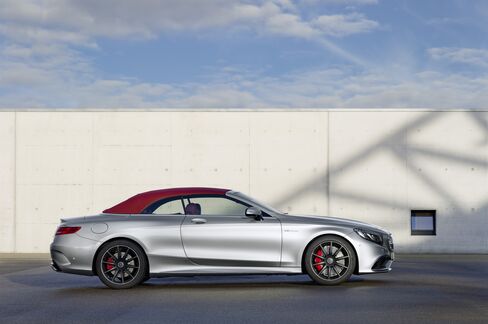 Of the 20 or so models unveiled in Detroit this week, four were large, luxury sedans—a class of vehicles whose U.S. sales dropped 15 percent in 2015. Also prominent were premium sports cars, a segment that saw almost one-third of its buyers disappear last year.
The growth in the auto industry of late hasn't come from low-slung, pricey machines, but rather from pickup trucks, entry-level sports cars such as the Ford Mustang, and SUVs of all shapes and sizes.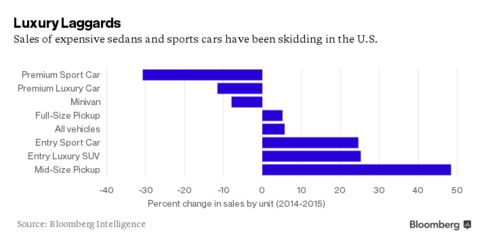 So how does a self-respecting car executive explain the carbon-fiber cornucopia delivered to the auto show this week? Well, it's not that they're tone-deaf. They know the sales trends better than anyone. It's just that they're running out of stuff to make.
While car sales recovered after the recent recession, product planners went for the easy money. They started making and overhauling the vehicles that would move the needle fastest.
Lincoln greenlighted a midsize crossover, the MKC, which parked squarely in the hottest segment of the business. Hyundai made over its Sonata sedan, its second-best seller. Acura designed an all-new sedan for first-time luxury buyers, the TLX. Meanwhile, Volvo spent lavishly to design a Swedish knockout of an SUV, the XC90.
Now all those brands are rolling out swanky sedans. The Lincoln Continental, the Genesis G90, the Acura Precision, and the Volvo S90 are some of the most saccharine eye candy in Detroit.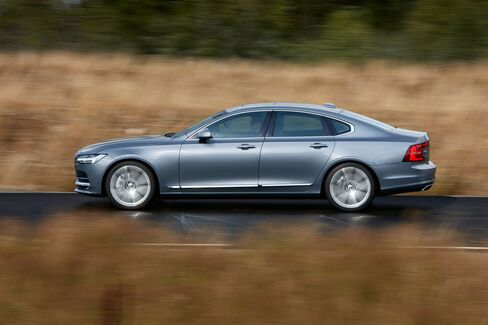 There's a similar shift going on in the world of sports cars. In recent years, Mercedes dialed its SUV production up to 11; Porsche crafted the Macan, a pint-size SUV that quickly became the brand's top seller in many markets; and Lexus added a similar model in the all-new NX.
One can find all those vehicles on the stands in Detroit's Cobo Center. But the prime real estate—the spotlit, spinning podiums—will be filled with sportier options: the all-new Mercedes SLC roadster, a souped-up version of Porsche's 911, a sinuous Lexus that looks like an angry spaceship, and the Buick Avista, a slinky streak of blue.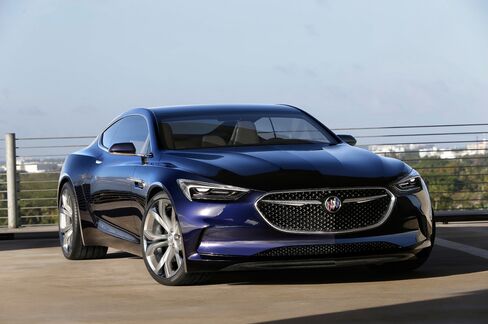 A lot of these cars won't sell enough to justify their creation. It takes somewhere around $1 billion to develop a vehicle from pencil to final product, so it's helpful to amortize that cost over as many units as possible.
But car executives have a bigger problem than unit economics to worry about: With a crush of buyers, they just need to get noticed.
Xavier Mosquet, senior partner in Boston Consulting Group's auto unit, raised his eyebrows as he walked up to the sporty red Lexus. He was surprised that the vehicle was going to find its way to an assembly line, rather than being just a concept car to excite the crowds. Would it make money?
"That depends on how you divide the costs," Mosquet explained. "I think this one is for the branding. It's a halo car." In short, if the vehicle gets on enough magazine covers and turns enough heads at dealerships, its return will be evident in sales of less flashy Lexuses (Lexi?).
What also helps make the business case (at least a little bit) is China, where drivers—and the driven—still love big, distinguished sedans and stupid-expensive sports cars. Product planners looking to get the OK on a billion-dollar sports-car project, keep one figure at the ready: 9 percent. That's the average annual growth rate of the passenger-car market in China for the past five years.
Klaus Zellmer, Porsche's chief executive officer for North America, said he expects the Chinese economy to continue growing at more than 5 percent a year, despite recent signals that the wheels might be coming off.
Nissan CEO Carlos Ghosn was also sanguine about China as he pitched a new sedan from Infiniti, his company's luxury brand. "When you look at the fundamentals, there is nothing wrong with the development of the Chinese economy," he said in an interview.
If Ghosn is wrong about that, the car show crowds should be quick with their cameras, because the industry's stateliest, sportiest stuff, will just idle in dealerships … and then disappear fast.