Volkswagen AG, seeking a way out of the emissions-cheating scandal, is trying hard to show it has changed.
The embattled German carmaker abandoned its tradition of kicking off a major car show with an opulent reception. Instead of a 1,500-person gala of self glorification, a young Volkswagen executive took center stage ahead of the Geneva International Motor Show, speaking to a few hundred guests about a future when parking lots will be transformed into parks as efficient and reliable self-driving cars roam the unclogged streets.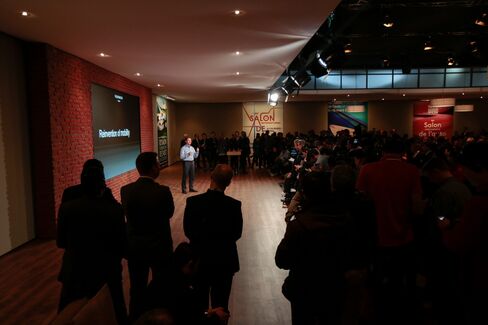 "Today, the largest part of time spent in cars is lost time," said Johann Jungwirth, 42, who was hired by Volkswagen in November to take on the new role of chief digital officer. "We are going to give this time back to people," said the former Apple Inc. executive, speaking on Monday evening at a loft at Geneva's conference center, rather than the arena-like setting of past events in the Swiss city.
In a forum usually reserved for the 12-brand group to preen about its engineering prowess, the comments reveal the changes under way at Volkswagen as the revelation of years of cheating on emissions tests continues to rock the company. While a recall of millions of vehicles has started in Europe, talks with U.S. authorities are due to continue Thursday, and a solution there may still be weeks or months away. Meanwhile, the release of 2015 earnings are delayed until at least April amid financial uncertainties stemming from the six-month-old scandal.
Bugatti Chiron
Car-show extravaganzas were among the first expenses to get the ax when Chief Executive Officer Matthias Mueller took over last year. He has vowed to slash spending to help offset what will be billions of euros in costs to fix as many as 11 million cars equipped with software that rigged test results, while polluting above legal limits on the road. Volkswagen's 2015 reception in Geneva featured Austrian producer Stefan Obermaier and the Berlin-based electronic duo Booka Shade as DJs.
Questioning the value of time spent in the car is a sharp departure for a company that has reveled in the thrill of horsepower like hardly any other. In fact, it still does. Earlier in the evening, Volkswagen rolled out the Bugatti Chiron, a 2.4 million-euro ($2.7 million) supercar, which boasts a 16-cylinder engine that catapults the two-seater to 100 kilometers (62 miles) per hour in less than 2.5 seconds. But for the official corporate evening, that car took a back seat to Jungwirth's vision.
He outlined plans to set up so-called future centers in Germany, California and China. The facilities will fuse digitalization experts with designers to work on how people interact with their cars. The effort is part of a broader shift to move beyond the traditional automotive business of making and selling cars.
Volkswagen will "in part become a software and services company" as mobility technology develops, Jungwirth said. "It is absolutely trendsetting and unique in the car industry" to put digital development and design together.
After Jungwirth spoke, Mueller took over to remind attendees that cars are still "at the core" of what Volkswagen does. Then the walls at the sides of the room lifted to reveal the new models behind them, including the Bugatti.