12 injured, 3 critically, in NYC building explosion – Fox News
Posted: Friday, March 27, 2015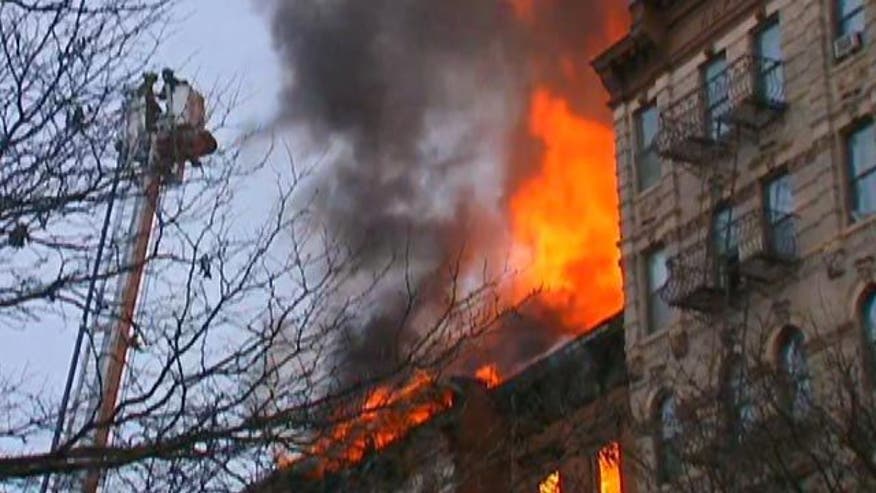 An apartment building exploded and burst into flames Thursday in New York City's East Village, injuring at least a dozen people, three of them critically, in what authorities said was a possible gas-related incident.
Flames could be seen shooting out of the top of the five-story building at 2nd Ave. and 7th Street, which partially collapsed shortly after the explosion at 3:20 p.m. Items from a ground-floor sushi restaurant were blown into a street, and the explosion was so forceful that it blew the door off a cafe across the avenue. Rubble, glass and debris littered sidewalks, and smoke could be seen and smelled for miles.
The FDNY reported it as a seven-alarm fire. Authorities said no firefighters or civilians were missing.
Mayor Bill de Blasio said at an early evening press conference that a preliminary report from utility Con Edison indicated that it was a gas-related explosion caused by plumbing and gas work. But he said it was too soon to speculate what, exactly, caused the blast.
"Until we know what happened here, we cannot pass judgment," de Blasio said. He confirmed that 12 people were injured, three of them critically, but said there were no immediate reports of fatalities.
Con Edison inspection crews visited the building about an hour before the explosion to evaluate a planned installation of a meter during ongoing construction, utility president Craig Ivey said. But the meter didn't pass the inspection, meaning it wasn't ready for gas to be introduced.
De Blasio said there was no indication anyone called to report a possible gas leak. Con Edison crews were at the scene and planned to start investigating after firefighters got the blaze under control.
Another building next door was "in danger of possible collapse," FDNY Commissioner Daniel Nigro said, and two other nearby buildings were affected by the explosion.
About 250 firefighters were at the scene early Thursday evening.
The area was being evacuated, and the city's health department advised residents to keep their windows closed because of the smoke.
Now #FDNY operating on-scene at 123 2nd Avenue in Manhattan. pic.twitter.com/bg8vx1TwLX

— FDNY (@FDNY) March 26, 2015
Adil Choudhury, who lives a block away, ran outside when he heard "a huge boom."
"Already there was smoke everywhere" when he saw the building, he told The Associated Press. "The flames were coming out from the roof. The fire was coming out of every window."
Area resident Paul Schoengold said he was walking about two blocks away when he heard an "incredibly loud" roar.
"Then the fire started. I could see the flames on the roof, and they kept getting higher," shooting perhaps 50 feet into the air, he said.
As freelance photographer Michael Seto ran up to the buildings after hearing the explosion in his apartment a block and a half away, flames were spreading and engulfing one building's first floor.
Meanwhile, a man was climbing up the fire escape, not down, he said.
"People were calling to him that the building's on fire — he needs to get down," and he did, Seto said.
Now #FDNY tower ladder operating at 121&123 2nd Avenue in East Village. pic.twitter.com/6suW7DlVah

— FDNY (@FDNY) March 26, 2015
Other witnesses said a woman scrambled down her fire escape in the moments after the explosion. She stopped on the second floor, afraid to go further, and passers-by climbed up to help get her down.
In the aftermath, one person was lying on the ground, being attended to by two to three passers-by who were holding his head still, Seto said. A woman was sitting on the curb with blood coming down her face, and another woman walked past him with blood on her face, he said.
The fire happened little over a year after a gas explosion in a building in East Harlem killed eight people and injured about 50.
The Associated Press contributed to this report.
CommentsWrite a Reply or Comment: