It's make-or-break time for Fiat Chrysler Automobiles NV's long-awaited revamp of Alfa Romeo, with the sporty Italian brand's first luxury sedan about to go head-to-head with the likes of the BMW 3-Series.
After at least six months of delays, the Giulia sedan is now on sale in Europe. The critical launch in the U.S., where it currently only sells the 4C sports car, is planned for the third quarter and will kick off with a limited number of the 510-horsepower Quadrifoglio performance version. The standard model will follow in the final three months of the year.
At least on the track, Fiat Chrysler's Chief Executive Officer Sergio Marchionne is confident the Giulia, which accelerates to 100 kilometers (62 miles) per hour in as little as 3.9 seconds compared with 4.1 seconds for the BMW M3, can win.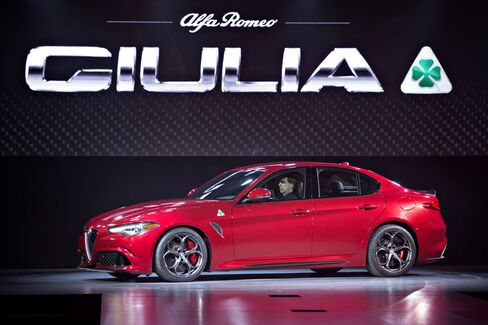 "Tell me if there is any car in the same class which can compete with this one: The BMW? Come on, take one here on the track and you'll see," Marchionne, who used to drive cars from the German luxury brand before joining Fiat in 2004, said this week at Fiat's Balocco test track in northern Italy. "This is the best expression of what we can do on a technical basis."
But it will take more than extra horsepower for Alfa to beat BMW, Audi and Mercedes-Benz in the most crowded segment of the luxury-car market. The German rivals have reputations built up over decades and can draw in buyers through vast networks of dealers and broad slates of offerings. Before the Giulia — which bears a resemblance to the BMW 3-Series — the brand's lineup consisted of two hatchbacks and the limited-run 4C. BMW, which has vowed to defend its status as the world's biggest luxury-car maker, declined to comment on Fiat's efforts.
"While early reviews of the Giulia are promising, it's just one building block in Alfa's revival, and despite what Fiat Chrysler might claim, it's aimed foursquare at one of the most competitive segments in the world," said Tim Urquhart, an analyst with IHS Automotive in London. "It's a tough task."
Backed by the Giulia, Alfa Romeo is expected to more than double sales to about 190,000 vehicles in 2019 from 91,000 in 2016, according to IHS. But even if it reaches that level, it will remain a niche player compared with Daimler AG's Mercedes and BMW, which are expected to both deliver more than 2 million cars in 2019.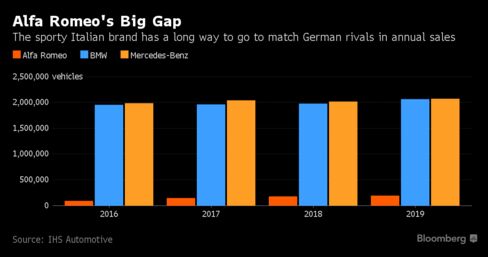 Revamping Alfa Romeo has been a priority for Marchionne since he joined Fiat in 2004. After failing to deliver on previous promises to produce winning models, the executive sought help relaunching the Italian sports-car maker, hiring Roberto Fedeli from BMW in February as chief technical officer for Alfa Romeo and the Maserati luxury brand.
Fedeli, a former technical director at Ferrari, said he "had several talks with Marchionne" before being convinced me to join Fiat. The turning point was a visit to the Cassino plant in southern Italy, which will be the focal point for Alfa production.
The factory "shows how the industrial plan behind this project is hyper-solid," Fedeli said in an interview, adding that the plant's production line is "even more advanced" than those at BMW's German facilities in Dingolfing, Leipzig and Munich.
Major Investment
Alfa Romeo's ambitions are evident in the Giulia's sales price, which at 34,100 euros ($38,700) for the 150-horsepower diesel version is higher than rivals. The cheapest BMW 3-Series is a 136-horsepower gasoline model for 30,500 euros, while the Audi A4 starts at 31,100 euros and the Mercedes C-Class at about 31,800 euros.
The revival of the Alfa Romeo brand, which was originally a crucial part of Marchionne's plan to more than double the carmaker's profit by 2018, was delayed in January when Fiat postponed the target to complete an expansion of the new lineup by two years to 2020. The company also dropped a goal to boost sales more than fourfold to 400,000. Marchionne admitted that the Giulia, which will be followed by the brand's first sport utility vehicle later this year and by a third model in late 2017, didn't have an "easy" birth.
"Don't ask me how much we spent, it cost a lot" to develop the Giulia, said Marchionne, who calls it the best car in its class developed by Fiat since he joined the group 12 years ago, adding that investments in Alfa's lineup have exceeded 1 billion euros.