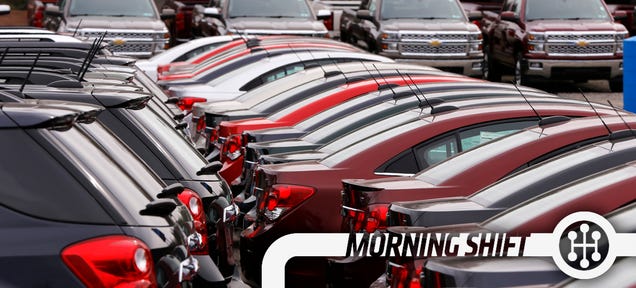 Good Morning! Welcome to The Morning Shift, your roundup of the auto news you crave, all in one place every weekday morning. Here are the important stories you need to know.
1st Gear: 17.81 Million New Cars In 2015
August saw a slight dip in new car sales, but Americans continue to "splurge" on cars and light trucks as Automotive News so eloquently puts it. Last month saw 1.505 million new cars moved off dealer lots, bringing the seasonally adjusted annualized sales rate (basically the expected total by the end of 2015) soared to 17.81 million. That would be the highest volume since 2005.
The big winners? Ford, Fiat Chrysler (thanks Jeep and Ram!) and Subaru and Audi. Cadillac, Toyota, Nissan and Honda all saw declines. Mazda was down too, although the new Miata moved 1,344 cars, triple what it was doing last year.
2nd Gear: Here Are Some Good Deals Right Now
Why the sales booms? Cheap gas, economic recovery, crossovers with few compromises, widely available credit, and discounts on 2015 models! From that same story, here are some of the best deals around:
• A Buick Encore lease for $190 a month and $190 down for 24 months for current lessees of a non-GM vehicle.

• A 2015 Honda CR-V LX lease for $209 per month for 36 months and $1,999 down.

• Zero-percent financing for 72 months, and $1,000 bonus cash, on most 2015 Ford models.

• $5,000 cash back on the 2015 Ford Taurus, according to Kelley Blue Book

• In Montana, some Toyota dealers dangled $2,000 cash back on the 2015 Toyota Avalon and Venza, and $2,500 in cash off the Toyota Prius hybrid.

• In Baltimore, Fiat Chrysler's Ram brand pitched a 2015 1500 Big Horn Crew Cab with zero-percent financing for 60 months and a $2,750 cash allowance.

• A 2015 Volkswagen Tiguan lease for 36 months with monthly payments of $179 and $2,499 down.

• Up to $3,520 off a 2015 Fiat 500 Abarth as part of the manager's specials at Golling Fiat in Birmingham, Mich.
Go buy a Fiat 500 Abarth, it's crazy fun!
3rd Gear: F-150 Finally Picking Up
One last story on sales figures: Remember how the new aluminum 2015 F-150 was having a tough year due to inventory issues? As of August inventory is back to normal and Ford's big payoff seems to be rewarded, via The Detroit Free Press:
It has taken a year, but inventories of the F-150 are approaching normal levels and Ford was rewarded with a 5% sales increase in F-Series sales in August, which contributed to a 6% hike in overall sales.

The results underscore two things: the importance of the truck to Ford's overall sales in the U.S. and perhaps vindication of a calculated gamble to switch to aluminum for a truck that had a steel body for more than seven decades.
4th Gear: Winterkorn Sticks Around For Now
After a bitter battle that left Porsche-Volkswagen family scion Ferdinand Piech gone after trying and failing to depose Volkswagen Group CEO Martin Winterkorn, it looks like Winterkorn will stick around another three years but be unlikely to become chairman himself. From Reuters:
Analysts said Winterkorn was now unlikely to become chairman himself now he had the backing to remain chief executive from the key members of VW's supervisory board — including influential labor leaders and representatives from the German state of Lower Saxony which is a shareholder.

"With 71 years of age at the end of his CEO function he will be too old in our view. This increases the chances for an external chairman which is good news," analysts at Evercore ISI said in a note on Wednesday.
That could open the door to an outsider at the post-Piech VW Group.
5th Gear: The #Brands Want Your Car Data
As cars become more high-tech, who controls the data they collect? What about privacy? From Bloomberg:
Your next car could reveal more about you than your Facebook profile, promising a lucrative cash flow for automakers and drawing scrutiny from European regulators concerned over who can control that data and make money from it.

As increasingly smart mobile devices, cars will be able to track where you go as well as gather information about whom you call or text and what you Google on the way. That's valuable information for the likes of BMW, Volkswagen AG and Daimler AG.

"The industry talks about uncovering a gold mine," said Stephan Appt, a Munich-based partner at law firm Pinsent Masons LLP. But what data automakers can gather and use isn't yet clear cut, he said.
Reverse: The Small Car With The Big Car Feel!
On September 2, 1959, at a news conference broadcast to viewers in 21 cities on closed-circuit television, Henry Ford II introduces his company's newest car–the 90-horsepower, 30 miles-per-gallon Falcon. The Falcon, dubbed "the small car with the big car feel," was an overnight success. It went on sale that October 8 and by October 9, dealers had snapped up every one of the 97,000 cars in the first production run.
Neutral: Did You Buy A New Car In August?
And did you get a nice discount if you did?
---
Contact the author at patrick@jalopnik.com.