I've been invited sailing. Or yachting, as I like to call it. Jesus, I'm not sure I'll even be allowed in the car park, will I? Let alone on the actual yacht. I'm worried about my footwear options – either brown Crocs (I know, I still wear them even though no one else does) or black gardening/festival wellies.
Luckily, the yachting expedition coincides with the loan of this sleek new BMW 2 Series coupe, so I don't have to rock up in our ancient Polo, with the moose sticker on the back (no idea – my girlfriend has a thing about mooses); and the furry football hanging from the rear-view mirror (actual seal skin, as it happens: it was my present to her when I went to Greenland); and the moss growing everywhere, outside and in; and everything else.
And you know what, this BMW feels like the perfect car to turn up in, at the marina/yacht haven/club/squadron/whatever. Sporty, elegant, obviously expensive, but not too flash or ostentatious. To be honest, I'd go for something a little more vulgar myself, but among the sober-coloured (grey, silver, black mostly, the odd white) Audis, Mercs and other BMWs in the car park, I feel at home. I'm saying I'm successful and performance-oriented, but not reckless or unsophisticated. Hey, I belong here, I've arrived, as in made it, as well as actually arrived, finally (terrible traffic on the M25. With a bit of luck, I'll have missed the boat).
Hang on, BMW 2 Series? What the hell is one of them? I've only just got my head round the 1 Series. Is this one better? Or even twice as good?
Actually, it's the replacement for – and looks very similar to – the 1 Series coupe, though it's a little bigger. It's based on the 1 Series hatchback, an awkward-looking car, I've always thought. But, being a coupe, it has no frames on the doors, it's lower and sexier and more coupe-ish. Harder to get a baby seat into the back, but hey, get a babysitter – you can afford it. Babies aren't good on a yacht, either (I imagine. I haven't brought one, anyway).
To drive, it's lovely, as you'd imagine a 26-grand BMW to be. Although, when you start adding extras, such as leather seats and media packages, it's a lot more – you'll soon be north of 30. There are quicker, more exciting petrol-engined models, but I've reached a stage in my life when I don't crave that kind of thrill-seeking. This diesel's not silent, but I can appreciate the impressive fuel consumption and emission figures. It's effortless, smooth, comfortable, yet calmly powerful; sporty but well-balanced… very much as I see myself, as it happens. Today. Right, where's the jetty, show me to my yacht, I say, ahoy there!
BMW 220d SE Coupe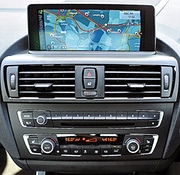 Price from £25,865
Top speed 143mph
Acceleration 0-60mph in 7.1 seconds
Combined fuel consumption 58.9mpg
CO2 emissions 125g/km
Eco rating 7/10
Cool rating 7/10