BMW 540i xDrive: reviewed – The Independent
Posted: Saturday, June 03, 2017
In the sensible world that many of us inhabit, the new 5 Series in 520d SE guise is a class act. It's the What Car? Car of the Year 2017 and it'll doubtless win more awards on the way. It gives you the lot, all wrapped up in an economical and well-equipped package. But sometimes we don't want to live in sensible world.
We want to live in dream world or, if we can afford one of these, happy world. So let's sling out that sensible diesel engine and replace it with a turbocharged straight-six 3.0-litre petrol engine. With 335bhp it's the most powerful and fastest 5 Series there is right now.
The effect is huge compared to the 520d. There's instant urge as soon as you even look at the throttle, and if you floor it then you'll be smiling broadly at the eruption of power of restrained noise. Overtakes are a doddle, even at decent speeds, and there's power across the rev range.
The effect is not to turn you into an overtaking monster, but to give you more confidence that, whatever happens, the car has it covered. The eight-speed auto box is always alert and on duty, shuffling quickly and quietly, or instantly grabbing a lower gear when needed.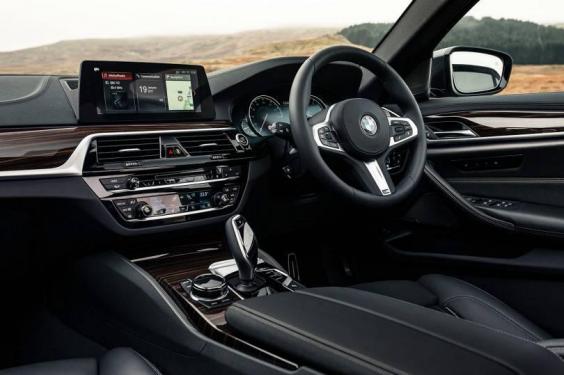 The Variable Damping Control, although an option, does add range to the suspension settings, everything from Comfort, which really does induce comfort, to Sport, which isn't uncomfortable but does tighten things up.
Add in really excellently weighted steering and you're looking in full control. But there's more. This xDrive model also has the four-wheel drive system, and that adds further to a sense of confidence whatever the road conditions are, and it also helps improve the handling further in tighter corners.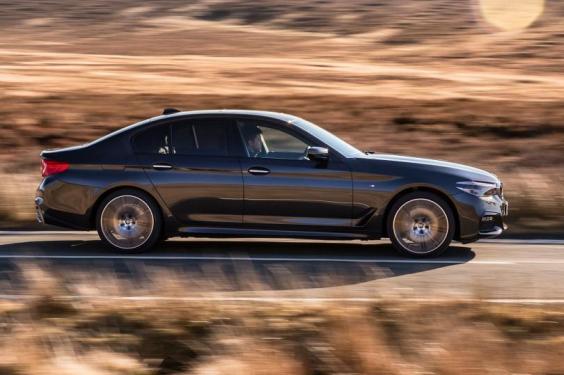 The cabin is unchanged, which is perhaps slightly disappointing, but it still means you're getting one of the best in the business. Quality is very high everywhere, and there's plenty of space for people, luggage and oddments. And, of course, there's BMW iDrive infotainment system which remains completely unbeatable by any other manufacturer's system.
We live in a time of great uncertainty for diesel engines. But if you have the budget, you might consider not the 520d but the 530d, the more powerful six-cylinder diesel that is almost as quick as the 540i but which is more economical to run.
The equivalent petrol engine, the 530i, we were a bit disappointed with, so really you'd be best to jump up to this 540i if you decide you want petrol and really don't want diesel. The 540i is fabulous to drive but obviously you're paying for the privilege, to the tune of £46,960 even in SE trim, and naturally you'll be spending more time at the pumps too. Is it worth it? If you have the budget, it certainly makes a solid case for inclusion in your happy world.
Graham Scott is a writer for WhatCar.
Reuse content
CommentsWrite a Reply or Comment: