BMW i8: car review – The Guardian
Posted: Sunday, July 20, 2014
Price £94,845
MPG 135
Top speed 155mph
The A832, which heads west from Inverness before skirting the edges of Loch Maree, is a favourite with vehicle manufacturers keen to show off the capabilities of their newest cars. But these ancient mountains have never seen anything like the BMW i8 – a revolutionary plug-in electric hybrid that's set to change the way we see performance sports cars.
A small group of us flew up to Inverness for a first drive in the car, which launches in the UK this week. Glancing out of the aeroplane as we landed we could see the test cars parked on the apron of the runway. Among the old island hoppers and abandoned prop planes on the outfield, the low-slung, curvaceous cars with their unique U-shaped laser lights looked surreal, as if they'd escaped from the set of the latest Transformers movie.
Get closer and they look even more futuristic. The chassis is lightweight aluminium, while the "life module" is carbon. The dynamic material allows designers to make the body any shape they want to. Here, they went for a mass of overlapping contrasts: accents, lines, grooves and angles. You'll rarely see a motor with more head-turning presence – either in the wilds of the Highlands or the mews of Chelsea. The car I drove was crisp white with bright blue accents. Its aerodynamic smoothness and carved air-flows meant it could have been a chunk of sculpted ice. And, foot down on the sweeping curves of the A832, the car had all the irresistible sweep and cutting-edge of a two-handed Mackenzie claymore.
Inside the car, the space-age show continues. The "dihedral" doors swivel upwards at the touch of a button. There's a digital dash, a separate multifunctional screen and head-up display. The cabin and controls feel fresh and modern without being intimidating. The back seats are tiddly and the boot pretty much nonexistent. What did you expect? It's a car, not a miracle. Annoyingly the windows don't drop flush into the door; for arm swingers like me that's irritating. And getting in and out will be a challenge, if not impossible, if you have a bad back or are pregnant.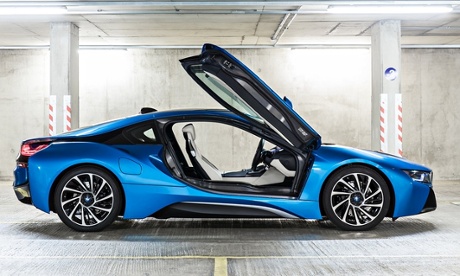 The car is what BMW is calling "born electric" – as opposed to being a traditional car with an electric engine shoehorned in. It certainly feels as if it has all four wheels firmly in the future. It's aimed at Porsche 911 and Audi R8 drivers, yet it only has a small 1.5-litre turbo three-cylinder engine. Remarkably, per litre this is the most powerful engine BMW has ever made. Coupled to the 129bhp electric motor that drives the front wheels, the i8 will do 135mpg and produce a laughable 49g/km while thrusting you from 0-62mph in 4.4 seconds. It has a range of 373 miles. It is scarcely believable.
The car is packed with intelligent driver aids. You can remotely turn on the aircon with an app on your phone, for instance, or allow the car to use real-time traffic info to select the most efficient drive mode.
Halfway through our test drive, we stopped at Gairloch to buy some tablet. "Is that your car, mister?" asked a freckly boy sucking on a lollipop. "No," I said, "but I wish it was…"
Learning to drive?
If you are new to driving or have a child who has just passed that critical 17th birthday, you might want to have a look at a new app called miDrive. It's free and it's estimated it could save you up to £300 on the overall cost of passing your test.
The app helps learners find the best user-rated instructors in their area, helps them track their learning using GPS and provides access to a comprehensive library of digital learning materials. The service aims to reduce stress and hassle for the 750,000 people learning to drive each year, it also provides the UK's 44,000 Approved Driving Instructors a platform for attracting new clients. For more information, go to miDrive.
Driving abroad this summer?
With millions of families heading to the continent this summer, Halfords is advising drivers to plan ahead and pack some glovebox essentials to ensure you don't get caught out by variations in the motoring laws between countries. They've even put together all of the essentials in one handy bag. The Halfords Motoring Abroad Kit includes a warning triangle, first aid kit, headlamp beam adapters, GB sticker and high-vis waistcoat, all for £20 (usual price £29.99). Here's what you will need for these countries:
Spain
Glasses wearers are required to carry a spare pair in the car.
Motorists should disable the speed camera detector on their SatNavs before setting off as speed camera detectors are banned.
Etiquette dictates a flash of the lights before overtaking.
In some cities, cars parking on one way streets are required to park on the side of the road with even numbers on even days of the month; and on odd days, the side with odd numbers.
Portugal
It's illegal to run out of fuel on Lisbon's 25 de Abril bridge – make sure you top up.
Indicators are rarely used in Portugal, so take extra care on motorways, dual carriage ways, and when driving alongside parked cars.
Some motorways operate auto-tolls. You can buy pre-paid passes from most post offices or you can hire an electronic toll device that charges your credit card when you pass a toll.
Don't forget to turn off speed camera alerts on your SatNav.
France
It's compulsory to carry an NF certified breathalyser in the car.
It is illegal to overtake a tram when passengers are alighting.
Most traffic lights go straight from green to red with no amber.
Children under 10 aren't allowed to travel in the front seat without a special restraint.
Don't forget to turn off speed camera alerts on your SatNav.
Italy
In cities you must park on the same side of the road that you are driving on.
Once you commit to a decision stick to it – Italians manoeuvre quickly so hesitation can lead to an accident.
Don't forget to turn off speed camera alerts on your SatNav.
Germany
There is no speed limit on motorways unless visibility is less than 50 meters or it's snowing, when it becomes 50kmh.
It's illegal to drive while wearing headphones.
Tyres need to be changed to suit the season, it's illegal to use summer tyres during winter months.
Traffic coming from the right has priority at junctions and crossroads.
In traffic jams cars feed in one at a time from alternating directions – so look both ways.
Email Martin at martin.love@observer.co.uk or follow him on Twitter @MartinLove166
CommentsWrite a Reply or Comment: