BMW Takes A Leap Ahead Of Tesla – Seeking Alpha
Posted: Sunday, April 10, 2016
Click to enlarge
Img 1: A user hails an Uber
One of the biggest trends in North America in recent years has been the declining interest among the younger population in owning a car. There are many reasons millennials, and younger Americans are spurning their own car in favor of disruptive transportation services. One is the increasing costs of buying a car, with the average price of a car now $33,188, up 20% since 2005 according to Edmunds. In addition, increased living expenses, stagnant wages and tuition costs for college and universities are hitting the younger generation hard. Whatever the specific reasons, the numbers are clear. Today 24.5% of 16 year olds have a drivers licence compared to 46.2% in 1983, while 76.7% of 20-24 year olds have a drivers licence today compared to 91.8% in 1983. Despite this the need for mobility will always exist and the trend away from owning cars has made car sharing and ride hailing services such as Car2Go, Zipcar, Uber, and Lyft tremendously popular alternatives. Now BMW (OTCPK:BAMXY) is taking a leap into this market and here is why it may hurt Tesla (NASDAQ:TSLA).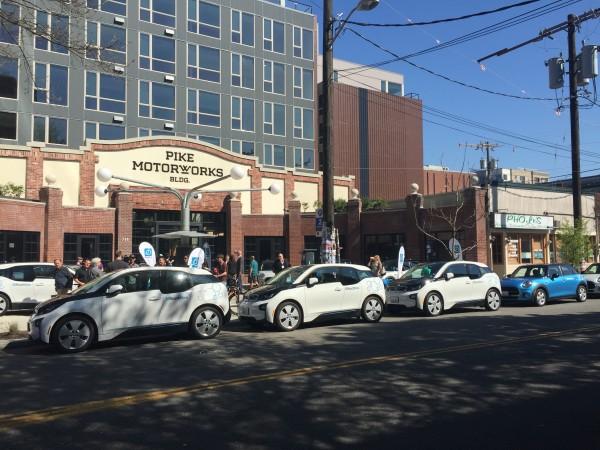 Img 2: ReachNow BMW i3 cars in Seattle
Today, BMW announced that it is starting a car sharing service in Seattle, and it will use the electric BMW i3, along with the Mini Cooper and gas powered 3 series cars. The service, named ReachNow is expected to launch soon in additional U.S cities following the Seattle debut. Users can sign up in as little as 5 minutes by scanning their drivers licence using the ReachNow app, and taking a photo of themselves via the app.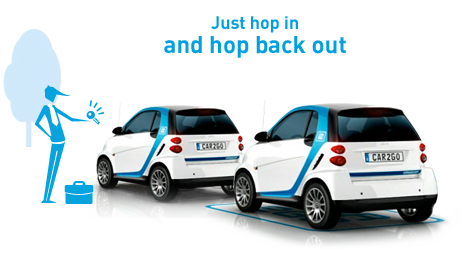 Img 3: Car2Go
The service will cost $0.49 per minute compared to a cost of $0.41 per minute from Car2Go, making ReachNow more of a premium offering compared to Car2Go. In addition, BMW plans to compete with Uber and Lyft by offering a ride hailing service as part of ReachNow's offerings with "BMW Certified" drivers at the wheel of the car, as many become concerned about the safety of Uber. Owners of the BMW i3, Mini, and gas powered 3 series will also be allowed to place their cars on the network and will gain compensation from any use. More services are in the works with BMW looking to add delivery service for its car sharing service, car sharing for longer rentals, and car sharing for residential and corporate groups. The service offers what seems like a perfect platform for those who want to drive themselves but do not want to own a car, those who want to hail a ride but would rather not take a taxi, and those who want to own a car and could maybe step up to buy a BMW if they could earn some money from it to reduce their ownership costs. BMW Executive Peter Schwarzenbauer stated, "we would see ourselves as the only one in the market that tries to cover every (transportation) need you would have."
Some people have suggested that the Tesla Model 3 will be the cheapest car that Tesla makes and at some point the company will venture into a system where users can hail a Tesla, or where users can borrow a Tesla for a few hours, allowing millions to access Tesla cars without the need to own one. In fact Elon Musk hinted at this late last year when he said "There is a right time to make announcements and this is not the time" in response to an analyst question as to whether the company was looking at launching an Uber like business. A Tesla move into such a business will put the company head to head with not only Car2Go, ZipCar, Uber, and Lyft, but now BMW.
Getting a foothold could be key for BMW, and the company could gain a large market share and recognition in the ride-sharing and ride hailing market before Tesla is able to launch a platform of its own to compete. Such an offering by Tesla is likely at least 3 years away as the company would first need to put the Model 3 into production and work through the existing backlog. In addition, the BMW i3 as part of the ReachNow fleet could work out as free advertising for BMW and raise additional awareness in the United States about the electric BMW i3 offering. The BMW i3 also becomes a cheaper offering against the Model 3 if owners can subsidize their purchase by leasing their car out to the ReachNow network during times of the day they do not need to use their car.
While such a service is not going to be a Model 3 killer, or be the end of Tesla it certainly has the potential to put BMW several steps ahead of Tesla in what is a booming part of the transportation market that is only growing in importance. The question becomes how will Tesla fare longer term cracking into this market with big names like BMW and Daimler now several steps ahead of them?
CommentsWrite a Reply or Comment: