Buick Dealership Offers A Free Car — And A Lesson In The Derivatives Market – Huffington Post
Posted: Thursday, November 27, 2014
Bill Kay Buick GMC is promising a complete refund to anyone who buys a new car on Friday or Saturday if it snows more than 6 inches on Christmas Day in Chicago.
"No one has ever done this in the car business before," Karl Regalado, Bill Kay's general manager, told The Huffington Post. "It's legit. A lot of people think it's a scam."
It's not a scam; it's a derivatives contract.

For two days only, your new Buick comes with what is essentially a weather derivatives contract. Typically the only people dealing in weather derivatives are investment banks and insurance companies with teams dedicated to betting on things like hurricane and flood risk.
For example, to offset its risk of paying out millions of dollars to homeowners in case of a hurricane, an insurance company will set up a derivatives contract with an investment bank. The bank agrees to pay out some amount of money in case the storm actually does hit. If the storm misses land, the bank wins. If the storm hits, the insurance company loses less.
At Bill Kay Buick GMC, the deal is more simple: If it snows 6 inches or more on Christmas at Chicago's O'Hare Airport, you get your money back. And really, Bill Kay means that quite literally — 2 inches on Dec. 24 and 5 inches on the 25th without melting won't cut it. A half-foot of snow has to fall from midnight to 11:59 p.m. on Dec. 25. If that doesn't happen, you keep your car for the price you paid. That's risky, so Bill Kay bought insurance from a company called HCC that specializes in financially protecting companies and people from odd things, like the chance that a professional athlete's career will be cut short by injury.
Regardless of what happens, Bill Kay gets some publicity (this post included, you're welcome!). That insurance should have been pretty cheap — a little more than $10,000 based on my estimate. The fair price to insure the dealership's expected $1 million in sales is less than 1 percent of $1 million, but for the sake of round numbers, let's assume it's $10,000, plus a bit more because the insurance company is being conservative and tacks on a fee. Still, the total cost the dealership paid to the insurance company is probably less than $12,500. That's the equivalent of a 10 percent discount on five $25,000 Buicks.
So Bill Kay's Buick GMC, the only weather-derivatives-dealing car dealership in America, is doing something pretty smart: Offloading its entire refund risk to its insurance company at a price that's cheaper than a run-of-the-mill sale to which no one (myself and the Tribune included) would have paid much attention.
That's because, based on historical data, the chance of Chicago getting 6 inches of snow on Christmas is less than 1 percent. Chicago is a cold, snowy city, but heavy snowfall happens infrequently, as you can see from this chart. Snow days of 3 inches or more are the dark blue lines occurring around 2 percent frequency in December: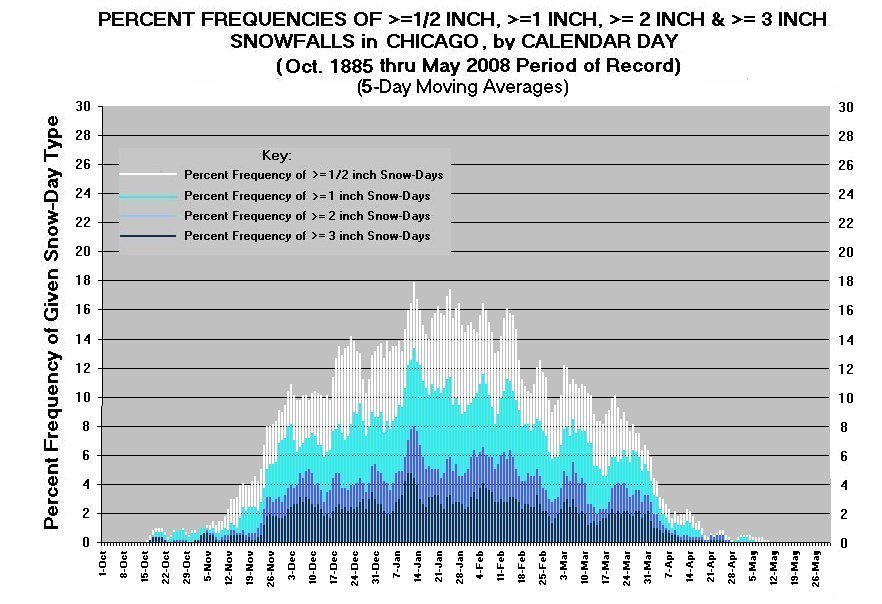 The record Christmas Day snowfall in Chicago, according to the state's climatologist, was 2.5 inches in 1965.
According to data from the National Oceanic and Atmospheric Administration, from 1981 to 2011, it snowed 5 inches or more in December an average of just 0.3 days. That's just 1 percent of the days. It's not enough snow to trigger the free-car deal, and it includes the entire month of December. The odds of big snow days are the same in January, which is useful. The dealership and its insurer don't need to worry about a more-frequent early January storm happening in late December.
Bill Kay has already seen the deal's payoff. It has "been a great media blitz in the last 24 hours or so," Regalado said. And things will only get better, he says, if they give away cars on Christmas.
"No matter how many cars we sell, whether it's 40, 50, 60 or 70, this is a win, win, win. If it snows 6 inches on Christmas, everyone is going to know who we are."
CommentsWrite a Reply or Comment: