Can Jeb avoid being the Fred Thompson of 2016? – Fox News
Posted: Wednesday, December 17, 2014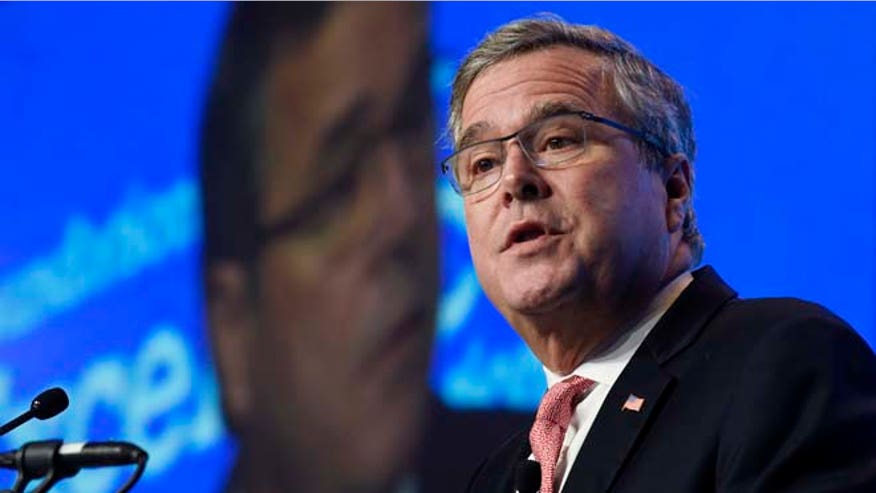 **Want FOX News First in your inbox every day? Sign up here.**
Buzz Cut:
• Can Jeb avoid being the Fred Thompson of 2016?
• Report: Clinton State Department helped major donor skirt immigration rules
• Court could upend temporary amnesty
• Obama's 'executive actions by another name'
• Pssst… The password is 'alfalfa'
CAN JEB AVOID BEING THE FRED THOMPSON OF 2016?
A famous Republican who's been out of office for a while but who has a big national profile uses social media for an unconventional campaign launch that instantly fires up supporters across the country and sends the political press into a tizzy. But just a little more than four months later, former Sen. Fred Thompson was out of the 2008 presidential race after donors and activists alike withdrew their support for a candidate who didn't seem willing to endure the effort and indignities of a presidential run. So how does Jeb Bush avoid a similar fate? Certainly the former Florida governor seems to lack the disciplined, energetic campaign style of his brother who was textbook and tireless in his 2000 candidacy. At this point in that cycle, George W. Bush was already in full swing, essentially shifting his 1998 gubernatorial re-election bid into a presidential campaign.
[The latest Fox News poll show 2012 Republican nominee Mitt Romney gets 19 percent of the vote remaining in front of former Gov. Jeb Bush, R-Fla., at 10 percent.]
Fire that burns – But Jeb Bush is not his brother, and that's a good thing when it comes to offering a different look for a different election cycle. The real question now is whether Jeb is going to get his rear in gear. Succumbing to a chorus of hosannas, especially when they all tell you how easy it will be, is easy. Getting up and crisscrossing Iowa and raising the probably $150 million he would need is hard work, even with vast resources his family can draw from donors. One would assume that pledges of support preceded the announcement, but after this splash, Bush will have lots of work to do to catch up with Sen. Rand Paul and some others on active organization. Jeb needs to be careful that he doesn't turn into 2016's Fred Thompson. Big expectations. Big hype. Early fizzle.
Kelly File: Rand smack talks Jeb – "Well, maybe he [Jeb Bush] has more ground he needs to gain. He's been out of this for a while. So maybe he needs to get back in and practice up a bit. I don't know. I can't determine why other people — I just know what I'm going to do." –Sen. Rand Paul, R-Ky., on "The Kelly File." Watch here.
That escalated quickly: Rand already running an ad against Jeb – Time: "… the political action committee for Kentucky Sen. Rand Paul, who appears certain to announce a bid for the Oval Office in the coming months, took out a Google search ad on his name, with a not-so-subtle dig at the more moderate Republican. 'Join a movement working to shrink government. Not grow it,' the ad states, with a link to RandPAC, Paul's longstanding federal leadership committee, and a page asking supporters to give their email address and zip code to 'Stand With Rand.'… Later Tuesday, RandPAC added a second ad to its digital buy, implicitly attacking Bush's strong defense of the Common Core education standards. 'We need leaders who will stand against common core,' the search ad stated, with a link to Paul's political action committee."
Common Core fight at state level will complicate run – WaPo: "The education standards, initially a product of the bipartisan National Governors Association that was then embraced by the Obama administration, have split Republicans outside the Beltway. There are few issues — perhaps even including the Affordable Care Act — that angers the conservative base as much as Common Core, which most Republican governors still support. "It has divided the party. You've got [former Florida governor] Jeb Bush and [former education secretary] Bill Bennett on one side supporting Common Core, good conservative Republicans, and you've got [Louisiana Gov.] Bobby Jindal and others on the other side saying this is the devil's spawn," Utah Gov. Gary Herbert (R), a Common Core backer, said in an interview. "If there's ever been a program that's been more poorly rolled out than Obamacare, which didn't have a very illustrious beginning, it's Common Core."
Jeb modified his lesson plan in November – "[I]n my view, the rigor of the Common Core State Standards must be the new minimum in classrooms. For those states choosing a path other than Common Core, I say this: Aim even higher . . . be bolder . . . raise standards and ask more of our students and the system." –Former Gov. Jeb Bush, R-Fla., at the National Summit on Education Reform, Nov. 20.
"For Jeb Bush to run in the primary will be very, very difficult because if you're going to be for a national curriculum and for Common Core and for No Child Left Behind, this accumulation of power in Washington, that's not very popular and it's going to be overcoming if he thinks he can win the primary." –Sen. Rand Paul, R-Ky., on "The Kelly File." Watch here.
Power Play: The Jebness in 60 seconds – In a holiday greeting posted on social media, former Gov. Jeb Bush, R-Fla., announced that he is officially actively exploring a presidential run in 2016. Setting off what is expected to be an avalanche of candidate announcements in the next few months, Chris Stirewalt examines how this announcement will shape the GOP field and the possibility of a third Bush running for the White House. WATCH HERE.
"I think the field will form, in all likelihood, sometime between January and June of next year…And in all likelihood, it's going to be a crowded field. There are going to be a number of good candidates and we'll have real discussion about who would be the best candidate to lead, to stand up and fight and to win in November of 2016." – Sen. Ted Cruz, R-Texas, on "Special Report with Bret Baier" Watch here.
Team Rubio says Jeb won't deter launch – David Drucker goes inside Sen. Marco Rubio's nascent campaign operation to see how the current Jebness affected Rubio and his team's thinking about 2016. They sound sanguine. Drucker also lays out the next steps: "Rubio's book, viewed as a precursor to a national campaign, comes out in January, and the senator is expected to make the most of his book promotion tour to advance his policy agenda and make the case for his brand of conservative leadership. Later in 2015, Rubio plans to unveil in an alternative to Obamacare that he has worked on with Rep. Paul Ryan, R-Wis., the GOP's 2012 vice presidential nominee."
Feels like sweater vest weather – Rick Santorum talks to National Journal about the 2016 GOP field and his underdog status as a potential repeat presidential candidate. "I've always said one of the great blessings in my political career is I've always been underestimated. And that really has, as it turned out, been a great asset."
REPORT: CLINTON STATE DEPARTMENT HELPED MAJOR DONOR SKIRT IMMIGRATION RULES
NYT: "The Obama administration overturned a ban preventing a wealthy, politically connected Ecuadorean woman from entering the United States after her family gave tens of thousands of dollars to Democratic campaigns, according to finance records and government officials. The woman, Estefanía Isaías, had been barred from coming to the United States after being caught fraudulently obtaining visas for her maids. But the ban was lifted at the request of the State Department under former Secretary of State Hillary Rodham Clinton so that Ms. Isaías could work for an Obama fund-raiser with close ties to the administration."
[The latest NBC/WSJ poll gives Clinton a slim margin as the frontrunner with 50 percent of Americans saying they could support her if she runs while 48 percent oppose a run.]
Hillary declares herself anti-torture, but ducks details – NYT:"Hillary Rodham Clinton on Tuesday made an impassioned argument against the use of torture in her first remarks about the issue since the Senate Intelligence Committee released its scathing report last week about interrogation tactics used by the Central Intelligence Agency. Accepting the Robert F. Kennedy Human Rights Award in New York, Mrs. Clinton said she was 'proud to have been a part of the Obama administration that banned' some torture practices. The nation 'should not practice or condone torture anywhere in the world,' she said. 'That should be absolutely clear as a matter of both policy and law.' … Mrs. Clinton, as a former secretary of state, was under particular pressure to comment. 'It is possible to keep us safe from terrorism and reduce crime and violence without relying on torture abroad or unnecessary force or excessive incarceration at home,' she said."
Ouch – AdWeek reports that People magazine's worst selling issue of the year was the June 16 issue featuring Hillary Clinton on the cover with just over half a million copies sold.
[Following her Senate standoff, Sen. Elizabeth Warren, D-Mass., drew numerous comparisons to Sen. Ted Cruz, R-Texas, Dana Milbank argues that comparison is wrong and the more accurate Republican equivalent is actually former Sen. Jim DeMint, R-S.C.]
WITH YOUR SECOND CUP OF COFFEE…
How important is a headline? Aside from determining whether readers will click and take a chance on a story, the headline shapes the way readers process the rest of the information in some pretty profound ways. That's at least according to a new study of reading habits and comprehension. The results, as click baiters would say, WILL SHOCK YOU… Actually, um, you might easily guess the broad contours of the findings, but the details are revealing for those who care about language, clarity and accuracy.  Check it out via The New Yorker: "For conscientious readers and editors, [the] findings across the two studies give cause for concern. First, misinformation appears to cause more damage when it's subtle than when it's blatant. We see through the latter and correct for it as we go. The former is much more insidious and persistent. It is also, unfortunately, much more likely to be the result of sloppiness or inconsideration rather than a deliberate effort to lead readers astray."
Got a TIP from the RIGHT or LEFT? Email FoxNewsFirst@FOXNEWS.COM
POLL CHECK
Real Clear Politics Averages
Obama Job Approval: Approve – 41.8 percent//Disapprove – 53.2 percent
Direction of Country: Right Direction – 27.0 percent//Wrong Track – 65.8 percent
COURT COULD UPEND OBAMA'S TEMPORARY AMNESTY
A last minute burst of activity over, the lame duck Congress riddled with rancor over President Obama's executive action on immigration is no more. Still reverberating through the halls on the Hill and down Pennsylvania Avenue is a shot from the judicial branch. Fox News: "In an opinion filed Tuesday, U.S. District Court Judge Arthur Schwab, in Pennsylvania, said Obama's immigration actions are invalid and effectively count as 'legislation' from the Executive Branch. 'President Obama's unilateral legislative action violates the separation of powers provided for in the United States Constitution as well as the Take Care Clause, and therefore, is unconstitutional,' the judge wrote…."
Buuuuttttt…- "The opinion, though, is unique in that it did not come in response to a challenge to Obama's immigration policy announcement. It is unclear what impact, if any, the opinion might have…[Schwab] wrote that the action goes beyond so-called 'prosecutorial discretion' – which is the 'discretion' the administration cites in determining whether to pursue deportation against illegal immigrants….Schwab, a George W. Bush appointee, wrote that this 'systematic and rigid process' applies to a 'broad range' of enforcement decisions, as opposed to dealing with matters on a 'case-by-case basis.'"
"I strongly disagree with the court's reasoning but the process is also suspect.  It is difficult to see this opinion as anything more than politically motivated judicial activism, given that the constitutionality of the President's actions was not being challenged in this case." – Sen. Patrick Leahy, D-Vt., Senate Judiciary Committee Chairman.
[NRO's Andrew McCarthy writes, "I wonder how the Republican establishment will take this: A federal court has the gumption to declare the obvious — namely, that Obama's immigration policy is unconstitutional, just as Republican candidates argued while seeking votes during the recent midterm election campaign — only three days after 20 Republican senators astonishingly joined with the Democrats to endorse Obama's policy as constitutionally valid."]
Cruz says he's changing the game, not playing it – "Listen, I like and respect both [George Will] and [Charles Krauthammer]. I think they're smart, insightful observers. You know, on some level, I'll agree with what they said. I am not trying to play the rules of Washington because I think Washington's broken, I think it's profoundly broken. And I think the only answer is to change Washington." – Sen. Ted Cruz, R-Texas, on "Special Report with Bret Baier" Watch here. Cruz also wrote an op-ed for Politico explaining his strategy opposing Obama's executive action.
Senate confirms new immigration boss – Fox News Latino: "A federal prosecutor in Dallas is the new head of the U.S. Immigration and Customs Enforcement agency. Sarah Saldaña, who is the U.S. attorney in Dallas, was confirmed by the Senate through a 55-39 vote on Tuesday. She is the first Latina to lead the $6 billion federal agency that enforces federal border control, trade and immigration laws."
[According to the latest NBC/WSJ poll, 42 percent of Americans say immigration hurts the United States more than it helps.]
OBAMA USES PEN TO BLOCK OIL DRILLING IN ALASKA BAY
WashEx: "President Obama blocked oil and gas drilling in Alaska's Bristol Bay through executive order Tuesday. And, in a rare show of cross-aisle agreement, the state's Republican senator and incoming energy committee chairwoman [Sen. Lisa Murkowski] says she's OK with the decision. Bristol Bay in southwest Alaska is home to half the world's sockeye salmon population and hosts a vibrant commercial fishing industry. The area has seen battles between the fishermen and industry over a potential copper-and-gold mine, the Pebble Mine, which the White House decision does not affect."
[White House plays the base – President Obama took to YouTube with a "Hey, everybody," announcement of his executive order on Bristol Bay.]
More Obama oil blocking to come? – National Journal reports that while oil industry groups have held their fire on Bristol Bay, President Obama faces much more contentious decisions – and potential executive action – on other oil ranges in Alaska.
McConnell: Approving Keystone XL is first order of business next year – National Journal: "Senate Minority Leader Mitch McConnell said Tuesday that approving the Keystone XL oil-sands pipeline will be the first item on the agenda for Republicans when they take control of the Senate next year.  McConnell's plan sets up a quick political collision with President Obama, who has repeatedly criticized legislation to force his hand on the pipeline but stopped short of a veto threat."
OBAMA'S 'EXECUTIVE ACTIONS BY ANOTHER NAME'
USA Today: "President Obama has issued a form of executive action known as the presidential memorandum more often than any other president in history — using it to take unilateral action even as he has signed fewer executive orders…. Like executive orders, presidential memoranda don't require action by Congress. They have the same force of law as executive orders and often have consequences just as far-reaching. And some of the most significant actions of the Obama presidency have come not by executive order but by presidential memoranda."
WHITE HOUSE DRAGGING ITS FEET ON OBAMACARE TAX RULES
Daily Caller: "Americans have to be prepared for an increased individual mandate tax to hit in just two weeks, but the White House still hasn't gotten around to approving the Internal Revenue Service paperwork on the requirement…The IRS' workload was upped drastically by the individual mandate, which will require Americans to submit a tax form proving they have health insurance or pay a growing fine to the agency. It appears the Obama administration was running behind on the paperwork requirements as well as pretty much everything else…Right now, there's no official IRS doctrine on how exactly the agency is supposed to be collecting the individual mandate penalty, or, as the administration calls it, the 'shared responsibility payment.'…"
[Daily Caller reports that the Treasury Department has released 4 new pages of documents related to the IRS scandal bringing the total to one percent of all pages released ahead of a January 30 federal court hearing.]
Expectations managed – The Hill: "ObamaCare signups are likely to surpass the administration's goal of 9.1 million, beating the lowered target set by the administration at the start of the enrollment period. About 10.5 million people are expected to purchase health insurance by the end of 2015, according to a report by consulting and research firm Avalere Health.."
[According to the Health and Human Services Department, nearly 2.5 million individuals have selected plans on the market place as of the end of last week. With 52 percent of those signups coming from renewals and 48 percent are new consumers.]
SCARY STUFF IN SO-CAL PENSION FIGHT
LAT reports that the police union in Costa Mesa, Calif. hired private investigators to monitor city council members who were opposed to union pension and pay proposals in a bid to defeat them in municipal elections. The two private eyes hired by the union ended up arrested themselves for false DUI reports and trailing a councilman for weeks using a GPS device hidden on his vehicle Though the force has not been implicated in any illegal activity, Councilman Steve Mensinger, who is now the city's mayor, said "It speaks volumes to the corrupt culture of our police union."
PSSST… THE PASSWORD IS 'ALFALFA'
If anybody happens to see a couple of cows hiding out, officials in Pocatello, Idaho would like to hear about it. Idaho State Journal reports they are trying to solve the mystery of missing heifers from a local meat packing plant. The meat packing plant has had five animals go missing in recent days. In the first incident a single cow escaped hopping a fence and leading police on a chase through Pocatello before an offer put down the animal like Steve McQueen at the Swiss border. In the second incident, plant employees reporting for work found four animals gone and the corral gate open. Cornered in a residential neighborhood, one cow met his demise while another was captured behind a construction equipment dealership. The remaining two remain on the loose.
AND NOW, A WORD FROM CHARLES…
"On the other hand, I do think that what he [Ted Cruz] has done, standing up on principle or making these statements has hurt the cause…You gave Harry Reid time to do all this. If your practical effects are negative, don't do it. Make your statement somewhere else." —Charles Krauthammer on "Special Report with Bret Baier" Watch here.
Chris Stirewalt is digital politics editor for Fox News.  Want FOX News First in your inbox every day? Sign up here.
Chris Stirewalt joined Fox News Channel (FNC) in July of 2010 and serves as digital politics editor based in Washington, D.C.  Additionally, he authors the daily "Fox News First" political news note and hosts "Power Play," a feature video series, on FoxNews.com. Stirewalt makes frequent appearances on the network, including "The Kelly File," "Special Report with Bret Baier," and "Fox News Sunday with Chris Wallace."  He also provides expert political analysis for Fox News coverage of state, congressional and presidential elections.
CommentsWrite a Reply or Comment: