Gree Electric Appliances Inc., China's largest air-conditioner maker, is diving into the fast-growing electric vehicle market with its 13 billion yuan ($2 billion) acquisition of Zhuhai Yinlong New Energy Co.
The appliance maker, which announced its intention to buy Yinlong in March, will fund the purchase by selling 834.9 million new shares at 15.57 yuan apiece, about 19 percent lower than the stock's last traded price, according to a filing to the Shenzhen stock exchange Thursday. Gree's shares have been suspended from trading since February.
Gree is among the dozens of startups and industrial companies venturing into the field of electric vehicles. China has designated new-energy vehicles a strategic industry as part of a broader push to upgrade its manufacturing sector. Electric vehicles also would curtail tailpipe emissions that contribute to worsening air pollution in major cities.
Gree is making the purchase in order to support the Chinese government's push to clean up the environment and promote greener technologies, Chairman Dong Mingzhu said in an interview in Beijing in March. "The decision was made with the premier's work report target to have blue skies, green pastures and clear water," she said, referring to Premier Li Keqiang's report to the legislature that listed the government's priorities for the year.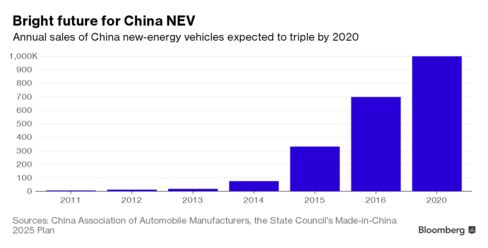 Yinlong started manufacturing batteries for electric vehicles in 2009 and has a line of seven electric passenger cars and 18 electric buses, according to its website. The company sold 3,189 electric buses as of January, giving it a market share of 3.6 percent in China, Yinlong said.
Slumping Sales
Gree is entering a crowded electric vehicle market with tough competition from other investors who have deep pockets. More than 200 Chinese companies — with backers including Alibaba Group Holding Ltd.'s Jack Ma — are developing 4,000 models of new-energy vehicles and unveiling prototypes.
The appliance maker is diversifying into electric vehicles even as its sales slump.
Net income rose 12 percent to 6.4 billion yuan in the first half of the year, even as revenue slipped 1.9 percent to 49.2 billion yuan, Gree reported Thursday. Revenue plunged 28 percent to 99.8 billion yuan in 2015, the company's first annual sales decline on record amid China's slowing economy that has hurt retailers.
Gree gets about 86 percent of its revenue from manufacturing air conditioners and parts. It sells two out of every five air-conditioners in China, according to data from Euromonitor International.