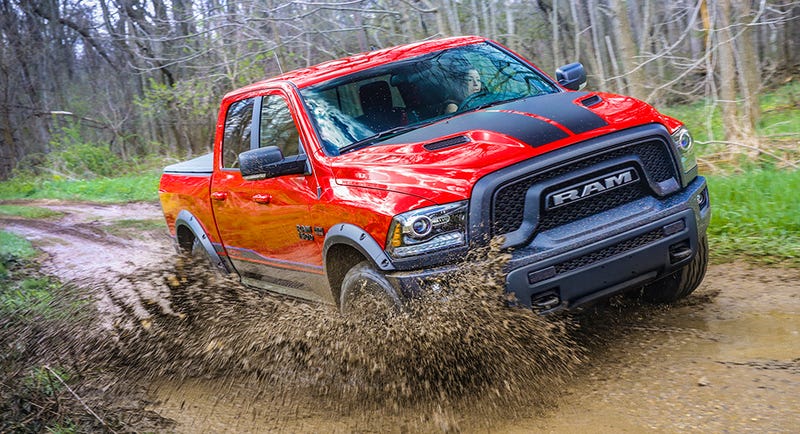 The Ram Rebel is only a minor tweak on Chrysler's popular four-door, short-bed, half-ton pickup truck platform, but it sure is a whole lot cooler. At least Chrysler hopes you think so. And in a few decades, you probably will.
For those of you who aren't familiar with the Rebel but are still willing to read on before scrolling straight to the comments to say something about how big the letters on it are, here's a breakdown.
The truck gets a one-inch lift on quality shocks and a few bold aesthetic choices to stand out. We drove it on and off-road last year and frankly, it was a lot of fun. Super smooth on the road, enough ability to get you giggling through the rough stuff.
For 2016, Ram's introducing a 'Mopar' version that adds a little more artistic flair to make it feel like a future classic.
Buyers will get "Mopar '16 merchandise, a brochure and a unique metal birth certificate that highlights truck specifications, date of manufacture and the proprietary number. Kit contents are stored in an attractive case and packaged in a Ram-branded tool bag" according to the press release.
If you really are buying this thing as an investment (hah), you better keep that shit as clean and tagged as a Beanie Baby in 1995.
Other Mopar-specific enhancements include some meatier-looking fender flares than the standard Rebel dressing, black paint on the skid plate, wheels, and of course, "a serialized Mopar '16 glove box badge" allowing your passengers to admire the great taste in appreciating automobiles you have.
A total of 500 Mopar Ram Rebels will be built, all running the 5.7 Hemi V8 engine and 4WD. The MSRP is $52,460.
Now I know many of you love to hate on "sticker and appearance packages" as trading on an illusion of exclusivity. You're not wrong, per se.
But it seems like a lot of those same people are sending me links to things like the original Nissan Desert Runner and the Land Rover Discovery XD when they pop up for sale in some obscure Craigslist region with a caption like "lookhowawesome!"
Are those trucks awesome? I mean, I think so. Even though they can be distilled to a few cheap bolt-on bits and a neat livery. What makes them cool isn't the amount of modification they've got. It's the fact that they were sold dressed up from the factory.
So are those examples, the Nissan and Land Rover, particularly valuable now? Who knows. The only ones that ever show up for sale are listed with three grainy cell phone pictures and half their body panels sacrificed to rust.
You take care of your Mopar Ram Rebel, guy. Then let us know what your son gets for it with the original branded tool bag in 2036. Here are a bunch more pictures of it, because I really do think it looks sweet.