Cities around the world ring in New Year – Fox News
Posted: Thursday, January 01, 2015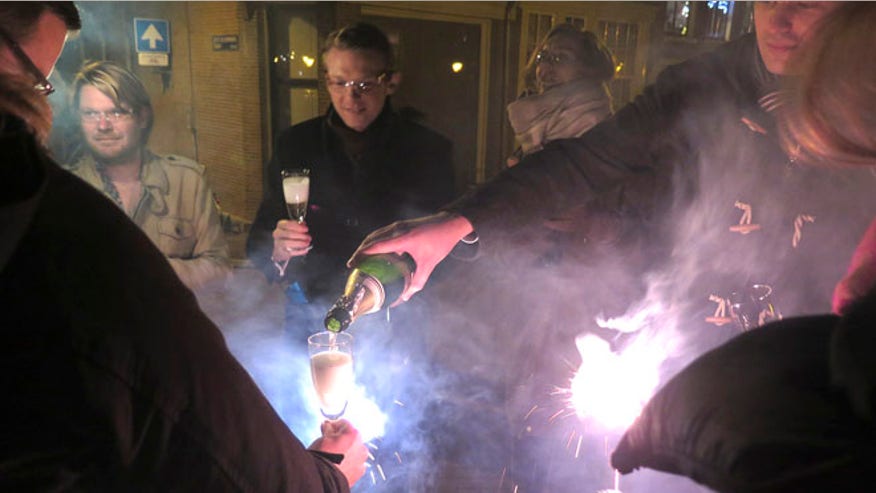 Major cities around the world bid farewell to 2014 and welcome in 2015 with massive firework displays and celebrations featuring fireworks, music, and dancing.
Revelers around the world are bidding farewell to 2014 and welcoming in 2015 Wednesday with celebrations featuring fireworks, music, and dancing.
Here's a look at how some of the world's major cities are celebrating the New Year:
In Dubai, fireworks surrounded the world's tallest building, the 2,722-foot Burj Khalifa, which flashed with colored lights and images of the country's leaders as organizers went for a Guinness World Record for the largest LED-illuminated facade.
Sydney's famed Opera House provided a stunning background for a trademark glittery celebration replete with a tropical-style fireworks display featuring gold and silver palm tree pyrotechnic effects.
More than 1.5 million revelers crowded along the shores of the city's famed harbor in warm summer weather to watch the vivid eruption of light over the Harbour Bridge, Opera House and other points along the water.
At midnight, the crowd cheered as a 12-minute firework display was launched, the third and final light show for the night.
The festivities, however, come just two weeks after an Iranian-born self-styled cleric took 18 people hostage inside a downtown cafe. A tribute to two hostages killed in the siege was to be displayed on the pylons of the Harbour Bridge during the main fireworks display, and an extra 3,000 police officers were patrolling the city. Still, Sydneysiders were encouraged to celebrate as usual.
In New Zealand, a giant clock on Auckland's landmark Sky Tower structure counted down the minutes until the New Year, with a huge fireworks display launching from the tower at midnight.
Beijing counted down the New Year at an event in the Olympic Park designed to highlight the capital's bid to host the 2022 Winter Olympics. Skaters will perform and Olympic medalist figure skater Zhao Hongbo, Paralympics gold medalist swimmer Yang Yang and pianist Lang Lang will appear. Celebrations will also take place in Zhangjiakou, the city in neighboring Hebei province which is co-hosting the bid, and at the foot of part of the Great Wall in the northwest of Beijing.
Japanese stores generally close for New Year's Day, the country's biggest traditional holiday, so Wednesday was a day for shopping and stocking up for many, in preparation for the annual feast, called "osechi ryori."
At midnight, temple bells struck 108 times, the number of evils, or temptations, as defined by Buddhism.
In London, hundreds of thousands of people lined the River Thames for a fireworks display timed to the midnight bongs of Big Ben, Parliament's famous bell.
Revelers in the Scottish capital, Edinburgh, flooded the streets for Hogmanay, one of Europe's biggest year-end celebrations. The three-day festival — derived from Viking celebrations of the winter solstice — began Tuesday with a torch-lit procession of 35,000 people, including marching bands and troupes in full Viking regalia, and a fireworks display atop the city's Calton Hill.
In Rio de Janiero, more than 1 million people flocked to the golden sands of Copacabana beach, where two dozen artists and DJs performed on three stages. Tourists and locals routinely party until dawn on the beach, staying awake to watch the tropical sun rise for the first time in 2015.
A massive fireworks display blasted from boats in the waters of the Atlantic Ocean lit the sky over the crowd, which traditionally dresses in all white, a Brazilian New Year tradition to bring purification and a peaceful year. Another tradition calls for partygoers to enter the sea up to their knees and jump over seven waves shortly after the New Year begins, for luck.
Despite the bitter cold, massive throngs jammed Times Square and nearby vantage points for the annual ball drop.
Las Cruces, New Mexico, is spicing up New Year's Eve with its first chili drop. In Miami, a 35-foot neon orange will light up, while Atlanta and Nashville, Tennessee, will drop a peach and a musical note, respectively.
Flagstaff, Arizona, celebrates with a 6-foot pine cone that drops from a downtown hotel. Nearby Prescott drops a 6-foot spurred cowboy boot in a nod to its western culture.
On Lake Erie in Port Clinton, Ohio, the community will carry on its tradition of dropping a 600 pound walleye made of wood and fiberglass. Michigan's Upper Peninsula will ring in 2015 with a nod to its mining history, with a replica of a pasty — a baked pastry filled with meat and potatoes — to drop in Escanaba, one of the remote region's largest cities.  The meal was popular by miners who immigrated to Michigan decades ago.
Amid the celebration, some cities are on alert for New Year's Eve protests related to recent police killings of unarmed black men. Boston's mayor and police commissioner urged activists to hold off on a planned "die-in." No plans for major protests were announced in New York, where the police department is still mourning two officers shot to death in a patrol car. But security will be tight, with more personnel than usual.
Las Vegas isn't a place that expects snow, no less on New Year's Eve. So with meteorologists at the National Weather Service saying there's a chance that flurries might fall on the gambling capital's Strip and the hundreds of thousands of revelers ringing in the New Year, the agency warned visitors: dress warmly and wear comfortable shoes — it's going to be a cold night.
Organizers of the fireworks display say the show will go on, with or without snow. Forecasts in Las Vegas pin the area's chances for New Year's Eve snow at 70 percent along with a low of 32 degrees. But for that to happen, meteorologist Chris Stachelski says there needs to be moisture in the air, and that's far from a certainty for the Strip.
The Associated Press contributed to this report.
CommentsWrite a Reply or Comment: