Dr. Z Wins Back Luxury Lead From BMW With Mercedes Makeover – Bloomberg
Posted: Tuesday, January 03, 2017
Daimler AG Chief Executive Officer Dieter Zetsche stood on a stage in 2011 surrounded by milestones of Mercedes-Benz's 125-year history. Dressed in a somber dark-grey suit with a light-blue tie knotted tightly at his neck, he tentatively directed attention to the brand's future with the revival of founder Gottlieb Daimler's claim, "The Best or Nothing."
The gesture then appeared desperate. Mercedes's image was dowdy. Global deliveries had trailed archrival BMW since 2005 and were at the time dropping below Audi's. But fast forward five years and Daimler's flagship division has been reborn. In 2016, Mercedes retook the luxury-car crown from BMW for the first time in over a decade, as peppy new models like the GLA compact SUV wooed new, younger buyers and the S-Class was re-established as the benchmark luxury sedan.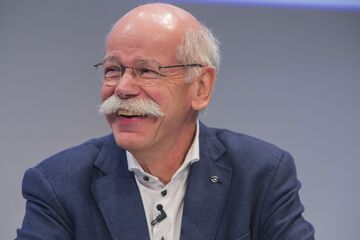 Dr. Z, as Daimler's 63-year-old CEO is known, himself appears rejuvenated. Embodying Mercedes's makeover, Zetsche has ditched his suit and tie for skinny jeans and sneakers. Daimler's challenge now is to stretch Mercedes's transformation further, with competition from electric-car makers including Tesla Motors Inc. intensifying and ride-hailing services such as Uber Technologies Inc. calling into question the need to own cars.
"While Mercedes is doing well against the old guard, it remains to be seen how well they'll do in the future where new competitors are pushing into the sector," said Stuart Pearson, a London-based analyst at Exane BNP Paribas.
Even though the recovery is largely due to what the CEO's done right — including overhauling the brand's stodgy styling and expanding its range of SUVs — it was helped by rivals' stumbles.
BMW AG's push into electric cars with the oddly shaped i3 in 2013 has fallen flat, and adding the seven-seat Gran Tourer minivan may have shifted the brand too far from its sporty roots. BMW's CEO Harald Krueger, who took charge in 2015, has yet to add fresh impetus, with the revamped 5-Series sedan clinging to its predecessor's conservative design.
Audi has been slow to add to its SUV lineup to match offerings at Mercedes and BMW. And over the past year, the brand has been caught up in the emissions-cheating scandal of its parent Volkswagen AG.
Daimler's "operating in a relative competitive vacuum as their key competitors BMW and Audi are laboring with pretty old products," said Exane BNP Paribas's Pearson.
Marketing Personality
Since taking the reins in 2006, Zetsche has been elevated to a de-facto brand, with the likable Dr. Z character — built around his academic title, thick German accent and sense of humor — featured regularly in advertisements and end-of-year memos on social media. Turning an engineer CEO into a marketing personality is unusual in Germany's stiff corporate culture and has helped soften the company's image.
Zetsche's turnaround is even more dramatic than he dreamed of back in 2011, toppling BMW as the luxury-car king four years earlier than his end-of-decade target. With plans to roll out a slate of new electric cars, Mercedes looks set to defend the No. 1 ranking at least until his current contract expires in 2019.
Mercedes deliveries jumped 12 percent in the 11 months through November, more than double the pace of growth for BMW's namesake brand. Mercedes sold 1.9 million vehicles in the period, about 69,000 cars ahead of BMW, virtually guaranteeing the crown swap.
Since the pieces started falling into place over the last couple years, Zetsche has "felt he can walk on water," said Stefan Bratzel, an auto industry researcher at the University of Applied Sciences in Bergisch Gladbach, Germany, and a former marketing manager at Daimler's Smart brand.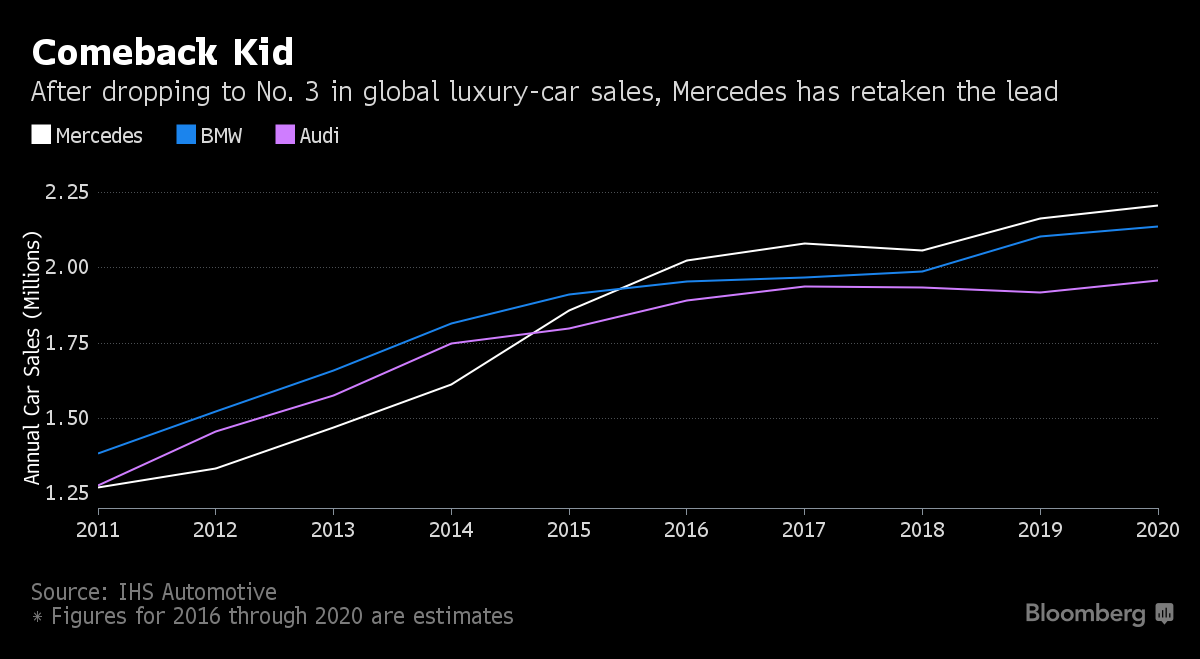 While Zetsche's been able to reap the benefits of a well-timed product cycle, the task of maintaining the lead will fall to his successor. The new CEO will need to master the challenge of boosting profitability, and balance investments in new technologies while cranking out updated models. Daimler's development costs are surging amid the industry's move toward autonomous driving and ride-sharing, and rising regulatory pressure to reduce vehicle emissions.
Daimler's already planning for the transition, grooming company veteran Ola Kaellenius — now head of research and development, and chief of sales at Mercedes-Benz Cars — for the position. Appointing the 47-year-old Swede as CEO would mark the first time a non-German takes the top spot at Daimler.
Both Daimler and BMW are planning for electric cars to comprise as much as 25 percent of their deliveries in the next decade, even though consumers have been slow to warm up to the vehicles. While Mercedes has a headstart with a slate of edgy electric cars due out in the coming years, new competitors from Tesla to Alphabet Inc.'s Waymo are threatening its lead. Tesla's Model S is already outselling the Mercedes S-Class in the U.S.
Even after a decade as CEO, Zetsche continues to push for innovations while trying to keep down development costs. In the process, he's kept his self-deprecating humor and his trademark walrus mustache, as some things — like the nameplate's three-pointed star — are sacred. And he knows that winning the sales crown from BMW is just part of the job.
In his 2016 year-in-review video, set in a non-nonsense cafeteria near Daimler's headquarters in Stuttgart, Zetsche talks about the company's plans for introducing at least 10 electric cars. He acknowledges that success won't come right away.
"E-mobility is a bit like ketchup," he says, with a bemused look on his face as he pounds a bottle of the condiment over a plate of french fries. "One knows something's coming, but not when and how much."
Watch Next: Zetsche: Mercedes Wants to Lead in Electric Cars by 2025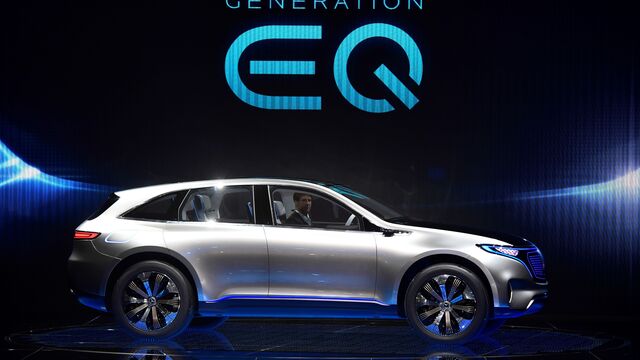 CommentsWrite a Reply or Comment: