Execs get the ax as car sales slow – Fortune
Posted: Tuesday, February 11, 2014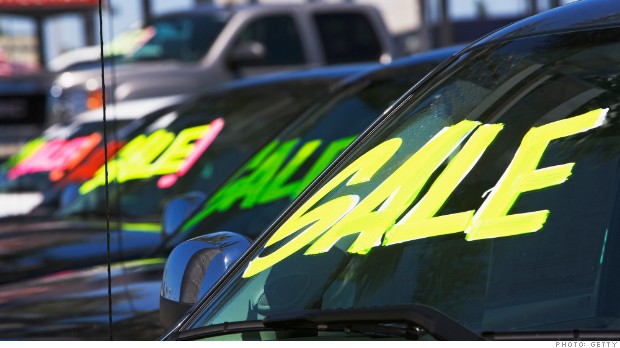 It may not be as bloody as the mass firings of NFL coaches on Black Monday after the regular season ends, but it comes close: the mass execution of sales executives as the auto market cools off.
Since Christmas, top executives at Hyundai, Volkswagen, Nissan, Kia, and Chevrolet have all abruptly left their jobs. The official explanations include the usual "retirement," "personal reasons," and "to seek other opportunities," but a closer look reveals a common cause: lower sales.
The rate of sales has been slowing down, and some analysts expect that to continue. The economy seems to have hit another pothole, and pent-up demand has dried up. As an analyst on Seeking Alpha put it, "Anyone looking to replace their existing vehicle with a new car used historically low interest rates and easy access to credit … to do so over the last couple of years."
The carnage has been widespread. "Executive turnover is everywhere these days," says Edmunds.com sales analyst Jessica Caldwell. "It seems almost as common as vehicle recalls."
Last week, the revolving door at General Motors (GM, Fortune 500) spun again as Don Johnson was moved out of his top sales post at Chevrolet and into retirement. He was replaced with Buick-GMC sales chief Brian Sweeney. Sweeney reports to new U.S. sales chief Steve Hill, who was promoted to that job last month.
According to Automotive News, Sweeney will become Chevy's fifth U.S. sales chief in less than five years. As to whether the Super Bowl truck ad featuring an amorous bull was responsible for the latest change, no one would say.
Also on Friday, Tom Loveless, Kia Motors America's executive vice president of sales, resigned effective immediately. He was replaced by marketing boss, Michael Sprague. In a statement, the group president and CEO of Kia Motors America, said "This restructuring is intended to support our long-term strategy and continued growth in the U.S. market." Korean companies are not known for their patient management, so this was not entirely unexpected. The change followed a 4% decline in Kia's U.S. sales year, its first decrease in volume since 2008. The decline was especially painful because industry sales were up 8%.
MORE: Car talk (and more!) with Mary Barra, GM's new chief
All this churning suggests that the auto industry has adapted the old sports adage that when you're losing, it is easier to fire the coach than the rest of the team.
For the home teams, the dispiriting facts are that inventories of unsold vehicles have ballooned to their highest level since the recession as sales have cratered. GM, Ford (F, Fortune 500), and Chrysler all began February with more than a 100-day supply of unsold vehicles, the most for that date since 2009, Automotive News reports, after losing three points of share in January.
The unsightly bulge in unsold vehicles has renewed fears that the long cease-fire in the incentive wars is coming to an end. GM is said to be particularly anxious about the fate of its full-size pickup trucks. Although they were redesigned a year ago, the Silverado and GMC Sierra have been losing market share. "The Silverado has not been well accepted," said one big dealer. "It is too vanilla." To add some flavor, GM is reportedly preparing to offer incentives as high as $7,000 on some slow-moving models. "Thanks to its weak January sales and a sluggish earnings report, 2014 isn't shaping up too well," says a Zacks Research analyst.
High turnover among sales executives is a relatively new phenomenon in Detroit. When longtime Ford executive Ross Roberts died recently, it was noted that he served as general manager of sales from 1991 to 1998. Ford continues to be a relatively stable franchise. Jim Farley has been global leader of marketing, sales, and service since August 2010.
Several import operations, in contrast, have become the equivalent of the Washington Redskins — or Detroit Lions, for that matter — when it comes to executive turnover.
When word came on Dec. 27 that John Krafcik was stepping down in four days time as president and CEO of Hyundai Motor America, many in the industry were surprised he had lasted as long as he had. Krafcik held the top job for five years — the longest tenure in Hyundai history — and led Hyundai to some of its greatest successes in the U.S. market. But when its sales growth faltered in 2013 because of capacity and product cadence issues, Krafcik became expendable. He's succeeded by David Zuchowski, Hyundai's current vice president of sales. Widely considered one of the industry's most capable young executives, Krafcik has already been the object of speculation about where he might land next.
Likewise, Volkswagen has been a graveyard for sales executives as top managers struggled to translate the demands of the U.S. market for their higher-ups in Wolfsburg. That was supposed to change in 2010 when VW finally built a U.S plant in Chatanooga, developed new models aimed at U.S. customers, and installed an experienced European sales executive, Jonathan Browning, at the helm.
MORE: VW may offer UAW some hope in the South
But Browning lasted only until VW ran into a lull in its new model launches, and sales fell short of the ambitious targets set in — wait for it — Wolfsburg. VW sold 367,360 cars in the U.S. in 2013, fewer than the year before and a long way from its eventual goal of 800,000. After three years, Browning resigned "for personal reasons" at the end of December to return to his home in the U.K.. He was replaced by VW's head of American aftermarket sales Michael Horn.
Annual management changes have become routine at Nissan, as executives struggle to meet the demanding financial and sales targets set by CEO Carlos Ghosn. After the latest shuffle, José Muñoz, a Nissan and Infiniti sales and marketing vice president, will replace Colin Dodge as Nissan's new North America chief, effective Jan. 1. Dodge will remain on Nissan's board, be assigned to special projects, and report directly to Ghosn.
Ghosn says he wants to double sales in the U.S. by 2017 and increase its market share in the country to 10%, up from 8% for 2013. One wonders how many substitutes he will have to call in off the bench in order to get there.

CommentsWrite a Reply or Comment: