Father of Palestinian killed by ISIS in Syria says son duped into joining militants – Fox News
Posted: Wednesday, March 11, 2015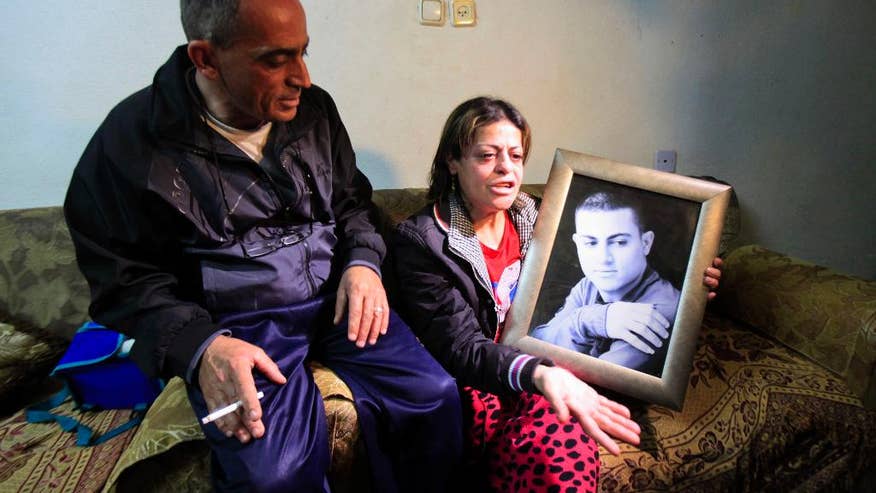 JERUSALEM –  The father of a Palestinian killed by the Islamic State in Syria said Wednesday that his son was no Israeli spy but was tricked into joining the militants who killed him after he tried to come back home.
Said Musallam said ISIS lured his 19-year-old son Muhammad with promises of women, money and cars.
"They promised a lot of things and then I came here and there is nothing," Musallam recalled his son saying in a phone call home from Syria.
The son said he was in Raqqa, the de-facto capital of the Islamic State group, and had heard his mother was sick and wanted to come back, the father added.
The father spoke to The Associated Press from the family's east Jerusalem home, a day after ISIS released a video purporting to show the killing of a captive identified as Muhammad Said Ismail Musallam.
In the 13-minute video posted online, a militant and a boy dressed in camouflage stand behind a man in an orange jumpsuit kneeling on the ground. The fighter makes a brief statement in French accusing the man of working for the Mossad before the boy steps forward and shoots the captive in the head.
The AP could not independently verify the video but it was released by the ISIS group's Furqan media arm and corresponds to previous IS videos.
The Israeli Foreign Ministry declined comment while Israel's Shin Bet internal security agency said it announced earlier this year that Mohamed Musallam had left for Turkey to fight with ISIS.
The elder Musallam said he was the only one in the family to watch the video. He said he saw his son dressed in orange, knew that he was marked for death, and could not watch it through to the end.
His wife cried and she and other family members were too distraught to watch, he added. The family said it had begun a customary three-day mourning period, though there will not be a mourning tent because they live in a Jewish area of east Jerusalem.
Musallam said he wished the same fate upon the family of Islamic State group's leader Abu Bakr al-Baghdadi.
"I will leave it to God and what happened to my son Muhammad I hope God will do the same for you, your sons and your family," Musallam said in Arabic, addressing al-Baghdadi. "God knows that one day we'll meet, whether in paradise or in hell, and we'll settle the accounts."
After the video was released on Tuesday, Musallam told the AP that his son left for Syria four months ago without telling his family and later told his brother that he was going to fight with ISIS.
More than a month ago, the family received a call from an unidentified person who said Musallam had fled ISIS, was caught at a Turkish checkpoint, and was put in ISIS jail.
"They did not want to let him leave because if he comes back, he might be caught by the Israelis and tell them what he had seen. So they wanted to get rid of him," the father said. "I know my son. I raised him well. I am sure he's not working for the Mossad."
CommentsWrite a Reply or Comment: