Fire in downtown Los Angeles destroys apartment tower under construction – Fox News
Posted: Monday, December 08, 2014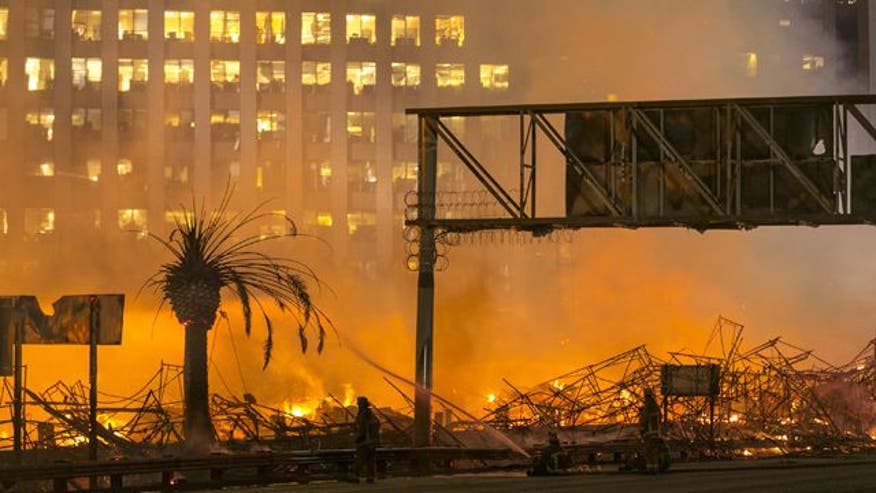 A large fire in downtown Los Angeles destroyed an apartment tower that was under construction and forced the closure of parts of two major freeways, leaving thousands of Angelenos facing a difficult Monday morning commute. 
Los Angeles Fire Department spokesman David Ortiz told the Los Angeles Times that more than 250 firefighters were battling the blaze at 909 West Temple Street early Monday. Fire officials also said that two other buildings nearby suffered damage. One building suffered "radiant heat damage" on three floors, while the second suffered fire damage on three floors and water damage on the remaining 14 floors. 
No injuries to firefighters were immediately reported and Ortiz said that he didn't think anyone was living or working at the site when the fire broke out. The cause and extent of the fire was not yet known.
Ortiz added that the 101 Freeway was closed in both directions, while the California Highway Patrol says transition lanes between the 110 and 101 freeways were shut down. Motorists are being urged to avoid the area. 
The Times reported that the fire broke out at around 1:20 a.m. local time and could be seen all over Los Angeles, with some images of the blaze taken from as far away as the Hollywood Hills appearing on social media. 
The paper reported that the complex under construction, known as the Da Vinci, was the latest in a series of apartment buildings built near the 110-101 interchange, just north of downtown. 
CommentsWrite a Reply or Comment: