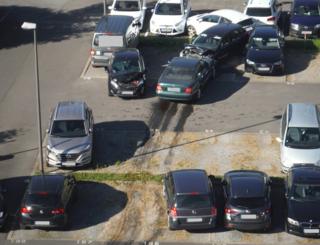 A 75-year-old driver crashed into 14 cars in a car park in the German town of Dueren, causing damage estimated at €25,000 ($28,000, £21,000), police said.
The woman suddenly accelerated and smashed into the rows of parked cars, police added.
Vehicles were even pushed away from their original positions.
Her car and some others were so badly damaged that they had to be towed away, police said.
The driver was taken to hospital with minor injuries. Her condition was unknown.