Automakers reported the best two-month stretch of U.S. sales in 15 years, another sign that the nation's economy is improving.
General Motors Co. and Fiat Chrysler Automobiles NV were among manufacturers posting October results that topped analysts' estimates after a robust September, with the continued popularity of expensive trucks and luxury sport utility vehicles showing that buyers are willing to spend. Ford Motor Co. and Honda Motor Co. fell short of predictions.
The burgeoning demand for autos is adding to evidence the U.S. economy is strengthening as the Federal Reserve prepares to raise interest rates as soon as next month. Sales are surging as job growth, available credit and affordable fuel encourage shoppers to replace aging models, especially with sport utility vehicles.
"The consumer is driving this," Jeff Schuster, an analyst for LMC Automotive, said in an interview. "You have a consumer who feels good about the economy, who wants a new vehicle and who has the means to get it with relatively cheap credit. Everything is aligning."
The annualized selling rate, adjusted for seasonal trends, was 18.2 million, the same as in September, according to Autodata Corp. That was the first time that the pace exceeded 18 million in back-to-back months since February 2000. That's the year the industry set a sales record of 17.4 million. Analysts' average estimate was for an October sales pace of 17.7 million. September's rate was the fastest in more than a decade.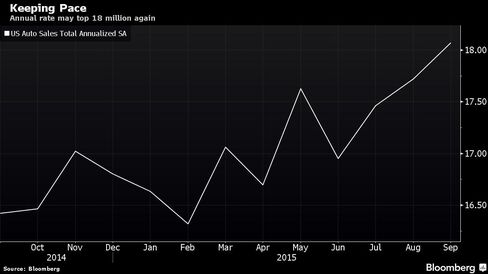 All of the major automakers, except Volkswagen AG, which is mired in a diesel-emission scandal, were projected to report October increases. Toyota, with the smallest of those projected gains at 8.5 percent, said that its sales rose 13 percent with SUV sales rising 20 percent at the namesake brand and 34 percent at the luxury Lexus division.
Combined sales of Volkswagen and Audi rose 5.8 percent, compared with a 6.4 percent decline that was the average of four analyst estimates. VW brand sales rose 0.2 percent and the luxury Audi brand reported a jump of 17 percent. The German carmaker used steep discounts, rebates and low-cost leases to keep sales up as the company battles allegations that it cheated on U.S. emissions test to sell diesel-powered cars and SUVs.
'Huge Month'
"October was a huge month for the industry, smashing expectations and continuing its hot streak," said Bill Fay, group vice president and general manager for the Toyota division, said in an e-mailed statement. The brand's RAV4 and Highlander SUVs set records for October.
GM sales rose 16 percent, exceeding the average analyst estimate of 12 percent. Cadillac, Chevrolet and GMC all reported increases of at least 13 percent, while Buick sales slipped 0.2 percent. Sales of the Equinox SUV rose 25 percent while the automaker also more than tripled sales of the Chevy Colorado and GMC Canyon mid-sized pickups.
Cadillac, which has been GM's weakest brand, also had a strong month, with big gains for the SRX and Escalade SUVs.
Fiat Chrysler sales rose 15 percent, extending its streak of monthly gains to 67 thanks to a 33 percent increase for the Jeep brand. It reported selling 195,545 vehicles last month, exceeding the 13 percent average of eight analysts' estimates compiled by Bloomberg. Jeep sport utility vehicles accounted for 38 percent of those deliveries with four models exceeding 10,000 sales, including Patriot, which reported a 56 percent increase. All brands reported increases as the unit posted its best October since 2001.
Industrywide light-vehicle sales rose 14 percent to 1.46 million, exceeding the average estimate of 1.41 million. Nissan sales rose 13 percent, beating estimates for a 9.4 percent gain. Nissan brand sales rose 12 percent, while Infiniti deliveries jumped 23 percent, including a fivefold gain for the QX50.
Honda reported an 8.6 percent increase in October sales that fell short of the average estimate for a 9.1 percent gain. While missing estimates, it was a record October for Japan's No. 3 automaker with deliveries of the Accord mid-size sedan up 11 percent and the compact Civic up 15 percent.
More than half the economists in a Bloomberg survey predict the Fed will raise its benchmark interest rate as soon as next month. Fed Chair Janet Yellen is scheduled to testify to the House Financial Services Committee on Wednesday, the same day two of her top lieutenants are set to speak publicly as well.
Jeep Strength
"Last month's sales strength continued to be broad based for the company with eight FCA vehicles setting October sales records across three of our brands," Reid Bigland, head of sales for FCA US, the unit formerly known as Chrysler, said in a statement Tuesday.
While all of Fiat Chrysler's brands improved from a year earlier, the unit's run owes a lot to Jeep. The brand's go-anywhere image was born on the battlefields of World War II and popularized in the 1980s SUV boom with the debut of the original Cherokee.
Fiat Chrysler projected an annualized pace, adjusted for seasonal trends, of 18.5 million, including medium and heavy trucks that typically account for at least 200,000 sales.
Jeep's sales have been aided by longtime stalwarts Wrangler, up 15 percent last month from a year earlier, and Grand Cherokee, which rose 7 percent, as well as newer ones, like the resurrected Cherokee, which went on sale in 2013, and the Renegade, which started selling in the U.S. this year. Cherokee sales rose 12 percent while Renegade's totaled 7,795.
Ford's gain missed estimates for a 14 percent increase. Deliveries of its top-selling F-Series pickup line, rose just 3.3 percent in October, while its second-best seller, the Escape sport utility vehicle, fell 0.8 percent. Ford's car sales jumped 16 percent, a bigger gain than its SUVs, driven by the redesigned Mustang sports car, which more than doubled its deliveries in the month. A trio of redesigned SUVs — the Ford Edge, Explorer and Lincoln MKX — gained 39 percent, 30 percent and 9.7 percent, respectively.
In another sign that consumers are buying expensive cars, Jaguar Land
Rover reported its best October ever with a 76 percent increase in sales to
8,187 vehicles.
(An earlier version of this story was corrected to reflect the schedule for Fed officials' comments on Wednesday.)