Heavy Snow Hits the Midwest; Next a Messy Monday Commute for Millions – ABC News
Posted: Monday, February 02, 2015
A major winter storm dumped heavy snow and near blizzard conditions from Nebraska to Pennsylvania today, moving slowly towards the Northeast, where it was expected to make for a rough Monday morning.
As of 6 p.m. Sunday, parts of Iowa had received up to 14 inches of snow. Across Chicago, more than 8 inches of snow had fallen at O'Hare International Airport and just to the west at Midway Airport, more than 9 inches of snow had fallen.
A blizzard warning remained in effect for the Chicago Metro Area until midnight local time for gusty winds blowing snow around and creating white-out conditions.
On Sunday afternoon, snow was falling simultaneously all the way from eastern Nebraska to central Pennsylvania, a distance of more than 1,100 miles, making the storm the most far-reaching of the season.
The storm also caused more than 2,500 flights to be canceled across the country and more than 2,370 were delayed, according to Flightaware.com. The hardest hit airport was O'Hare International in Chicago, where 1,371 were canceled and 141 were delayed.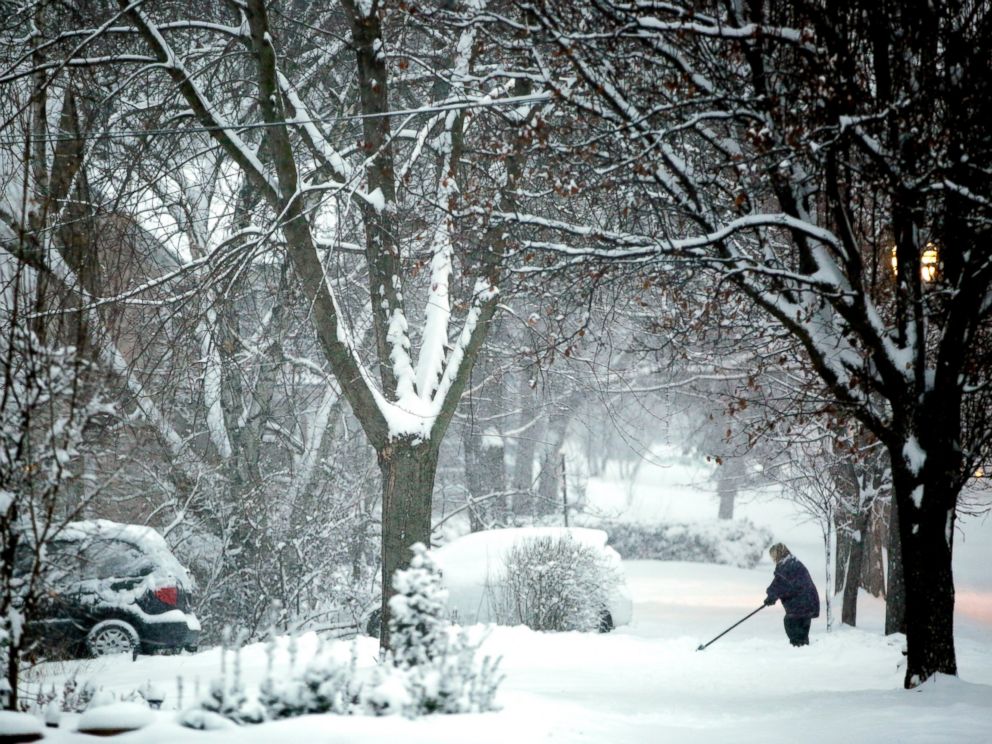 By Sunday evening, snow was still falling from Chicago to Detroit and light snow had begun to fall across eastern Pennsylvania, New Jersey and New York. A wintry mix and areas of heavy rain extended further south from Indianapolis to the mid-Atlantic.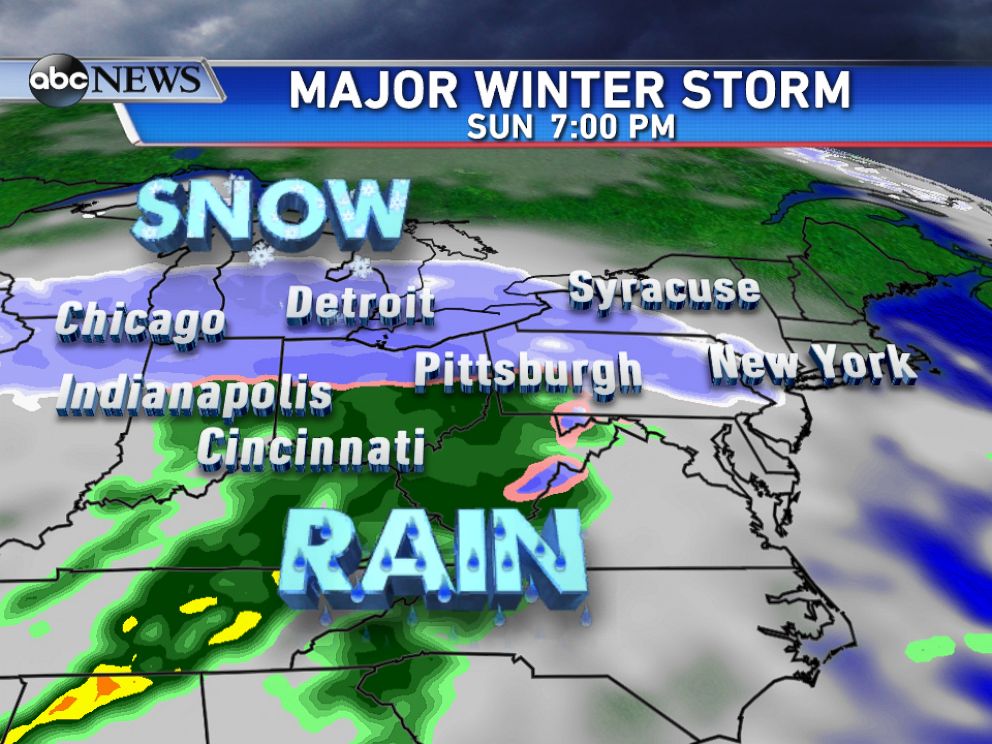 By the Monday morning commute, heavy snow is expected to be falling across much of the Northeast, with a dangerous icy mix further to the south that could affect cities from central Pennsylvania to northern New Jersey and New York City.
Temperatures will be milder to the south, so Philadelphia to Baltimore and Washington D.C. will see mostly rain.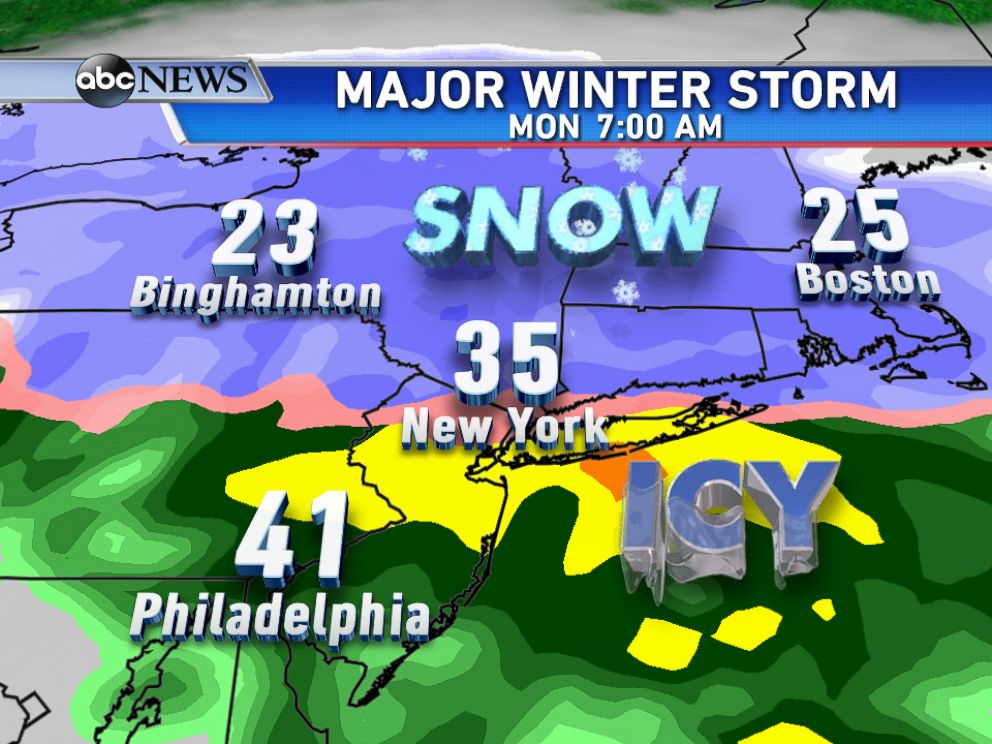 Current forecasts from the ABC News Weather Team call for additional snowfall of 6-10 inches from Chicago to southern New England.
The highest amounts are expected from the eastern Great Lakes, including Detroit, eastward into central New England where a widespread 10-14 inches of snow will fall.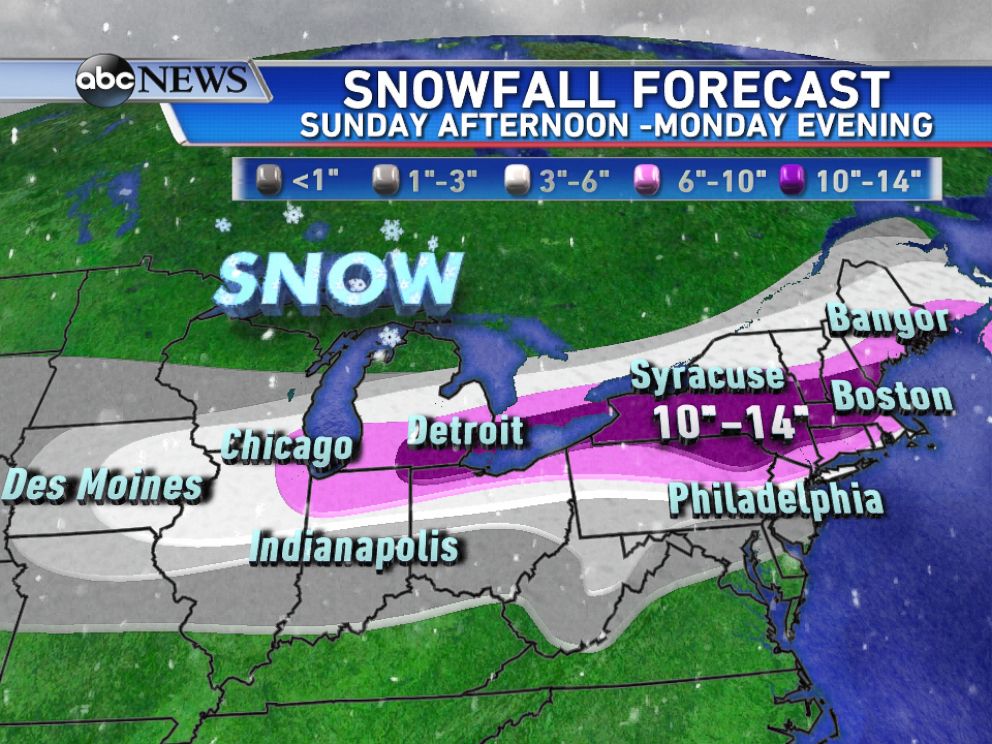 New York City can expect 2 to 5 inches of snow, Mayor Bill de Blasio said today, but added that "a lot can change between now and the early morning hours."
A winter storm watch will begin in the city at 7 p.m., he said.
The mayor said the biggest threats are ice and wind gusts.
"Keep your time outside limited tomorrow night," de Blasio said. "Don't go outside if you don't need to."
In addition to the heavy snow threat, dangerous icy conditions could cause travel problems from central Pennsylvania to Connecticut Monday morning. Major interstates, including routes 80 and 95, will likely be impacted first from heavy snow after midnight then an icy mix of sleet and freezing rain.
The storm was expected to begin to move out of the Northeast later on Monday morning, although some snow will likely still be falling across parts of New England into the evening.
CommentsWrite a Reply or Comment: