History's eye-popping race cars rev it up – CNN
Posted: Sunday, June 08, 2014
.cnn_html_media_utility::before{color:red;content:'>>';font-size:9px;line-height:12px;padding-right:1px}
.cnnstrylccimg640{margin:0 27px 14px 0}
.captionText{filter:alpha(opacity=100);opacity:1}
.cnn_html_slideshow_media_caption a,.cnn_html_slideshow_media_caption a:visited,.cnn_html_slideshow_media_caption a:link,.captionText a,.captionText a:visited,.captiontext a:link{color:#004276;outline:medium none}
.cnnVerticalGalleryPhoto{margin:0 auto;padding-right:68px;width:270px}
]]>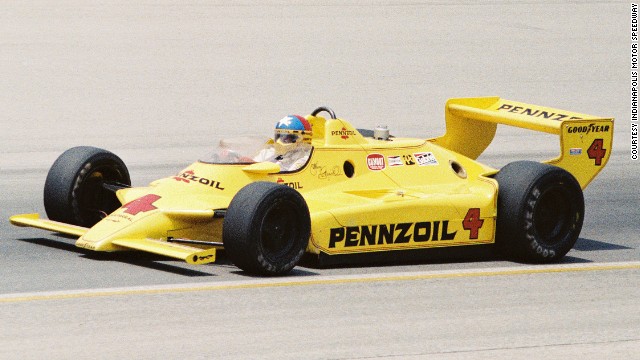 Driving this "Yellow Submarine" Chaparral with cutting-edge "ground effects," Johnny Rutherford won the 1980 Indianapolis 500 with an average speed of 142.862 mph. It's one of hundreds of vintage racing cars at this weekend's Brickyard Vintage Racing Invitational at the Indianapolis Motor Speedway. Click through the gallery for more.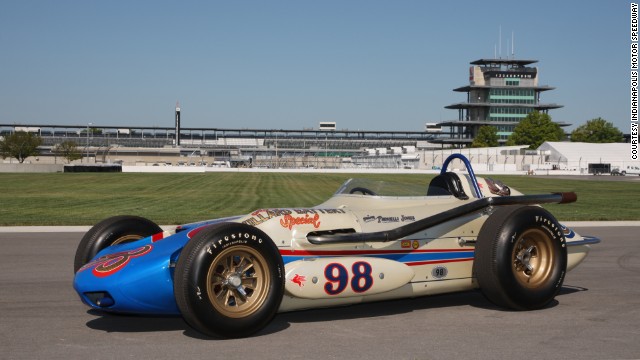 Parnelli Jones piloted this sweet ride to win the Indy 500 way back in 1963. They named it "Ol' Calhoun." It's a reference to an old joke about a football running back who doesn't want to take the ball.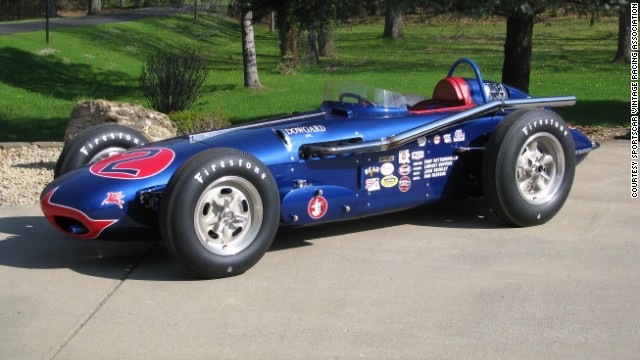 A replica of a roadster built by the legendary A.J. Watson which competed in the 1960 Indianapolis 500. Sponsored by Dowgard, the car offers a detailed example of Watson-built cars during the roadster era of the 1950s and '60s. This car is powered by a 2 liter Alfa Romeo engine a with a 5-speed transmission. An Offenhauser engine would have been the typical Watson power plant of the period.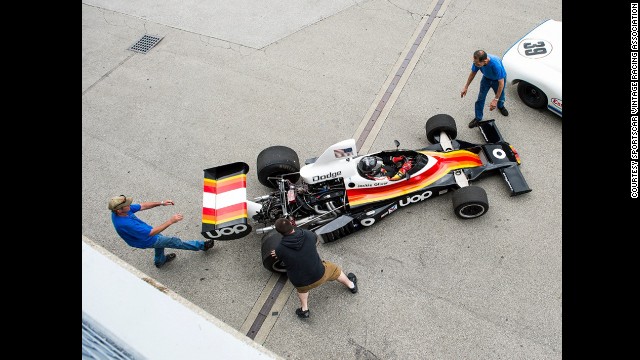 This UOP Shadow Formula 5000 car was raced by Jackie Oliver, who was a well-known Formula One and Can-Am driver in the 1970s.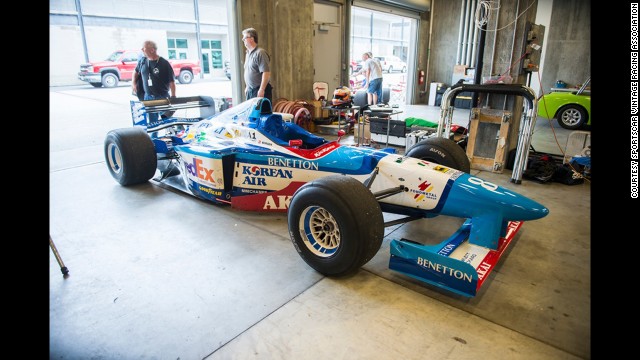 Here's a 1986 Benetton Formula One racer once piloted by international champion Gerhard Berger.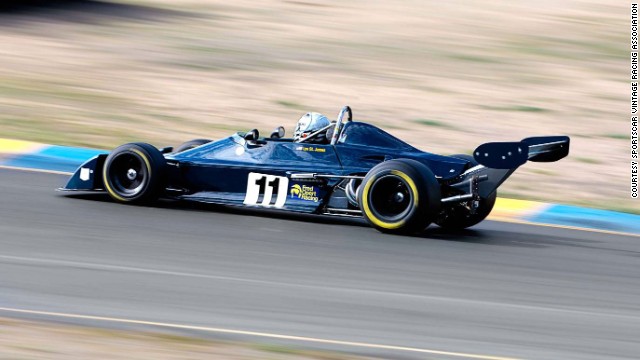 A Chevron B39 Formula Atlantic originally owned and raced by Formula B national champion Ken Duclos during the 1977 season. It is raced by owner Chris Locke and frequently guest-driven by Indianapolis 500 veteran Lyn St. James.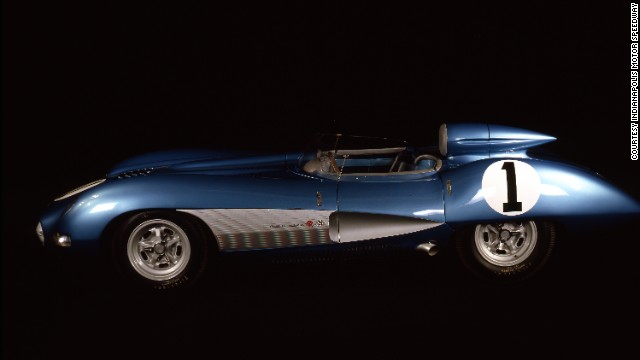 This 1957 SS Corvette is the only one of its kind in the world, according to event organizers. Race fans will get a chance to see it in action this weekend.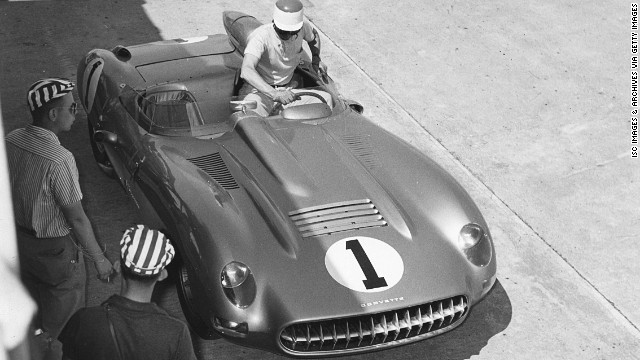 Here's the SS Corvette during a pit stop during the 1957 12 Hours of Sebring race at Florida's Sebring International Raceway.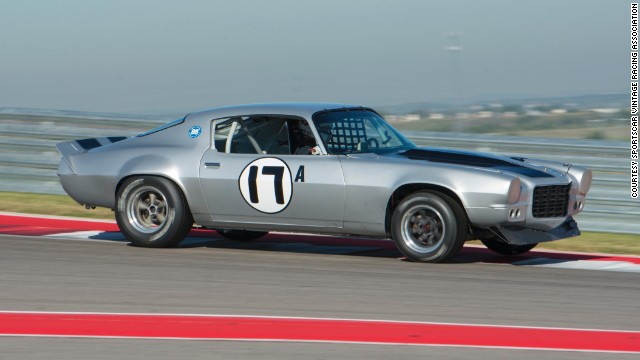 This is a 1971 Camaro, owned by Sean Ryan, who's scheduled to co-pilot the car at the inaugural Brickyard Vintage Racing Invitational with 1996 Indianapolis 500 winner Buddy Lazier.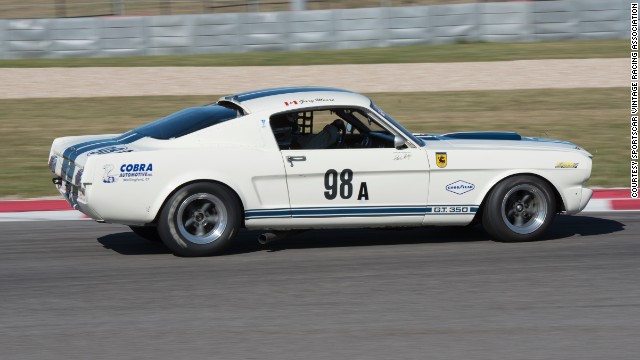 This muscular 1965 Mustang GT 350 is owned by Gary Moore, who is scheduled to race it along with Indianapolis 500 veteran Eliseo Salazar.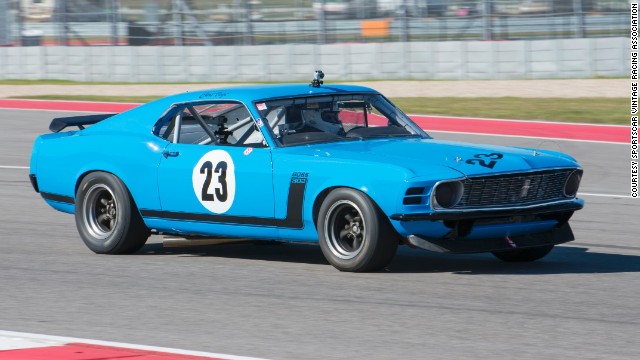 A 1970 Boss Mustang 302 owned by Curt Vogt, who will co-drive it at the invitational with seven-time Indy 500 starter Lyn St. James.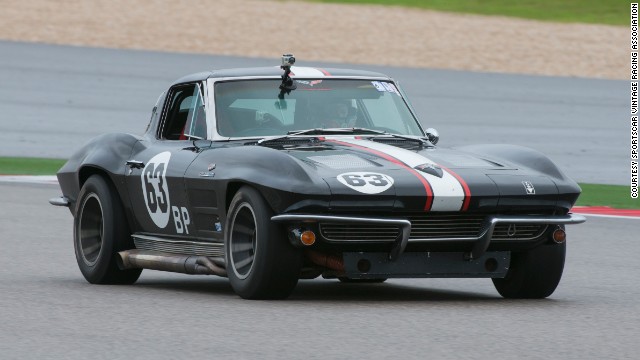 Owner Garrett Waddell plans to put his 1963 Corvette No. 63 through the paces at the invitational this weekend.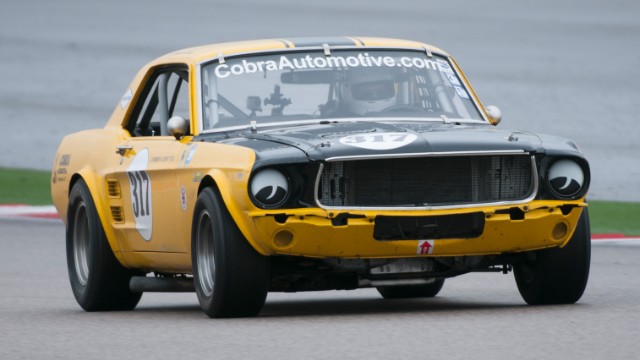 Here's a 1967 Mustang from the classic Trans-Am era owned by Scott Hackenson. Hackenson will drive the car in the invitational with IndyCar race winner Mark Dismore.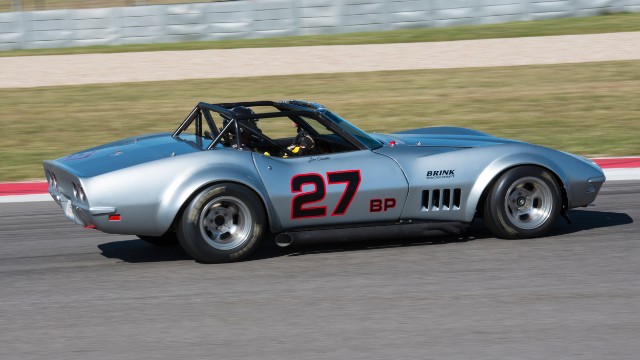 This is a 1969 Chevrolet Corvette owned by Jim Caudle. He and Indy 500 veteran Scott Goodyear will pilot this car in the invitational.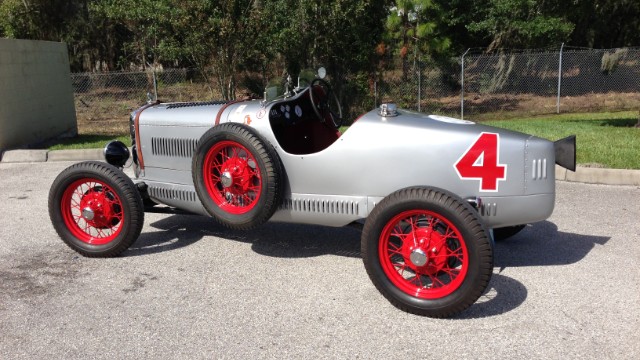 Here's a 1929 Ford Model A Speedster which owner Ford Heacock says has competed in the European Vintage Grand Prix Series.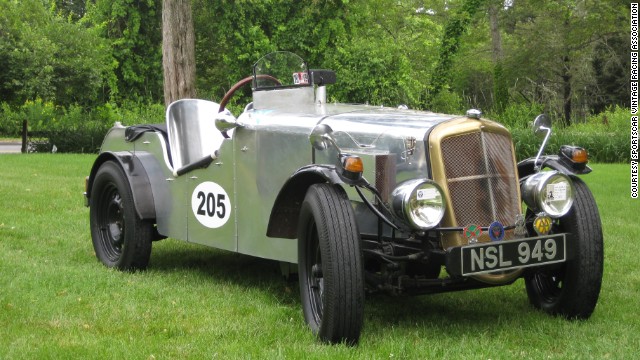 The engine in this 1937 Singer Bantam Special was replaced with a 1969 Triumph Spitfire 1300 cubic centimeter engine. It is scheduled to race at the invitational.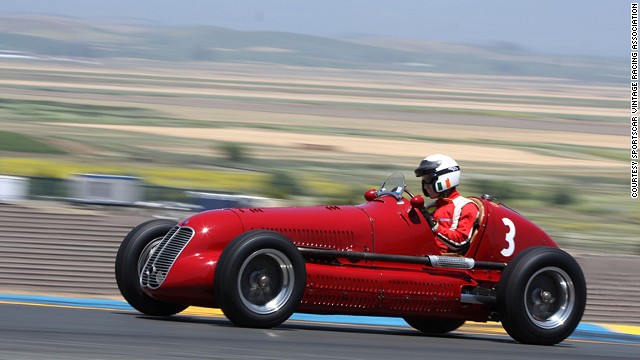 This 1939 Maserati 4CL packs a .5-liter supercharged 4-cylinder engine which runs on methanol. Owner Paddins Dowling says the car retains almost all of its original aluminum bodywork and has recently won victories in races in the U.S. and Australia.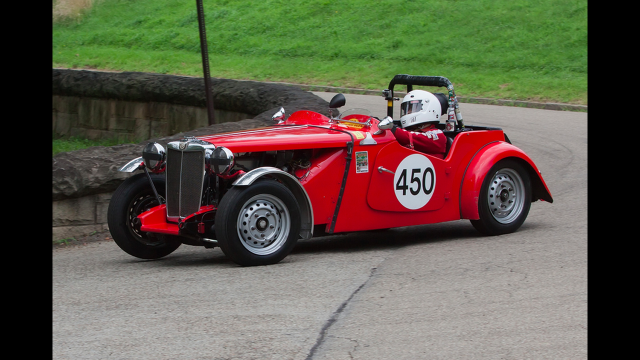 This stunning red 1953 MG TD was rescued from a barn in Ohio 6 years ago, says owner Michael Barstow, who plans to show it off at the Indy event.
(CNN) — Attention all who drool over head-turning, rubber-burning cars: Here's your candy store.
This weekend the world famous Indianapolis Motor Speedway hosts two days of races between hundreds of vintage vehicles spanning the past 100 years. They're billing the Brickyard Vintage Racing Invitational as the "largest gathering of race cars in the United States."
Al Unser Jr., Buddy Lazier, Parnelli Jones and Bobby Unser. Ever heard of these guys? They're Indy 500 winners. They'll be there — on the track and behind the wheel.
The whole weekend threatens to be a 100-mph-plus parade of eye-popping race cars that would quite literally blow your hair back.
But let's be frank: This is a celebration of a time when race cars were, well, a helluva lot more interesting to look at. Right?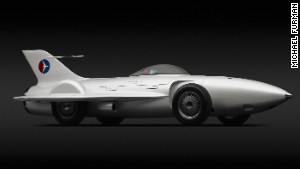 Futuristic 'dream cars' from the past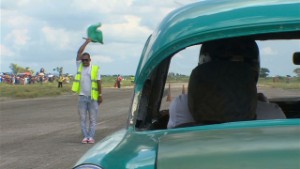 Racing Cuba's classic cars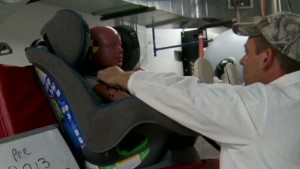 Pro racing tech adapted for kids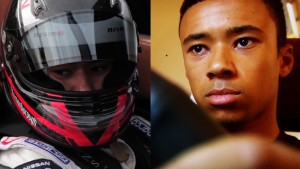 Video gamer turned race car driver
If you've never seen the lines of Johnny Rutherford's 1980 Indy-winning "Yellow Submarine" Chaparral, do yourself a favor. Enjoy some eye candy.
Same with Jones' 1963 winning car "Ol' Calhoun," which took the checkered flag as it crossed Indy's brick start/finish line. Respect Calhoun's awesome side-pipe and its snazzy front-end air scoops.
Both cars are expected to come out to play this weekend.
Related: Hunter-Reay wins Indy 500
The 1960s, '70s and '80s offered a smorgasbord of car designs born from mechanical grit. Unser Jr., a two-time Indy 500 winner, plans to get behind the wheel of a 1969 Corvette Sting Ray this weekend and "open it up all I can," he said. "I'm gonna drive it as fast as it'll go."
These are cars that were truly unique. Some cars were shaped like wedges, some like tubes. Wings in the front. Wings in the back.
Compare them to today's designs — both Indy and NASCAR. Nowadays there's a lot of what Mark Dill calls, "sameness."
"There's not just a hunger — there's almost a starvation for design now among auto racing fans," says Dill, of the Sportscar Vintage Racing Association. "They loved looking at the variety of cars, and this event is going to provide that in spades."
The weekend is sponsored by the association — a race car restoration and preservation group dedicated to "rolling art."
"Some people collect art," their website says. "We race it."
In addition to the open-wheel Indy racers, the event plans to showcase Corvettes, Mustangs and Camaros from the '60s and '70s. Also invited: cars made by Ferrari, Porsche, Jaguar and MG.
Related: Art museum features dream concept cars
Related: Kurt Busch drives in two races on same day
While car designs have remained much the same, other aspects of the Indianapolis Motor Speedway have been shifting gears during the past 20 years. The hallowed facility has embraced new ideas like no other time in its history.
"It's changed a lot," says Indianapolis Motor Speedway historian Donald Davidson, who's been a part of the Indy 500 since the mid-1960s.
Take for example, the Snake Pit — known during the 1970s as a scandalous den of race-fan debauchery located in the infield. It made headlines in 1974 when dozens of naked race fans climbed the fence and "streaked" down Turn One.
After that, officials "very subtly phased the Snake Pit out," Davidson recalls. Five years ago, the speedway opened a safer, sanctioned, "new-school" Snake Pit inside Turn Three, complete with international DJs, dancing, food trucks and volleyball.
This weekend, overnight camping in the infield will be available for the first time, according to the speedway's video.
Related: Cuba races its classic cars
Privately owned by Indiana's Hulman family for nearly 70 years, the track executed an ambitious plan in the '90s to embrace other forms of auto racing, including Grand Prix and NASCAR.
Indy's Brickyard 400 NASCAR event sparked a new tradition at the century-old track. In 1996, winner Dale Jarrett and crew chief Todd Parrott spontaneously got down on their knees and kissed Indy's brick start-finish line.
Within a year or two, everybody was kissing the bricks. It transformed into a major photo op for both the NASCAR and the Indianapolis 500.
Related: IndyCar technology can protect toddlers
Some people who find themselves bored with race car design blame the rules. The IndyCar league requires teams to use the same chassis and engines. Critics say that limits car designs, and the sport suffers.
Unser Jr. remembered the car he drove to his first Indy victory in 1992, when teams were allowed to choose their own chassis. "It was a Galmer car," Unser said, referring to the car maker. "We were the only ones with that kind of chassis in the race."
If the IndyCar league allowed teams to develop their own chassis once again, Unser Jr. said, "It would help the innovation of the sport, but the cost would go through the roof."
Unser Jr. said new so-called "aero kits" might help spice things up a bit.
Beginning in 2015, Chevrolet and Honda will offer IndyCar teams special body kits that include "distinct aerodynamic configurations" designed to boost speed and "improve the diversity of the fan experience," according to IndyCar.
Will any of today's race cars earn their way into the museums and vintage shows of tomorrow?
A Facebook friend of Dill's predicted that museums will largely remain the "same as they are today because there isn't anything new to show," Dill says.
Some fear that the enthusiasm to "ooh" and "ahh" over the same car painted 25 different ways just won't be there.
"That may be a little hyperbolic, but it's not far off, " says Dill. "After all, it's variety that stimulates the imagination."
See more CNN content about motorized vehicles at Cool Cars: Hot wheels and deals
What do you think? Are today's race cars boring? What can or should be done to shake things up? Share your thoughts in the comment area below.
CommentsWrite a Reply or Comment: