Hong Kong police clear main protest site – USA TODAY
Posted: Thursday, December 11, 2014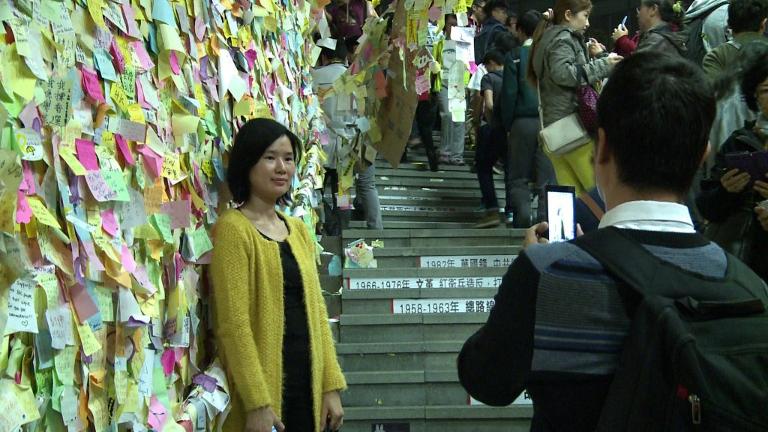 Thousands of Hong Kong pro-democracy protesters gather for what is likely to be the final mass rally at their main site ahead of an expected clearance by bailiffs and police on Thursday.
Video provided by AFP
Newslook
HONG KONG — Hundreds of Hong Kong police officers closed in on the city's main protest site Thursday to clear streets of pro-democracy demonstrators and terminate the mass civil disobedience movement that has occupied major roads in the south China city for over ten weeks.
Earlier Thursday, bailiffs backed by police to enforce a court injunction met no resistance as they removed barricades in one part of the protest area. The injunction was brought by a bus company that complained of disruption to its business operations.
After telling protesters to leave or face arrest, police moved against the main Admiralty site and set up a cordon around the area, a key financial district close to government headquarters. Several roads there have been closed to traffic for two and a half months, with cars replaced by thousands of protesters, hundreds of tents and dozens of barricades.
"It's been a failed action, we didn't achieve any of our objectives of a real election, not the fake one provided by the central government," said Kit Leung, 29, a marketing professional who said he camped out for several nights at the Admiralty protest site in support of the democracy drive. "We are planning follow up actions," he said, without elaborating.
The protests were sparked by China's refusal to allow a free choice of candidates in leadership elections slated for 2017 in the former British colony. Beijing, which took over control of Hong Kong from the United Kingdom in 1997, insists on screening all candidates through a pro-Beijing panel likely to reject anyone critical of Chinese policy.
Some volunteers handed out helmets, goggles, masks and first-aid supplies, to protect against tear gas, which suggested that some protesters may resist police efforts, reported the South China Morning Post newspaper.
But overall the mood appeared peaceful and the message "we'll be back" was widespread Thursday, written on banners hung from bridges, on wall posters, and even drawn in chalk on roads, indicating that protesters are determined to keep up their fight for free elections. One chalk sign read "you are only clearing a camp… you can't clear the idea!!!"
"The movement really inspired a lot of people, we have no democracy and we need it. Even if this event is finished today, there will be other protests in the future," said Terrence Luk, 50, a financial broker. "The people don't see it as a failure," Luk said.
Hong Kong's benchmark stock index declined 0.7% on Thursday, suggesting any investor uncertainty was relatively contained.
Beijing has offered zero political concessions to the protesters, but the movement has sent a strong message of defiance to the central leadership. While numbers have shrunk from over 100,000 in the early weeks to a few hundred in recent days, the city has shown the world a younger generation energized by politics.
In contrast to mainland China, where protests are quickly snuffed out and the state-run media tightly restricts coverage of events deemed subversive, activists in Hong Kong have used their greater civil and political freedoms in multiple creative ways. Street-side democracy forums have proliferated, for example. Political artwork, often using an umbrella motif after protesters used umbrellas to fend off tear gas and pepper spray, has been widely deployed.
Since the protests began, police say 655 people have been arrested and 129 officers injured. They have given no overall injury toll.
Despite the lack of concessions from Beijing, the movement has already achieved fundamental change in Hong Kong, said Michael Davis, a constitutional law expert at the University of Hong Kong. "The protesters won round one, as they very effectively showed that the Hong Kong and Beijing government were introducing what protesters called 'fake democracy,'" he said.
Contributing; Chris Oliver in Hong Kong; MacLeod reported from Beijing.
CommentsWrite a Reply or Comment: