House buys Senate some time on budget bill; approves second stopgap measure – Fox News
Posted: Saturday, December 13, 2014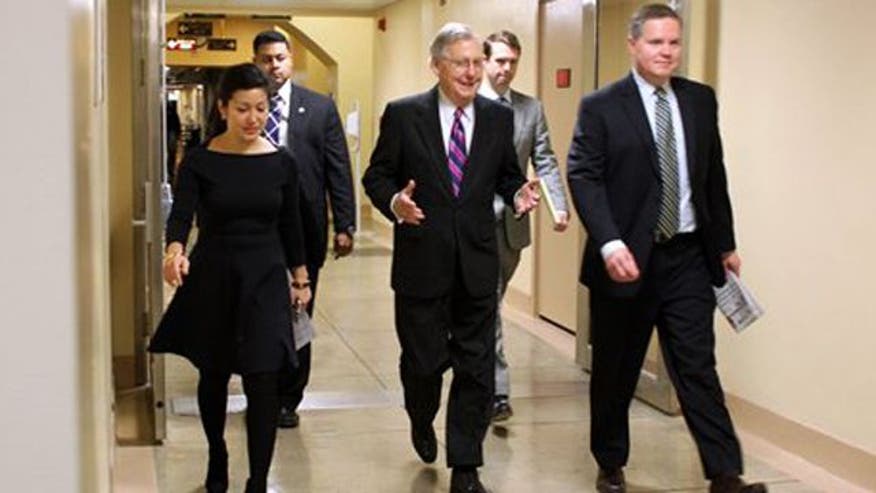 WASHINGTON –  The U.S. House passed a second stopgap measure Friday afternoon, buying the Senate additional time to discuss and vote on a $1.1 trillion government-wide spending bill. 
The House vote provides a pad to make certain the government doesn't shut down at midnight Saturday when current funding authority runs out.
It's still unknown whether the House measure, passed by a voice vote while the chamber was virtually empty, will be needed. Senate leaders say they hope to wrap up action on the omnibus budget bill by Friday night but say that goal is looking less attainable.
Washington woke up to "Fallout Friday," with liberal Democrats openly outraged at President Obama and conservative Republicans disgusted with House Speaker John Boehner after both did enough wheeling, dealing and arm twisting to push through a spending bill three hours shy of the midnight deadline.
The surprise beneficiary in this latest political conundrum could be Elizabeth Warren, D-Mass., a relative newcomer to the Senate but looking more and more like the liberal Democratic answer to who might challenge Hillary Clinton for the party's 2016 presidential nomination.
Senate Majority Leader Harry Reid, D-Nev., said Friday morning that he hopes to take up and finish the omnibus bill as soon as possible but said getting it done would require cooperation from both sides of the aisle. Reid, speaking from the Senate floor, acknowledged there were some provisions he was not happy with but pitched it as a compromise nonetheless.
"We're going to consider this legislation to keep our government open and funded and we're going to do it today – I hope," he said. He later warned, "There isn't much time… government funding runs out on Saturday at midnight."
The House narrowly approved a sweeping spending bill Thursday night despite deep misgivings among liberals and conservatives alike, sending the measure to the Senate as lawmakers averted a partial government shutdown.
The bill passed on a 219-206 vote, following an intense lobbying effort by House Republican leaders and the White House.
Current government funding technically runs out at midnight Thursday, but lawmakers late Thursday approved a stopgap measure to keep the government running through midnight Saturday as the Senate considers the main $1.1 trillion spending package. That debate could last through the weekend and potentially into Monday.
"We will not have a government shutdown," Senate Appropriations Committee Chairwoman Barbara Mikulski, D-Md., pledged.
Passage in the House followed hours of urgent appeals from an unlikely alliance: President Obama and House GOP leadership.
Obama and Vice President Biden worked the phones to sway Democratic lawmakers. White House Chief of Staff Denis McDonough also met on the Hill with the Democratic caucus. Despite sources inside the meeting initially saying he did little to persuade lawmakers, a rift emerged in the Democratic leadership late Thursday. As House Democratic Leader Nancy Pelosi continued to oppose the bill, her deputy, Rep. Steny Hoyer, D-Md., urged passage.
Meanwhile, House GOP leaders did what they could to sway conservative members who, for different reasons, were opposed to the package.
In the end, 67 Republicans defected, but 57 Democrats voted for it.
Many conservatives opposed the bill because it does not address Obama's executive actions on illegal immigration, while liberal Democrats were angry over provisions dealing with campaign spending and financial regulation.
The debate saw Pelosi flexing her clout, recognizing that House Speaker John Boehner needed Democrats to pass the bill.
She pushed back not only against GOP leaders but Obama's lobbying effort.
In a rare public rebuke of the president, Pelosi said she was "enormously disappointed" he had decided to embrace the bill, which she described as an attempt at legislative blackmail by House Republicans.
Pelosi, D-Calif., sent an email note to colleagues in the afternoon saying they had "leverage" to make demands — namely, to remove two provisions her party doesn't like. They are: a provision rolling back one of the regulations imposed on the financial industry in the wake of the economic collapse of 2008, and one that permits wealthy contributors to increase the size of their donations to political parties for national conventions, election recounts or the construction of a headquarters building.
Right before the vote, according to a source in the room, Pelosi told lawmakers: "We have enough votes to show them never to do this again."
But perhaps an overriding desire on both sides not to risk another government shutdown prevailed.
The current plan would fund the government through September 2015, but immigration services only through late February, teeing up a battle over immigration for early 2015.
Earlier in the day, the bill narrowly cleared an important procedural hurdle, on a 214-212 test vote. But the tight vote, which almost failed, exposed serious problems. GOP leaders then delayed a final vote and spent hours trying to round up support, as the White House did the same with Democrats.
White House Press Secretary Josh Earnest said earlier that Obama supports the bill and would sign it — despite having reservations about certain provisions.
Hoyer ultimately took a similar position.
The bill's fate in the Senate remains unclear.
Warren, now a member of leadership, has fought the bill in an effort to preserve the financial regulatory policy known as Dodd-Frank. Debate in the Senate on the main spending bill could easily last several more days.
Fox News' Chad Pergram, Kara Rowland and The Associated Press contributed to this report.
CommentsWrite a Reply or Comment: