Buyers in one of the world's most expensive car markets just missed their chance to snag one at the cheapest price in five years.
Car-ownership permit costs in Singapore have gained since February after ride-hailing companies obtained licenses for their fleets and the regulator eased rules on vehicle loans in May. The price of a permit, called a certificate of entitlement, for small cars and taxis reached S$52,301 ($39,000) in the last round of bids, enough to buy a new Jaguar XE in the U.S. or Mercedes-Benz B180 in Hong Kong.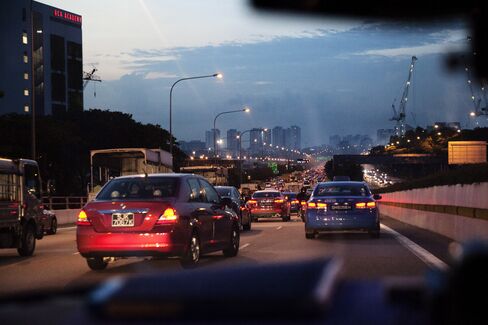 The cost of the licenses — whose supply the government controls to ease traffic snares — may climb in the near term amid restricted supply and as buyers enter the market following the looser auto-loan rules. Over a longer period, the number of permits available and outlook for an economy that's projected to slow this year from an average growth of more than 5 percent in the past decade will influence car demand, according to Song Seng Wun, an economist at CIMB Private Banking in Singapore.
"It's all about finding that balance in terms of what is needed for the economy, and what is needed in terms of quality of life," Song said. Without a system to ration road usage and vehicle ownership, "the whole jolly island could well be overwhelmed by bumper-to-bumper cars, the number of cars itself," he said.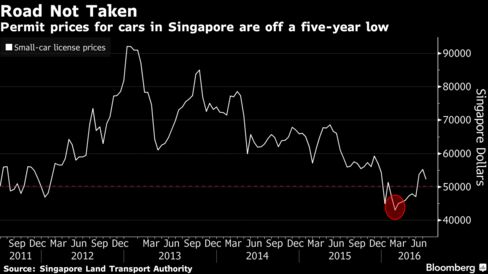 The regulator has tightened the supply of car permits for the immediate term. No more than 25,843 COEs will be issued from August to October, the Land Transport Authority said July 12. That's a drop of 11 percent from three months earlier. It will announce the next three-month supply in October.
Bidding for COEs occurs twice a month, with each permit allowing a car on the road for 10 years. Once that expires, owners can bid for a fresh license or choose to export or scrap their vehicle.
Buyers also need to pay for excise and registration duties, pushing up the price of Toyota Motor Corp.'s standard Corolla Altis, one of the most popular models in the city-state, to S$117,888 with a guaranteed COE.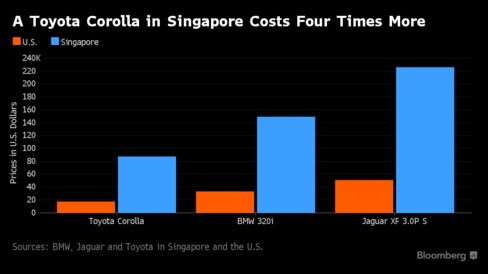 While private car-hire companies' entry into the COE bidding pool contributed to an increase in permit prices earlier this year, their demand will probably taper in coming months, according to Michael Wan, an economist at Credit Suisse Group AG in Singapore.
"They have a fixed number of cars they plan to purchase," Wan said by phone. "After they're done with it, they've met their business needs."
Click here to read about Singapore's mass-transit plans.
Chan Park, general manager for Southeast Asia at Uber, the world's largest ride-booking provider, said he rejected the idea that permit prices were trending up, noting they were at S$70,000 to S$80,000 levels a couple of years ago. Cars on Uber's platform account for just a "small chunk" of the total number of COEs, he said in an interview.
Grab Singapore, which operates a ride-booking app, doesn't own any vehicles. It has banded with SMRT Corp.'s private-hire car company Strides Transportation Pte to enable drivers to take bookings through Grab's app. Strides will progressively introduce a fleet of 300 Toyota Altis sedans over the next six months for its chauffeur and car-rental services.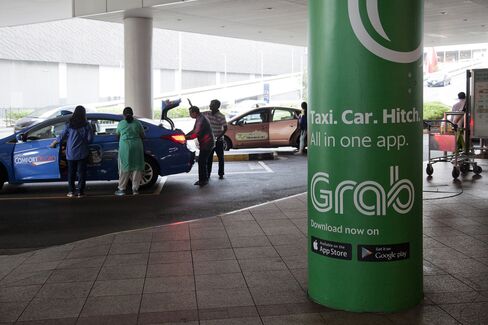 "Partnering with vehicle-owning companies enables us to stay lean and asset-lite," Lim Kell Jay, head of Grab Singapore, said in an e-mail.
The Monetary Authority of Singapore in May lifted the loan limit for new cars to 60 percent of their price, from 50 percent, and also extended the maximum borrowing term to seven years, making car-ownership less prohibitive.
More Affordable
Looser loan regulations are the main reason for the recent gains in COE prices, Vivek Vaidya, Asia Pacific vice president for automotive and transport at Frost & Sullivan in Singapore, said in an e-mail. It not only "makes the car more affordable, but also sends a signal to the buyer and they start thinking about car purchases," he said.
Wearnes Automotive Pte, a dealer for car brands including Jaguar Land Rover, has seen "strong growth in traffic and sales" since the change in loan rules, said Victor Kwan, a managing director for the brand.
Without the entry of ride-sharing apps and the easing of loan curbs that's led more people to buy cars, COE prices might have fallen even further, to less than S$40,000 by the end of this year, according to Dennis Lim, owner of Auto Equator, a dealership which sells used and new cars of brands including BMW AG, Mercedes-Benz and Toyota.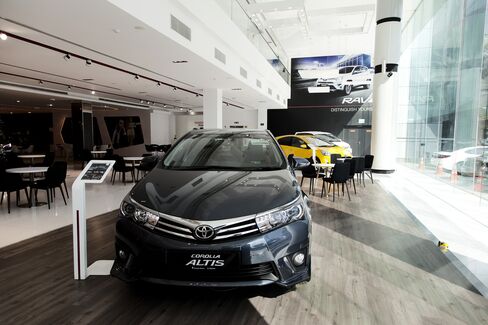 The situation isn't so clear-cut, according to BMW. Performance Motors Ltd., the brand's authorized dealer in Singapore, has seen an average 10 percent increase in bids from May to June.
"It's very hard to tell whether or not people are using Uber or Grab as a substitute to having their own cars, or as an addition," Axel Pannes, managing director of BMW Group Asia in Singapore, said in an e-mail. "They're still buying cars, but they're also using Uber."