Israeli police say Palestinian stabs nine people on Tel Aviv bus – Fox News
Posted: Wednesday, January 21, 2015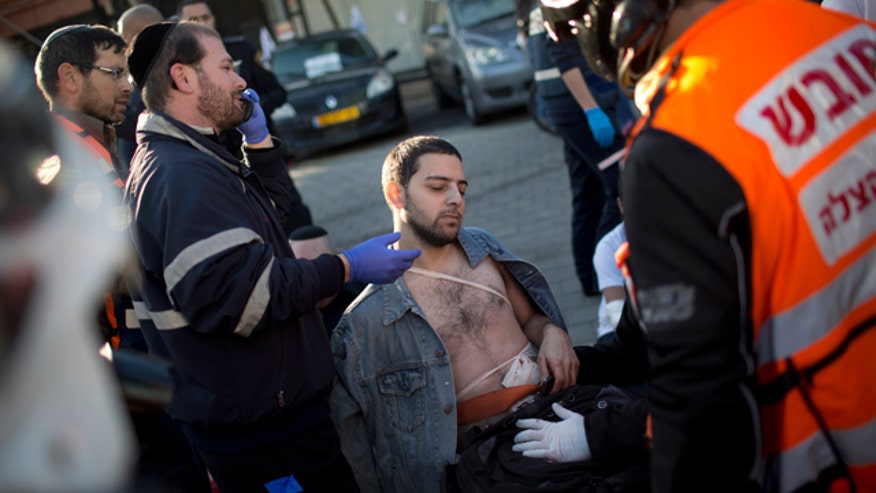 A Palestinian man stabbed at least nine people on a Tel Aviv bus during the morning rush hour Wednesday before he was shot by corrections officers and taken into custody, officials said. 
Israeli Police spokesman Micky Rosenfeld posted a message on Twitter saying that authorities believe the incident to be a terror attack. He said that five people had suffered moderate or serious injuries, while four others had sustained minor injuries. 
Rosenfeld said the suspect as a 23-year-old man from Tulkarem, located in the West Bank northeast of Tel Aviv. He the man was being questioned by police and a heightened security presence was in effect in Israel's second-largest city. The Times of Israel reported that the suspect was shot in the leg as he attempted to flee the scene. 
Tel Aviv District Police Chief Bentzi Sau said that members of the Israel Prison Service were in a vehicle behind the bus and noticed it driving erratically. Sau said the officers jumped out of their vehicle and pursued the suspect when they saw him get off the bus. He added that the suspect had crossed into Israel illegally, but did not specify how. 
The stabbing is the latest in a type of "lone-wolf" attacks that have plagued Israel in recent months. About a dozen people have been killed in Palestinian attacks, including five people killed with guns and meat cleavers in a bloody assault on a Jerusalem synagogue.
Hamas, the Islamic militant group that controls the Gaza Strip did not claim responsibility but praised Wednesday's attack as "brave and heroic" in a tweet by Izzat Risheq, a Hamas leader residing in Qatar.
The stabbing is a "natural response to the occupation and its terrorist crimes against our people," Risheq said.
Israeli officials say the attacks stem from incitement by Palestinian President Mahmoud Abbas and other Palestinian leaders.
Most of the violence has occurred in Jerusalem, though there have been other attacks in Tel Aviv and the West Bank.
In Jerusalem, the violence came after months of tensions between Jews and Palestinians in east Jerusalem — the section of the city the Palestinians demand as their future capital. The area experienced unrest and near-daily attacks by Palestinians following a wave of violence last summer, capped by a 50-day war between Israel and Hamas militants in Gaza.
Much of the recent unrest has stemmed from tensions surrounding a key holy site in Jerusalem's Old City.  It is the holiest site for Jews, who call it the Temple Mount because of the revered Jewish Temples that stood there in biblical times. Muslims refer to it as the Noble Sanctuary, and it is their third holiest site, after Mecca and Medina in Saudi Arabia.
The Associated Press contributed to this report. 
CommentsWrite a Reply or Comment: