Jaguar F-Pace or Alfa Romeo Stelvio? A $17000 Question – Cars.com News
Posted: Friday, September 01, 2017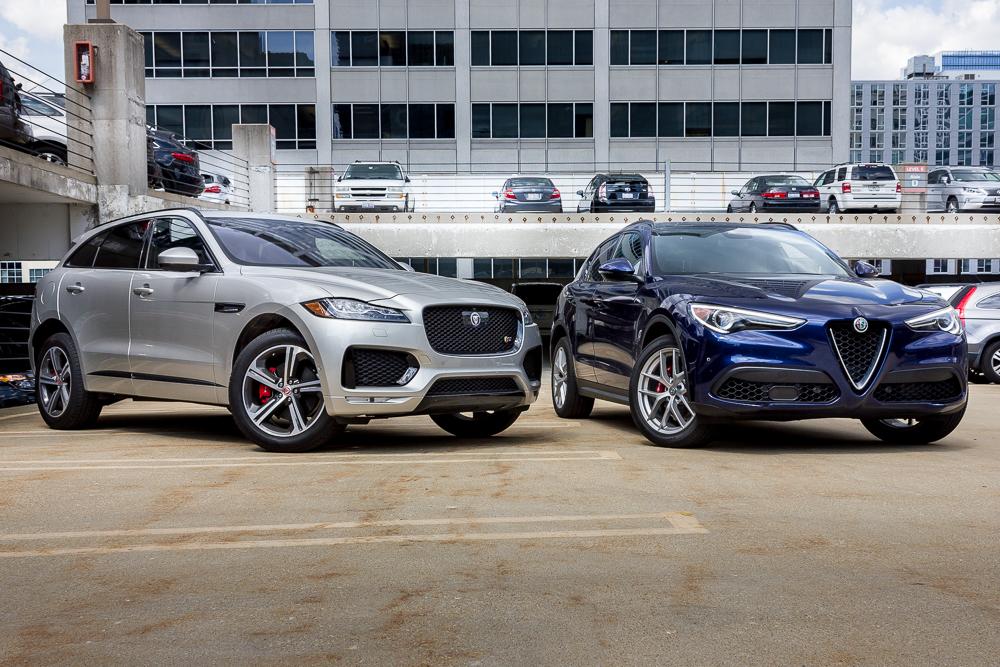 CARS.COM — On paper, the 2017 Jaguar F-Pace and 2018 Alfa Romeo Stelvio stack up fairly evenly with $43,000 starting prices, all-wheel drive, 2.0-liter turbocharged four-cylinders with eight-speed automatic transmissions and seating for five. Out in the wild, however, you might be surprised to see a $17,000 difference between the two like we did during our road testing of a $53,640 Stelvio Ti Sport and $70,735 F-Pace 35t R-Sport (all prices include destination).
Related: 2017 Jaguar F-Pace Review: First Drive
For two cars priced so similarly from the start, how can an F-Pace cost $17,000 more than a Stelvio? And perhaps more importantly, is the Jag worth it? I spent a few days driving each and call out the major differences below.
Under the Hood
The Stelvio's 280-horsepower, turbocharged four-cylinder provides surprising acceleration for its output rating — so much so that I didn't think the Alfa was at a huge disadvantage compared with the F-Pace's optional 340-hp, supercharged V-6 equipped in our test Jag. In fact, both Alfa Romeo and Jaguar say these versions of their SUVs accelerate from zero-to-60 mph in 5.4 seconds. In Cars.com's Stelvio First Drive, Executive Editor Joe Wiesenfelder noted the Alfa is faster than base versions of the BMW X3, Porsche Macan and Inifniti QX70.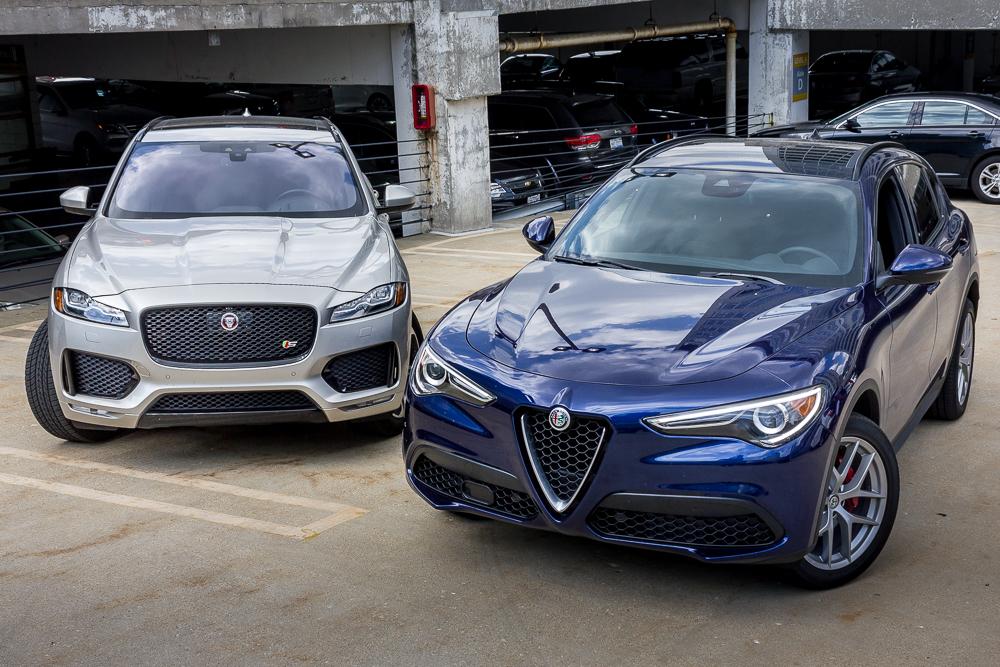 Specifications don't tell the whole story, however, and the F-Pace's supercharged V-6 is more eager to respond at low speeds, where Alfa's turbo four is slower to build power. The Jaguar is also the more refined sounding of the two, which contributes to the Jag's statelier road manners. In wide-open acceleration, however, there wasn't as much of a difference as I expected considering the Alfa's numerical deficiency in power and cylinders.
Interior Quality
The Jaguar set the tone of interior quality with a $2,200 Luxury Interior Upgrade Package on our test F-pace. The package includes a suedelike material covering of the interior's ceiling, configurable ambient lighting and metal scuff plates on the doors that illuminate "Jaguar" with a soft blue glow. The F-Pace's interior was the favorite among other editors who also drove both cars. The package adds individual automatic climate control for the backseats – versus vents only on the Stelvio.
Jaguar F-Pace: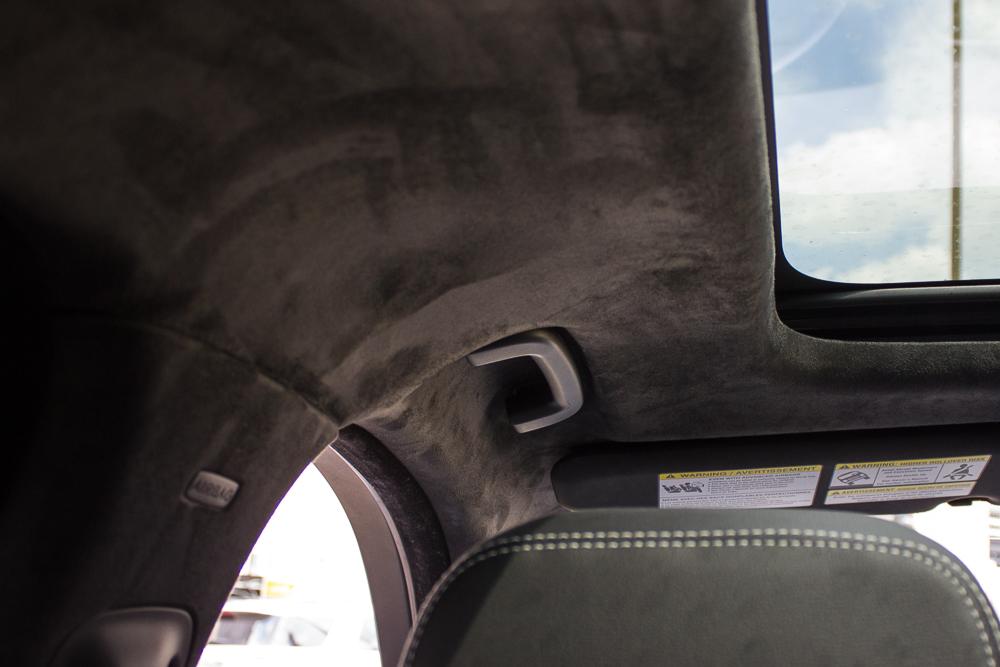 Alfa Romeo Stelvio: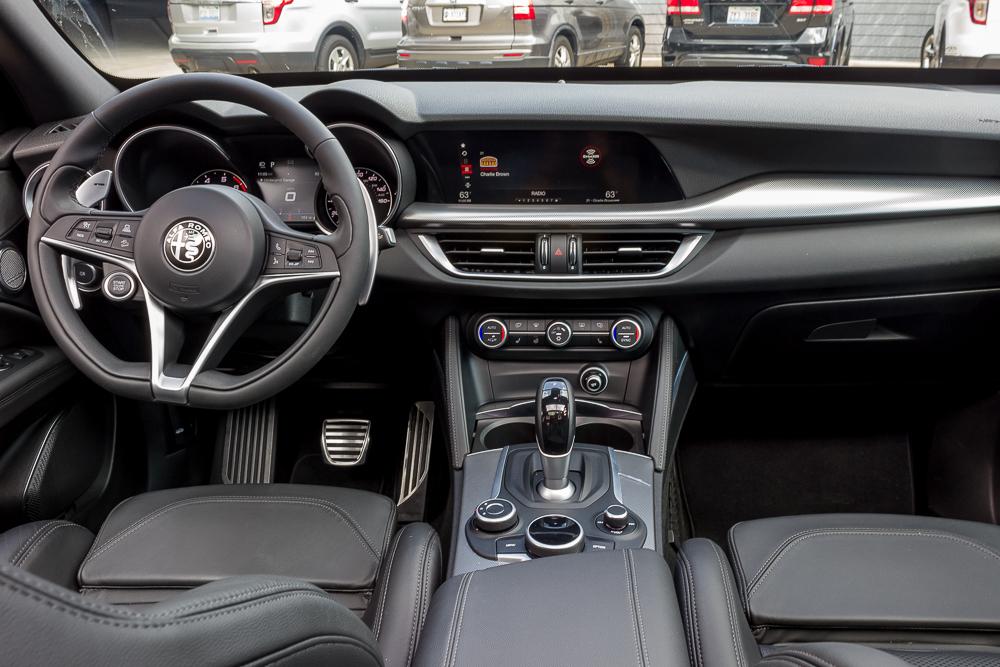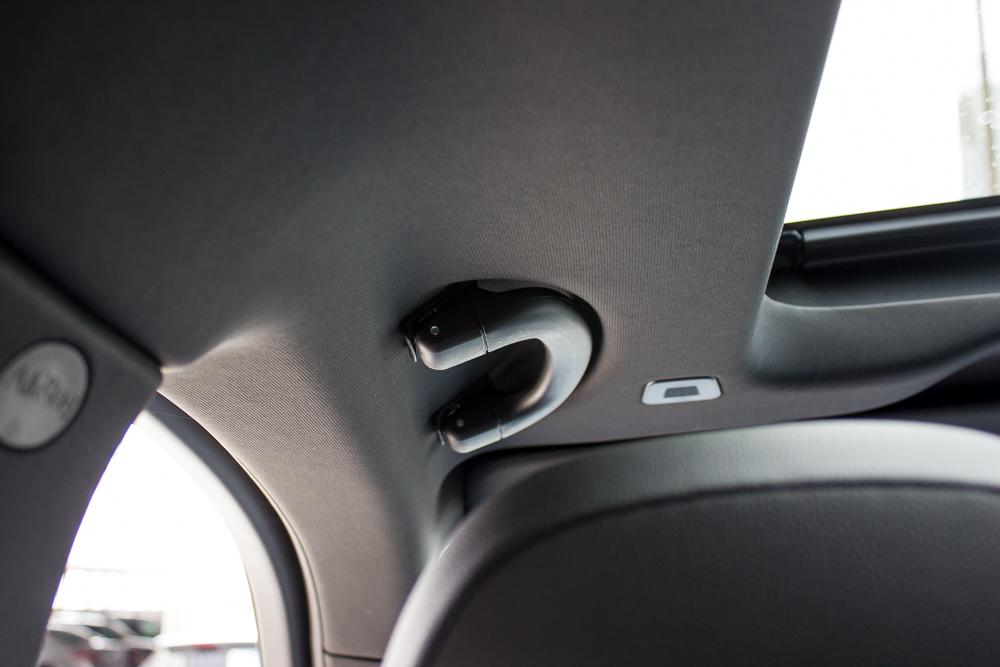 Features
Here's where the Jaguar's price skyrockets: It's the optional $3,200 Technology Package, $3,200 Driver Assistance Package, $1,800 Comfort and Convenience package, and $990 head-up display. And that's on top of the $57,295 starting price of the 2017 35t R-Sport trim; the Alfa was $53,640 loaded with options.
Despite the massive total in options, our Stelvio and F-Pace shared some features, including panoramic moonroofs, upgraded stereos, adaptive cruise control, blind spot monitoring, forward collision warning with automatic braking and more. The Jaguar upped the ante, however, with a head-up display, heated steering wheel and heated backseat, ventilated front seats and 360-degree backup camera — none of which are available on the Stelvio. One area where the Stelvio stands out is its inclusion of two USB charge ports for the backseat, more common in non-luxury cars and still a rarity in luxury vehicles.
Jaguar F-Pace:
Alfa Romeo Stelvio: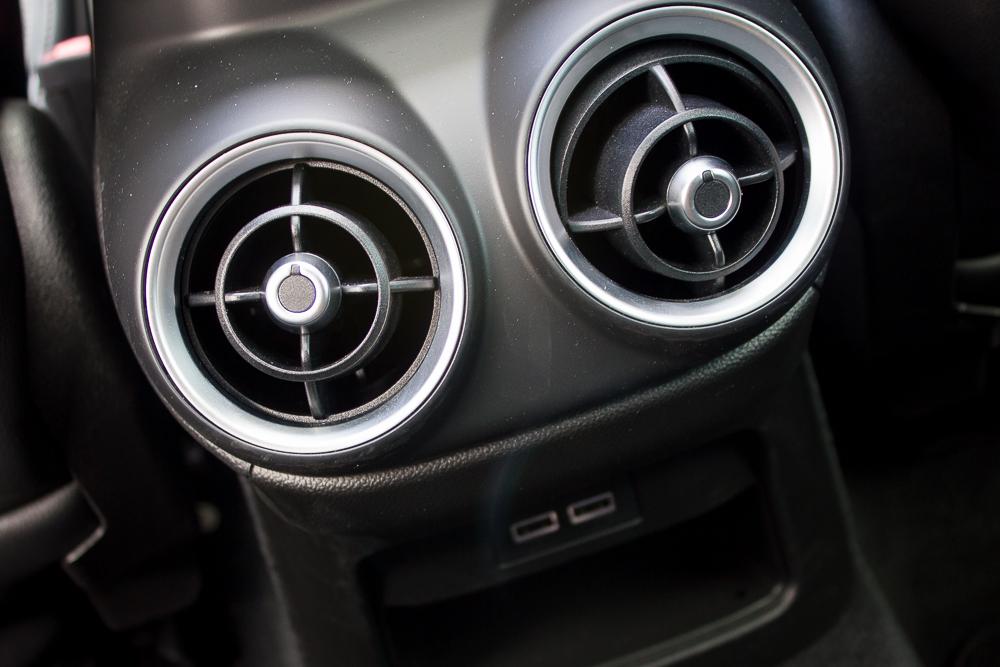 Rearview Camera
The Jaguar's touchscreen is a high-resolution display that pairs with a quality rearview camera for GoPro-camera-like clarity while reversing. The screen is large and absolutely dwarfs the Alfa's tiny backup display, which oddly only shows its camera in half of the screen — and what's shown in that little area looks scrunched and of lower quality than in the Jaguar. The Jaguar has even more parking tricks up its sleeve with a 360-degree, top-down display for tight parking spaces that's of equally high quality as the regular backup camera.
Jaguar F-Pace: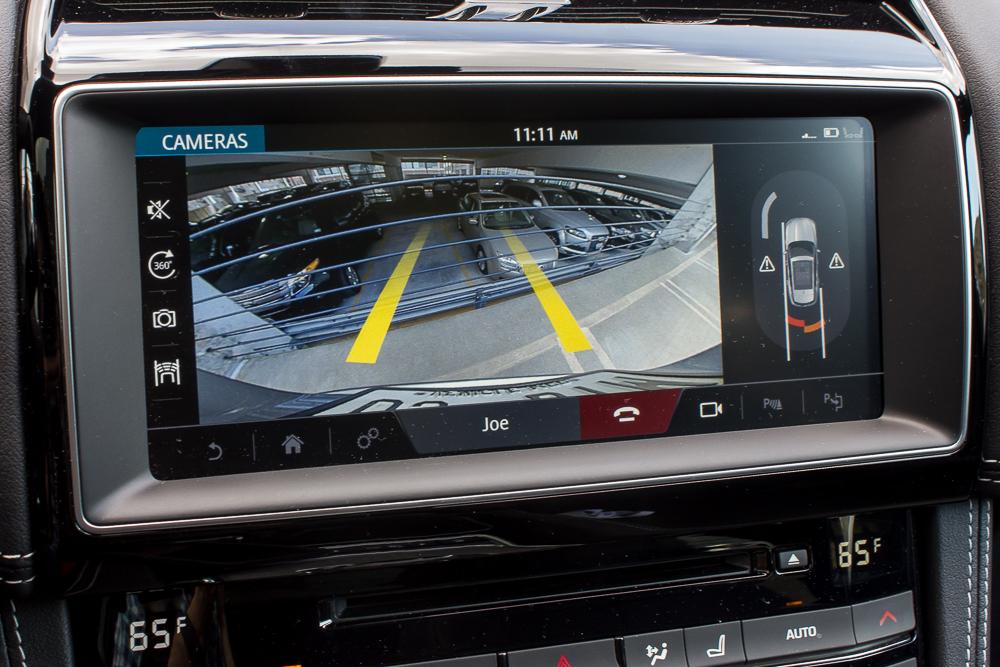 Alfa Romeo Stelvio: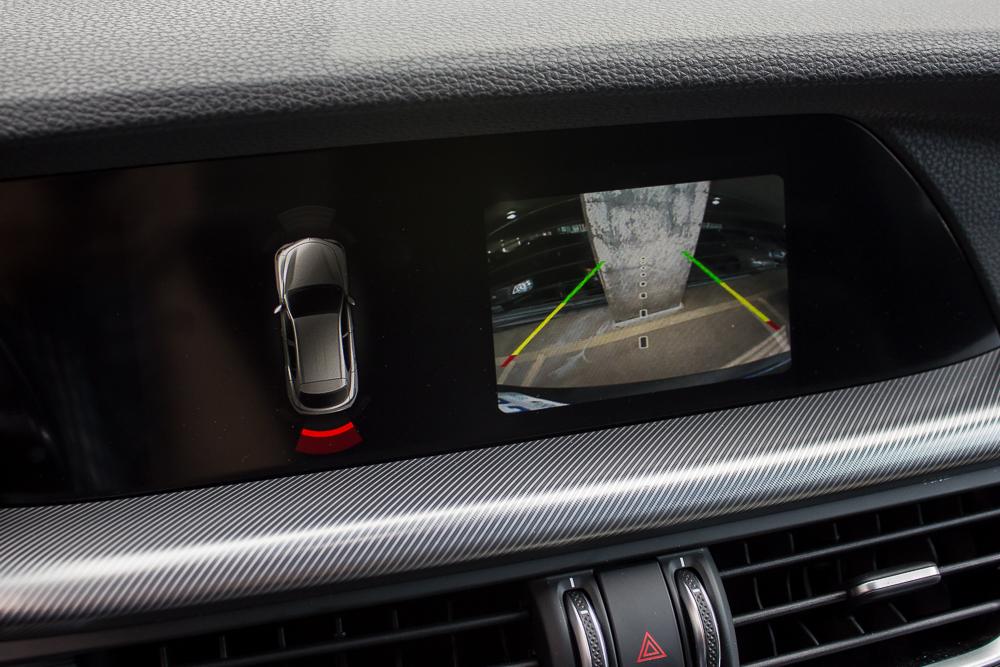 Gear Selector
Frequent parkers will like the Jaguar not only because of the high-tech parking cameras but also because of the dial gear selector that's more intuitive to use than the vague-feeling electronic gear selector in the Stelvio. The Jaguar's dial selector has a heft and weight to it (plus a high-quality finish), and it's easy to confidently find Park, Reverse or Drive. The Alfa's selector is like a plastic spoon in a stick of butter that doesn't give as confident feedback of selecting the desired gear.
Jaguar F-Pace: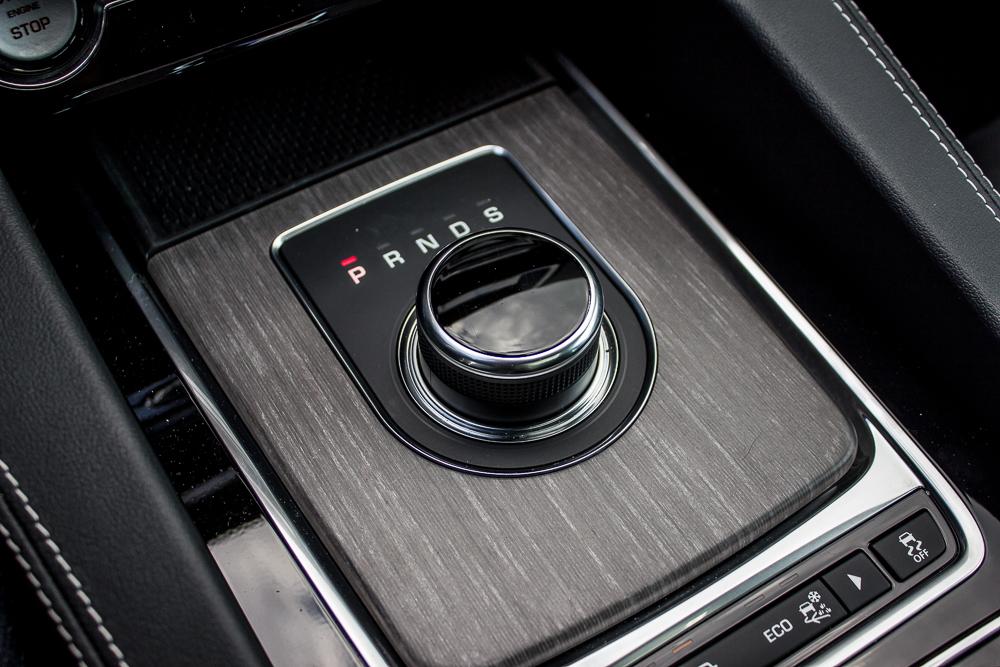 Alfa Romeo Stelvio: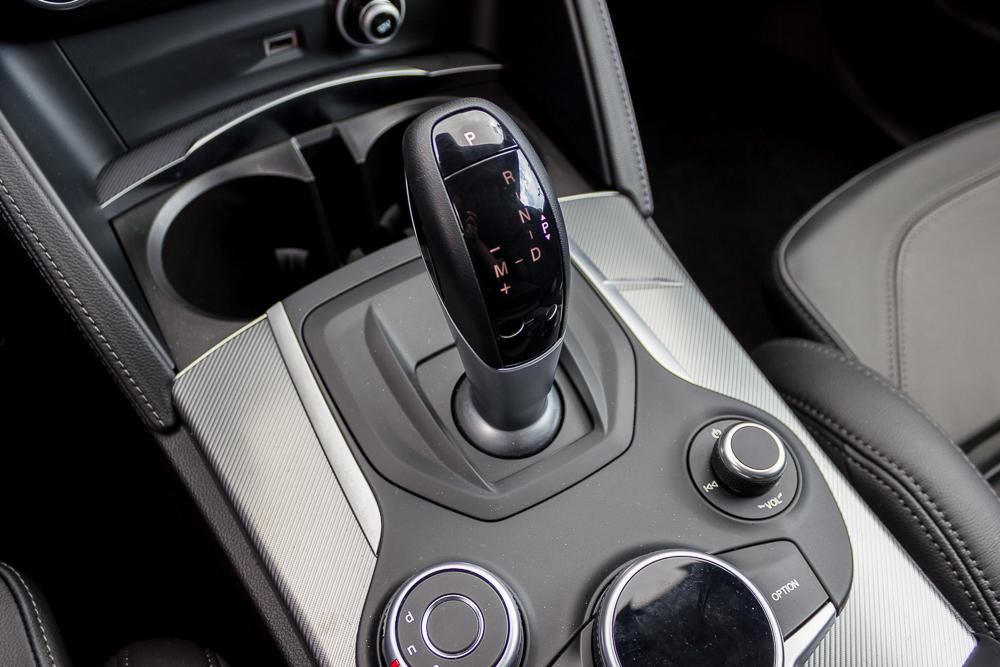 Is the Jaguar Worth It?
For the most part, yes, the Jaguar is worth the extra money considering the extra features, and there are a lot of them at this price. While roominess wasn't enough to call out on its own, the Jaguar is also a touch roomier than the Stelvio in interior and cargo space. The Stelvio held its own in a few areas, but these two SUVs almost feel like a different class of vehicles with the $17,000 price discrepancy despite starting at near-identical pricing. I must admit, it would be a much tougher decision if the Stelvio and F-Pace we tested were more closely priced.
CommentsWrite a Reply or Comment: