Japan outraged after ISIL claims to behead hostage – USA TODAY
Posted: Sunday, February 01, 2015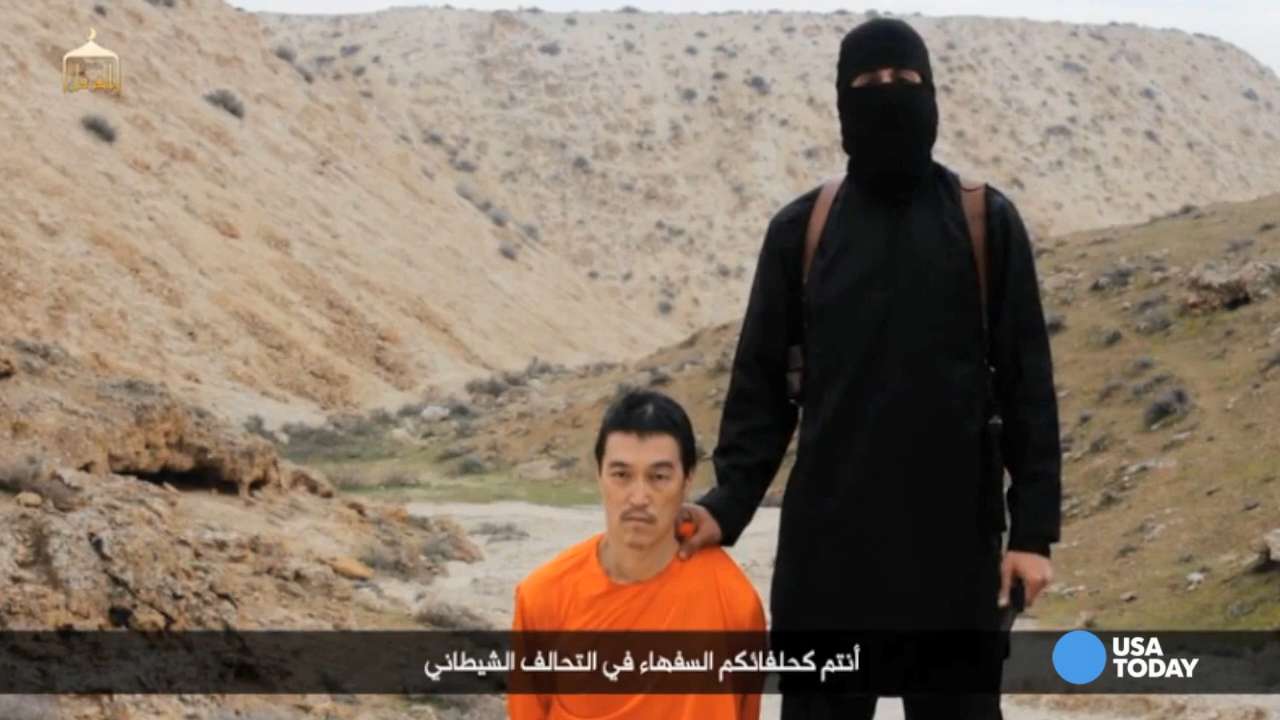 UP NEXT
03
A video reportedly released by the Islamic State shows the apparent beheading of Japanese journalist Kenji Goto. There is no word on whether or not a separate hostage, a Jordanian pilot, is still alive.
VPC
Outrage and grief gripped Japan on Sunday after the Islamic State released a video online that purports to show the beheading of hostage Kenji Goto, as the relatives of a captured Jordanian fighter pilot asked their government to be more open about negotiations for his release.
"I feel indignation over this immoral and heinous act of terrorism," Japanese Prime Minister Shinzo Abe told reporters after convening an emergency Cabinet meeting. He vowed that Japan will not give in to terrorism and will continue to provide humanitarian aid to countries fighting the Islamic State extremists.
"When I think of the grief of his family, I am left speechless," he said. "The government has been doing its utmost in responding to win his release, and we are filled with deep regret."
The grim video of the apparent beheading of Goto, a journalist, was released via militant websites late Saturday, and bore the symbols of previous Islamic State tapes. Japan's defense minister, Gen Nakatani, said the police agency deemed the video "highly likely to be authentic."
SITE Intelligence Group, a U.S.-based organization that monitors terrorist activity online, also reported on the video, which could not be immediately independently confirmed by USA TODAY.
A few dozen people gathered in front of Abe's official residence in downtown Tokyo on Sunday afternoon to show their sympathy for the hostages.
"I feel so sad and angry. Why didn't the government rescue Kenji?" said Mayuko Tamura, 31, a pediatrician who came with her husband and their 8-month-old baby.
In a Sunday service at the church Goto sometimes attended, worshipers prayed and commemorated his life.
"I feel as sad as I did when my own son passed away," said Atsuko Miyakawa, an 89-year-old housewife. "I cried all day long yesterday."
Government spokesman Yoshihide Suga said threats from the group, also known as ISIL or ISIS, prompted an order for tighter security at airports and at Japanese facilities overseas, such as embassies and schools,
There was no immediate word on the fate of Jordanian pilot Lt. Muath al-Kaseasbeh, who was captured by ISIL in December when his warplane crashed near the northern Syrian city of Raqqa, the militant group's de facto capital.
Al-Kaseasbeh's relatives and supporters held a candlelit vigil in Karak, southern Jordan, late Saturday night.
We "decided to hold this protest to remind the Jordanian government of the issue of the imprisoned pilot Muath al-Kaseasbeh," said the pilot's brother Jawdat al-Kaseasbeh, holding picture of Muath with a caption: "We are all Muath."
Al-Kaseasbeh's uncle, Yassin Rawashda, said the family just wants to be kept informed. "We want to know how the negotiations are going … in a positive direction or not. And we want the family to be (involved) in the course of negotiations," he said.
He said the family is not demanding a full briefing, but wants to hear if release efforts are headed "in a positive direction or not."
The pilot's father, Safi al-Kaseasbeh, said he is worried, but still is putting his faith in the government. "Of course, I'm concerned," he said by telephone. "This is my son. I'm always concerned about him and any development makes me more concerned."
Jordan is reportedly conducting indirect, behind-the-scenes negotiations through tribal leaders in neighboring Iraq.
Suga said it would be "inappropriate" to comment on the status of al-Kaseasbeh. Jordan's government spokesman Mohammed al-Momani also declined to comment.
The video shows a masked militant clad in black and brandishing a knife while Goto, wearing an orange jumpsuit, kneels in front of him. Speaking in British-accented English, the militant appears to be the same person seen in previous ISIL videos and dubbed by Western terror analysts as "Jihadi John."
"To the Japanese government: You, like your foolish allies in the Satanic coalition, have yet to understand that we, by Allah's grace, are an Islamic Caliphate with authority and power, an entire army thirsty for your blood," the militant said.
At one point, he addressed the prime minister directly.
"Abe, because of your reckless decision to take part in an unwinnable war, this knife will not only slaughter Kenji, but will also carry on and cause carnage wherever your people are found. So let the nightmare for Japan begin."
Goto, 47, was captured in October after going into Syrian territory to try to secure the release of another Japanese hostage, Haruna Yukawa. The well-known freelance journalist was shown in an Islamic State video last week holding a photo that purported to depict Yukawa's body and included a demand of $200 million ransom for Goto's own release.
"Kenji has died, and my heart is broken. Facing such a tragic death, I'm just speechless," Goto's mother Junko Ishido told reporters.
"I was hoping Kenji might be able to come home," said Goto's brother, Junichi Goto, in a separate interview. "I was hoping he would return and thank everyone for his rescue, but that's impossible, and I'm bitterly disappointed."
"I just have no words. It's utterly heartbreaking," Yukawa's father, Shoichi, said. "People killing other people — it's so deplorable. How can this be happening?"
President Obama condemned the "heinous" killing of Goto, whom he said "courageously sought to convey the plight of the Syrian people to the outside world."
In a statement, U.S. Secretary of State John Kerry called the beheading of Goto "barbaric" and said it "shows again ISIL's brutality and extremist agenda."
Contributing: The Associated Press
0) { %>
0) { %>
<!–
CommentsWrite a Reply or Comment: