Jordan wants proof pilot is alive as swap deadline looms – USA TODAY
Posted: Thursday, January 29, 2015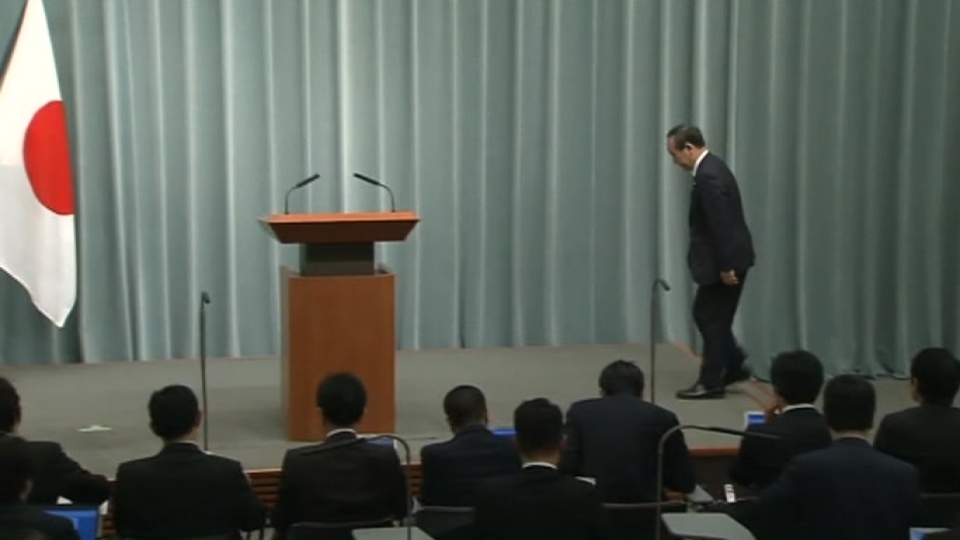 UP NEXT
03
Both Japan and Jordan are analyzing a newly released audio clip from IS regarding possible prisoner swap. Julie Noce reports.
Video provided by Reuters
Newslook
With a sunset deadline looming, Jordan demanded proof Thursday that a Jordanian pilot held by Islamic State militants was still alive before it would meet the terms of a prisoner swap and free a terrorist being held on death row.
Jordanian government spokesman Mohammed al-Momani said Jordan was willing to release Sajida Al-Rishawi but had not removed her from her cell pending proof that Lt. Muath al-Kaseasbeh, the pilot, is still alive.
"We need a proof of life so we can proceed," the government spokesman said, speaking only an hour before the deadline.
The extremist group had warned that the pilot would be killed if al-Rishawi were not turned over at the Turkish border by sunset.
Japanese officials were also working feverishly to free a second hostage, a Japanese journalist, also being held by the Islamic State.
The threat, released late Wednesday in a video posted on Islamic State-affiliated Twitter accounts, came hours after a 24-hour deadline for the prisoner swap passed. The Japanese government believes the voice heard on the tape is likely that of Japanese hostage Kenji Goto, who is being held along with with the Jordanian air force pilot.
Japan was studying the new message Thursday. USA TODAY could not independently verify the video.
"If Sajida al-Rishawi is not ready for exchange for my life at the Turkish border by Thursday sunset, 29th of January, Mosul time, the Jordanian pilot Muath al-Kaseasbeh will be killed immediately," the voice said, according to the terror-monitoring organization SITE Intelligence Group.
The video contains Arabic text and an audio message, which the voice says, "I've been told to send to you."
Japanese government spokesman Yoshihide Suga said Thursday the government was analyzing the message. He said Japan was doing its utmost to free Goto, working with nations in the region, including Turkey, Jordan and Israel.
"We are trying to confirm (the message), but we think there is a high probability that this is Mr. Goto's voice," he said.
The Cabinet met to assess the latest developments, but did not issue any updates.
Efforts to free al-Kaseasbeh and Goto gained urgency after a purported online ultimatum claimed Tuesday that the militants would kill both hostages within 24 hours if Jordan did not free al-Rishawi.
Earlier Wednesday, Jordan said it was ready to swap al-Rishawi, convicted of a deadly terrorist attack on a hotel, if al-Kasaseabeh "is released unharmed," Jordan's state-run news agency, Petra, said.
There was no word on whether Goto would be included in any exchange as the 24-hour deadline to secure his release passed.
Al-Rishawi had been sentenced to death in Jordan for her involvement in a terrorist attack in 2005 that killed 60 people, most of them attending a wedding reception at an Amman hotel. She survived after her suicide vest failed to explode.
An exchange would run counter to Jordan's hard-line approach — the same as its U.S. ally — of refusing to negotiate with the Islamic extremists. A swap could set a precedent for negotiating with a militant group that previously has not publicly demanded prisoner releases.
Jordanian King Abdullah II faces growing domestic pressure to bring the pilot home. Al-Kaseasbeh's father said he met on Wednesday with Jordan's king, who he said assured him that "everything will be fine."
UP NEXT
03
Jordan says it is willing to swap an Iraqi woman on death row for a Jordanian pilot captured by the Islamic State group. A purported message from the extremists threatens to kill both a Japanese hostage and the pilot within 24 hours. (Jan. 28)
AP
The pilot's capture has hardened popular opposition among Jordanians to the air strikes, analysts said
"Public opinion in Jordan is putting huge pressure on the government to negotiate with the Islamic State group," said Marwan Shehadeh, a scholar with ties to ultra-conservative Islamic groups in Jordan. "If the government doesn't make a serious effort to release him, the morale of the entire military will deteriorate and the public will lose trust in the political regime."
Goto was abducted after entering Syria to search for Japanese hostage Haruna Yukawa, 42, founder of a private security firm, who was taken captive in August, according to reports on Japanese television.
In a video released Jan. 20, the Islamic State demanded a $200 million ransom for the release of Goto and Yukawa within 72 hours. Abe refused to pay a ransom.
A video released Saturday showed a still photo of Goto holding a photo that apparently shows the dead body of Yukawa. In the video, Goto said the militants had changed their ransom demand and wanted the release of al-Rishawi. USA TODAY could not independently verify the videos.
"This heinous terrorist act is totally unforgivable," Japanese Prime Minister Shinzo Abe said in parliament Thursday.
Contributing: Doug Stanglin and Michael Winter, USA TODAY, Associated Press
0) { %>
0) { %>
<!–
CommentsWrite a Reply or Comment: