Justice Dept.: Cleveland police have pattern of excessive force – CNN
Posted: Friday, December 05, 2014
(CNN) — Above a vehicle bay at one of the Cleveland Division of Police's district stations hangs a sign that reads, "forward operating base," implying the station is in a war zone.
The sign sends a message indicative of the community's opinion of the division, Justice Department officials said in a report released Thursday on its nearly two-year investigation that found Cleveland police had demonstrated a "pattern … of unreasonable and unnecessary use of force."
"This characterization reinforces the view held by some — both inside and outside the Division — that CPD is an occupying force instead of a true partner and resource in the community it serves," the investigative report said.
The report further found that Cleveland police use guns, Tasers, "impact weapons," pepper spray and their fists in excess, unnecessarily or in retaliation. Officer also use excessive force on those "who are mentally ill or in crisis," the Justice Department said.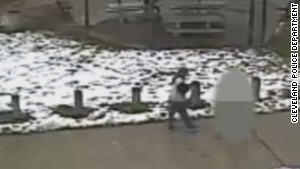 911 calls, video detail boy's shooting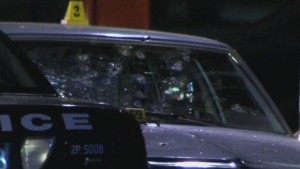 Cops sue Cleveland over 2012 shooting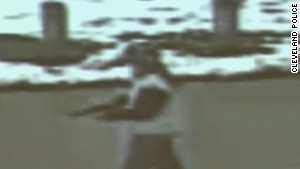 Video shows police shooting of a boy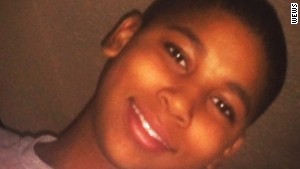 911 caller: Gun might be fake
In one of the more heinous incidents cited in the report, video from a police helicopter captured officers arresting a man after a January 2011 police chase. After the suspect was handcuffed and lying on the ground, officers used excessive force by kicking him in the head numerous times, the report said.
Despite myriad officers being on the scene, none identified any fellow officers who had exacted excessive force on the suspect, and thus, no officer was disciplined.
Accountability, or the lack thereof, was a theme of the Justice Department report. Of the period reviewed, 2010-2013, the investigation found that officers were suspended on only six occasions for improper use of force.
"Discipline is so rare that no more than 51 officers out of a sworn force of 1,500 were disciplined in any fashion in connection with a use of force incident over a three-and-a half-year period," the report said.
More disturbing was the Justice Department's findings on department accountability in regard to deadly force: "Deeply troubling to us was that some of the specially trained investigators who are charged with conducting unbiased reviews of officers' use of deadly force admitted to us that they conduct their investigations with the goal of casting the accused officer in the most positive light possible."
As a result of the findings, the city and Justice Department have signed an agreement "to develop a court-enforceable consent decree that will include a requirement for an independent monitor who will oversee and ensure necessary reforms."
The results of the federal review come as the Cleveland Division of Police is under fire for the November fatal shooting of 12-year-old Tamir Rice. The incident sparked even more outrage amid high tensions over Michael Brown's shooting death in Missouri and similar situations that have put police use of force under a microscope. Cleveland police Chief Calvin Williams has defended Rice's shooting, saying he reached for an air pistol that was "indistinguishable from a real firearm."
According to the investigation's findings, the department's practices erode public confidence in the police, making it difficult and dangerous for the city to deliver police service, the department said.
"Accountability and legitimacy are essential for communities to trust their police departments, and for there to be genuine collaboration between police and the citizens they serve," Attorney General Eric Holder said in a statement.
"Although the issues in Cleveland are complex, and the problems longstanding, we have seen in city after city where we have been engaged that meaningful change is possible. There are real, practical and concrete measures that can be taken to ensure not only that police services are delivered in a constitutional manner, but that promote public safety, officer safety, confidence and collaboration, transparency, and legitimacy."
The Justice Department said it launched its probe in March 2013 after "a number of high profile use of force incidents and requests from the community and local government to investigate the division." Mayor Frank Jackson was one of those who requested the investigation, after a controversial police chase and shooting that killed two people in November 2012.
In that incident, the Justice Department said, police began chasing Timothy Russell and passenger Malissa Williams after officers and witnesses thought they heard a gunshot coming from their car as they drove by a court building. The report said it now appears that what they heard was the car backfiring.
More than 100 officers engaged in a chase of the two unarmed suspects in violation of division policy. After a 25-minute chase that reached speeds of more than 100 mph and ended in an East Cleveland school parking lot, 13 officers fired 137 rounds hitting Russell and Williams more than 20 times each, the report said.
"The officers, who were firing on the car from all sides, reported believing that they were being fired at by the suspects. It now appears that those shots were being fired by fellow officers," the Justice Department wrote.
Not only did the investigation reveal a practice of unreasonable use of force but "in some cases unnecessary force in violation of the Fourth Amendment of the Constitution."
That includes unnecessary shootings and "head strikes with impact weapons," the report says. It also includes "excessive force against persons who are mentally ill or in crisis, including in cases where the officers were called exclusively for a welfare check."
The investigation found that the department employs "poor and dangerous tactics that place officers in situations where avoidable force becomes inevitable."
The Justice Department concluded that Cleveland's officers are not provided "adequate training, policy guidance, support, and supervision. Additionally, systems of review that would identify problems and correct institutional weaknesses and provide individual accountability are seriously deficient."
The department fails to review its officers' use of force, investigate other allegations of misconduct, "respond to patterns of at-risk behavior," enforce appropriate policies and establish "effective community policing strategies," according to the Justice Department.
"Throughout the investigation, the Department of Justice provided its observations and concerns to the city, and in response, the division has begun to implement a number of remedial measures, however, much more work is needed," the department's statement said.
Holder, Acting Assistant Attorney General Vanita Gupta and U.S. Attorney Steven Dettelbach will meet Thursday with community leaders, law enforcement officials and elected officials to discuss how to improve that relationship.
"Together, we can build confidence in the division that will ensure compliance with the Constitution, improve public safety and make the job of delivering police services safer and more effective," Gupta said in the statement.
Attorneys and investigators from the Justice Department's Civil Rights Division's Special Litigation Section and the U.S. Attorney's Office for the Northern District of Ohio reviewed thousands of pages of documents, including training materials, internal reports, video footage and investigative files. They also interviewed "officers, supervisors and command staff, and city officials; and spoke with hundreds of community members and local advocates."
CommentsWrite a Reply or Comment: