Who would have thought 2014 could be the year of the new car? We are only just out of a recession yet figures released last week show that for 29 consecutive months the number of sales of new carsin the UK has risen, surging 10% in the past year alone. The figures have even taken the Society of Motor Manufacturers, which compiles them, by surprise. It has upped its forecast for annual sales growth in 2014 from 6% to 8%, which would see more new cars sold in 2014 than in any year since the credit-crazy days of 2004.
Yet chances are you will probably find very few people who have ever bought new, and many who would never even consider it. So who are buying new and what is their motivation?
Accidental buyers attracted by good finance deals

Undoubtedly, one of the primary factors driving new car sales in the UK has been the availability of sometimes almost shockingly good finance deals. Four in five new-car purchases are now made on credit in Britain, according to the SMMT, with many customers effectively renting a new car through personal contract purchase (PCP). This method, where you put down a deposit, agree to pay a monthly figure (often at 0% interest) for a set period, and at the end of the term hand the car back or buy it for a pre-agreed price, accounts for more than 70% of new car finance.
According to the Finance and Leasing Association, which represents companies offering car finance, the number of people buying new cars using a showroom finance deal rose by 15% in the first six months of 2014 compared with the same period last year. This figure has risen as rapidly as new car sales over the past two years.
"Private car sales are undoubtedly being buoyed by attractive offers and finance packages as well as by appealing, fuel-efficient new models," says Howard Archer, chief economist at IHS. He adds that this has been further bolstered by the significant number of people who held off for an extended period from replacing their car due to the uncertain economic circumstances who are now more willing or able to act.
Mark Coe, an IT consultant from Southend in Essex, was one of a number of buyers who intended to buy second-hand until he saw how good the finance deals were.
"Because I was very particular about what I wanted, the dealers couldn't get it second-hand," he says. "Instead, at one dealership, I saw a new Audi A1 that was way over my budget, but when I realised I could get it for £180 a month with free servicing for five years and other extras, I put down £10,000 and bought it."
Ruth Speakman, head of communications at Exeter-based Blur Group, bought her first new car nearly five months ago. "I hadn't planned on buying new, and in fact test drove a few second-hand cars," she says. "My priority was low MPG, but when I walked into the Toyota showroom, they could do such a good deal that it made sense to buy new." She bought a Yaris Hybrid using a PCP plan under which she put down £2,000 upfront and pays £290 a month.
Buyers who are fed-up with repair bills

The view among the experts is that a number of factors have come together to create a "perfect storm" for new car buying.
"As consumers have got more confident as the UK economy outperforms most others, they're choosing to put their money back into motoring," says Neil Addley, managing director at used car sales website Trusted Dealers. "This is in part an emotional decision but also rational if you have picked up a couple of big bills where a car has fallen out of warranty."
Surrey-based Amy Sutton, who bought her first new car, a Toyota Aygo, last December, said this was her motivation: "I'd only had one car previously, a Ford Ka that I bought second-hand for £1,000. I'd only had it 18 months when it failed its MOT and I just thought, this time round I want the security that comes from a warranty."
She did her research on the type of car she wanted and the finance deals available and headed to her local dealer where she put her £1,000 down on the finance package for a Toyota Aygo. She is now paying £180 a month under an interest-free PCP arrangement. The package comes with a five-year warranty as well as three years free insurance and roadside assistance.
Simon Carter, who lives in Bishops Stortford, Hertfordshire, and works for the Scout Association, had similar motivations when he and his wife bought a new car. "Our previous car was a second-hand Ford Focus but it died. This time I wanted to drive something where I didn't have to constantly be paying for MOTs, new brakes and so on. So we borrowed money from the bank and bought a new Hyundai i30." The car was pre-registered to the dealer but had not sold when it was registered and only had two miles on the clock. As a result of this, and the fact that the couple were paying cash, the dealer gave them a big discount.
Buyers with cash to burn

While most people's finances have been stretched over the past few years, factors such as lower mortgage payments and the decision to delay buying or moving home has meant that some people have ended up with a chunk of money to spend. Mike Hawes, chief executive of the SMMT, has even suggested in the recent past that PPI insurance payouts have encouraged people to buy. "They are giving people a nice cheque. It's not enough to put on a deposit for a house, but it's certainly enough to put a deposit on a new car," he told the BBC last year.
Margot Grimwood, a retired university staff IT trainer from Lymington in Hampshire bought a new VW Tiguan last year with her partner, Gail Ingram. "We ended up buying outright as the model the dealer showed us was not available on finance," she says. "I've always bought on finance in the past and if I didn't have the money to buy upfront I would always buy a new car this way. I just feel that when a car gets to more than three years old things start to go wrong so you are better buying new than second-hand."
Despite the rapid rise of new car purchases, it seems unlikely that our love affair with unused motors will be quite as passionate in the months ahead. According to economist Howard Archer: "A concern for car manufacturers is that current muted earnings growth threatens to be a constraint for sales, while some consumers will also be worried by the prospect that interest rates will start to rise before long."
The committed second-hand buyer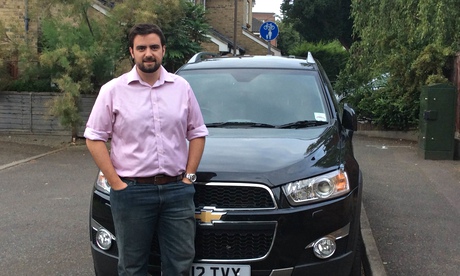 Last month Mike Robb bought a second-hand Chevrolet Captiva LTZ


Just as there is a growing army of new car buyers, plenty of dedicated second-hand vehicle owners will never buy new. "As soon as you drive it off the forecourt it halves in price," says London-based Mike Robb (above), an executive director at Cicero Global who has been buying second hand for the past 12 years. "Even the 0% interest finance deals would not tempt me because you still have to pay for the car at some point."
Last month he and his wife bought a second-hand Chevrolet Captiva LTZ, an SUV, to replace their 10-year-old VW Golf. They were expecting twins and needed something bigger.
The Chevrolet is two years old, but was around half the price of the same car new, he says. A a new version retails for around £30,000, according to website carbuyer.co.uk. "I'm not too worried about being hit with the cost of repairs as I've never yet had a bad experience with a second-hand car," Robb says.