New Yorkers Express Quiet Grief Over NYPD Murders – Huffington Post
Posted: Tuesday, December 23, 2014
As New York City reels in the aftermath of the assassinations of two NYPD officers, protesters and loved ones gathered Monday night to honor the lives of the victims.
At a candlelit gathering in the Bedford-Stuyvesant neighborhood of Brooklyn, a half-mile from where officers Rafael Ramos and Wenjian Liu were shot to death execution-style by Ismaaiyl Brinsley, 28, on Saturday, several dozen people held makeshift lanterns made of Dixie cups as they marched from Herbert Von King Park to St. Philips Church in silence. The attendees, including many who have spent the past month protesting the police killings of Eric Garner and Michael Brown, said they came to honor the officers who were killed and those who have been killed by officers.
"Tonight is an opportunity to come together for a moment of reflection," Michael Premo, 32, a freelance journalist and Bedford-Stuyvesant resident who helped organize the vigil, told The Huffington Post. "There's a lot of confusion, a lot of pain. … The loss of these officers is absolutely tragic. Any loss of life is tragic."
Elsewhere in the city, mourners gathered to pay their respects. Near a makeshift memorial outside the Bedford-Stuyvesant housing project where Ramos and Liu were killed, bystanders gave nearby police officers hugs, thanking them for their service and expressing their remorse.
At Diversity Plaza in Jackson Heights, Queens, at least 50 people, including current and former police officers and New York City Councilman Daniel Dromm (D), huddled closely as members of the group made conflicting pleas. A former firefighter begged for an end to recent protests that have taken over New York City's streets. A community activist pleaded for peace in the city and around the world. A young girl, the child of immigrants, read a poem she wrote about recent violence in Pakistan.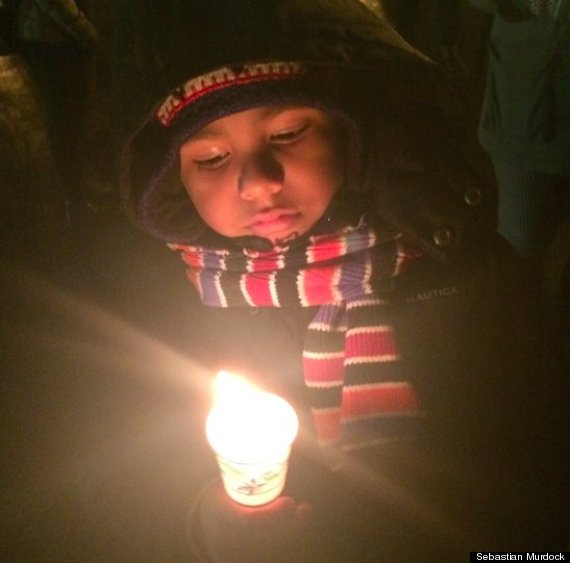 Achileas Hernandez, 6, holds a candle in honor of the slain NYPD officers at the Bedford-Stuyvesant vigil.
"People really like to be listened to," Dromm told HuffPost. "It's the only way we can move forward."
At the Bedford-Stuyvesant vigil, 23-year-old Darius Gordon dismissed recent remarks by NYPD Commissioner Bill Bratton that linked recent protests against police brutality in New York City to the murders of Liu and Ramos. "It's not comparable," Gordon said. Brinsley "shot his girlfriend before coming here from Baltimore. It's not related at all. Just because [Bratton] says it is does not make it true."
Still, Gordon stressed that Monday's event was about stopping all violence. "We're not here in anger, because a loss is a loss," he said. "And we grieve as much as they do."
At a police charity event on Monday, Mayor Bill de Blasio asked demonstrators to refrain from holding protests until after funerals for Ramos and Liu. "It's a time to step back and just focus on these families," the mayor said. "I think it's a time for everyone to put aside political debates, put aside protests, put aside all of the things that we will talk about in due time. In the coming days, as two families prepare for funerals and figure out how to piece their lives back together, that should be our only concern: How do we support them?"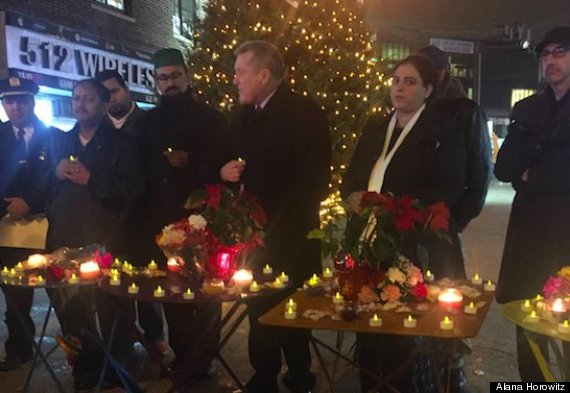 Vigil attendees at Diversity Plaza in Jackson Heights, Queens.
Tensions between New York City's police unions and lawmakers have been high since Brinsley's rampage, which began when he shot his former girlfriend in Maryland and ended when he took his own life on the platform of the Myrtle Willoughby subway station, a few blocks from where he fired a fusillade of bullets into Ramos and Liu's patrol car.
Pat Lynch, the outspoken president of the NYC Patrolmen's Benevolent Association, blamed the officers' deaths on the mayor and on the protests that have gripped the city since a grand jury decided last month not to indict NYPD officer Daniel Pantaleo in the chokehold death of Staten Island resident Eric Garner in July. De Blasio has been supportive of nonviolent demonstrations, saying "the way we do policing needs to change."
"There's blood on many hands tonight," Lynch said in a speech Saturday night. "That blood on the hands starts on the steps of City Hall, in the office of the mayor." City police unions agreed Monday to stop putting out statements blaming protesters for the officers' killings out of respect for the victims' families.
A group of NYPD officers turned their backs on de Blasio after he met with grieving relatives of Liu and Ramos at Woodhull Hospital on Saturday night. Bratton acknowledged an "undeniable rift" between the mayor and members of the NYPD in an interview on Monday, during which he also suggested protesters were to blame for the officers' deaths.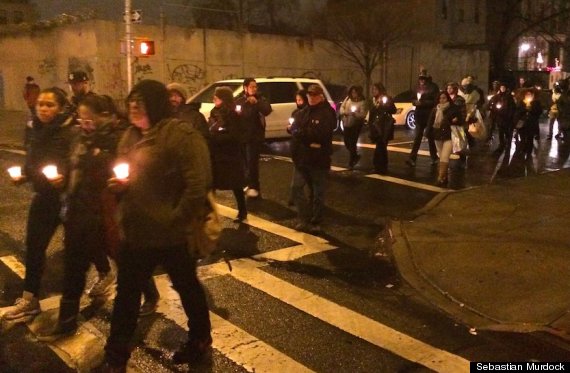 The silent march through Bedford-Stuyvesant, a half-mile from where the NYPD officers were killed.
Skipp Roseboro, a 69-year-old retiree from Bedford-Stuyvesant who attended Monday night's candlelit march, told HuffPost that he wished the department would show the same respect for those killed by police as those who criticize the NYPD are showing toward the slain officers. "Mr. Lynch and others in the police community do not share that compassion the other way," he said. "That's one of the problems."
Black Lives Matter, the grassroots organization behind many of the recent protests, condemned Brinsley's actions in a statement on Saturday. "An eye for an eye is not our vision of justice, and we who have taken to the streets seeking justice and liberation know that we need deep transformation to correct the larger institutional problems of racial profiling, abuse, and violence," the group said. "We know all too well the pain and the trauma that follows the senseless loss of our family members and loved ones. We extend our hearts and prayers to the families of those who lost their loved ones this week. No one should suffer the loss of those whom they love."
In a blog posted on HuffPost Monday, Black Lives Matter co-founder Opal Tometi spoke out against Bratton and Lynch's accusation that the ongoing demonstrations were to blame for the killings of Ramos and Liu. "We challenge the ways in which a senseless tragedy, an isolated incident, is being used to send a chilling message to protesters and to shape a dangerous narrative," she wrote. "This is a challenging moment, but we must maintain the integrity of our message and moral movement."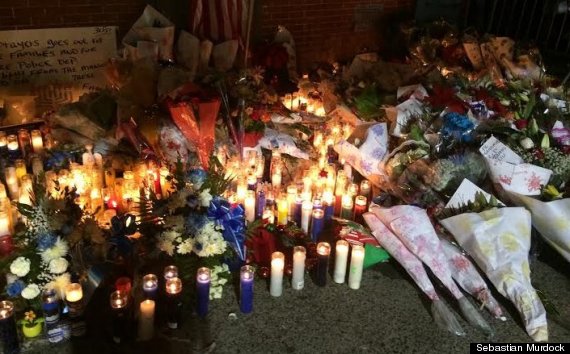 A makeshift memorial at the site of the officers' deaths
Eric Garner's daughter, Emerald Garner, expressed support for the families of Liu and Ramos on Monday. She told ABC News she was "never anti-police," and said Brinsley's actions were "a mental health crisis" that "didn't have anything to do with race."
Meanwhile, New York City residents said they will continue to come together to honor the lives of Liu and Ramos and to speak out against racial injustice. Tammy Rose, 42, a preschool owner who lives in Jackson Heights, took her 13-year-old daughter to the Diversity Plaza gathering because, she said, she wanted to show her child that not all rallies are tumultuous.
"I wanted her to see that you can also get together and be peaceful," Rose said.
Dromm told HuffPost that the recent protests don't contradict the outpouring of community sympathy for the slain officers. "Just because you are for police reform doesn't mean you are anti-cop," Dromm said. "We have to come together."
CommentsWrite a Reply or Comment: