NYPD: 7 arrested for allegedly posting, phoning in threats to officers 7 arrests … – CNN
Posted: Friday, December 26, 2014
New York (CNN) — Seven men have been arrested in connection with alleged threats made toward police officers since Saturday afternoon, when two NYPD officers were shot in the head from behind while sitting in their patrol car, New York City police said.
Police said in a statement Wednesday that they have assessed hundreds of online postings and calls to 911 and pressed the public to continue to report any suspicious activity.
"All threats against members of the NYPD are taken seriously and are investigated immediately to determine the credibility and origin of the information," the statement read.
The arrests come as an investigation is underway into Ismaaiyl Brinsley, the 28-year-old who authorities say shot Officers Wenjian Liu and Rafael Ramos in Brooklyn.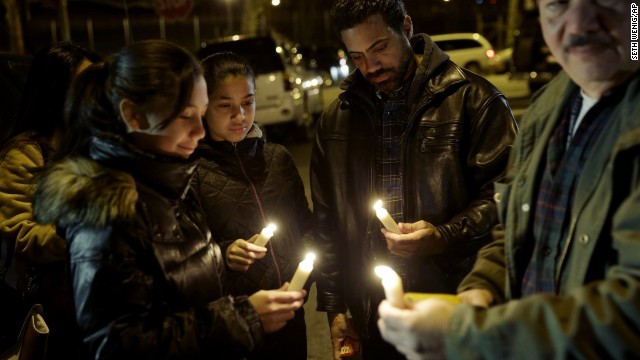 People light candles during a vigil on Sunday, December 21, for two NYPD officers who were ambushed and killed on Saturday. The two NYPD officers, Wenjian Liu and Rafael Ramos, were shot while sitting in their police car. Police have named Ismaaiyl Brinsley as the shooter.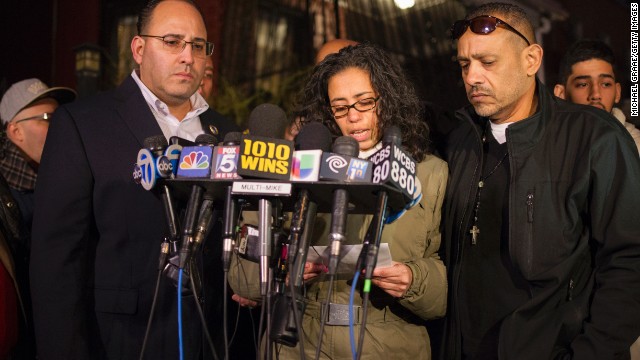 Lucy Ramos, aunt of slain police officer Rafael Ramos, speaks at a news conference in front of Ramos' childhood home on December 21.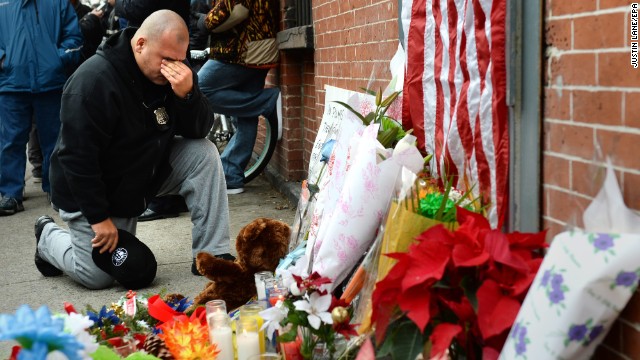 A New York City police officer kneels on Sunday, December 21, in front of a small memorial for two police officers who were killed in Brooklyn, New York, on Saturday.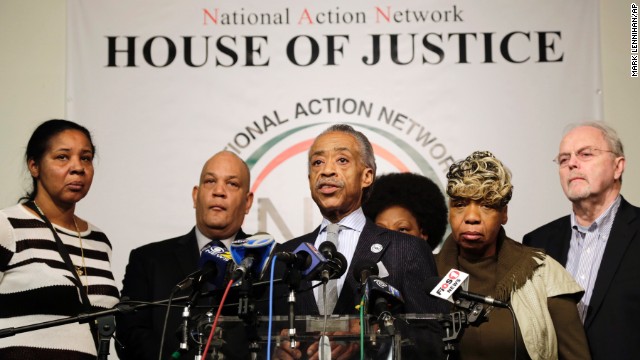 The Rev. Al Sharpton, center, speaks about the killings of the officers during a news conference at the National Action Network headquarters in New York on December 21. Behind him are, from left, Esaw Garner, widow of Eric Garner; attorney Michael Hardy; Gwen Carr, mother of Eric Garner; and attorney Jonathan Moore.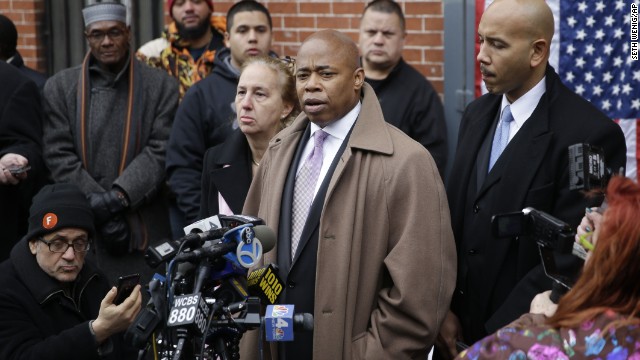 Brooklyn Borough President Eric Adams, third from right, speaks on December 21 while Manhattan Borough President Gale Brewer, fourth from right, and Bronx Borough President Ruben Diaz, right, listen during a news conference at an impromptu memorial near the site where the officers were shot.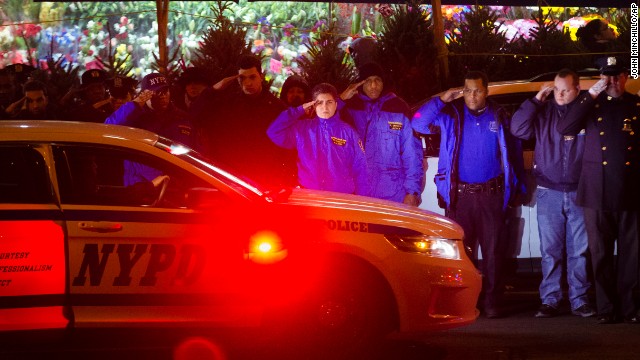 Mourners stand at attention as the bodies of two fallen NYPD officers are transported from Woodhull Medical Center on Saturday, December 20.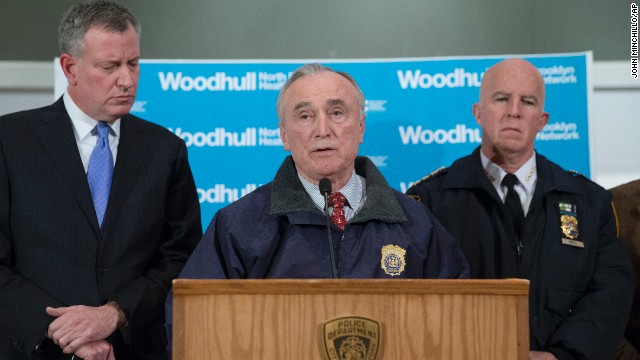 New York Police Department Commissioner Bill Bratton speaks alongside Mayor Bill de Blasio, left, and NYPD's Chief of Department James O'Neill, right, during a news conference at Woodhull Medical Center on December 20.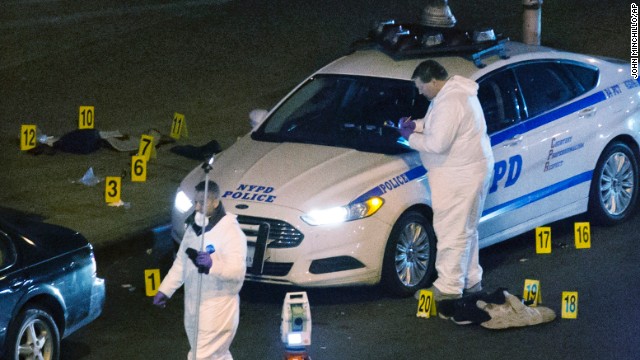 Investigators work the scene where two NYPD officers were shot December 20, in the Bedford-Stuyvesant neighborhood of Brooklyn, New York.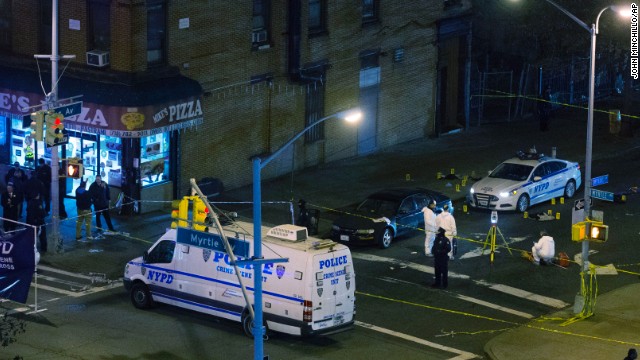 The officers were shot and killed ambush-style Saturday afternoon as they sat in their patrol car in Brooklyn, officials said.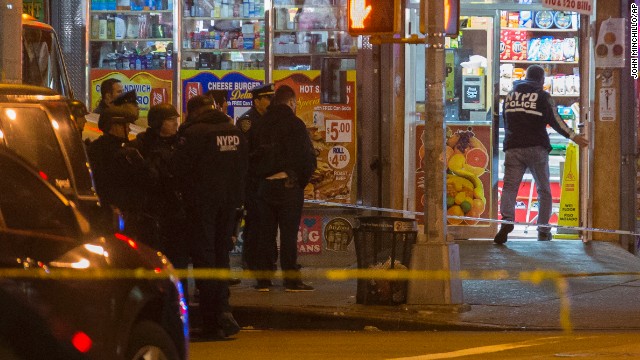 The officers — one with two years' experience, the other with seven years on the job — were normally assigned to downtown Brooklyn but were working a "critical response" detail in an area with higher crime, police said.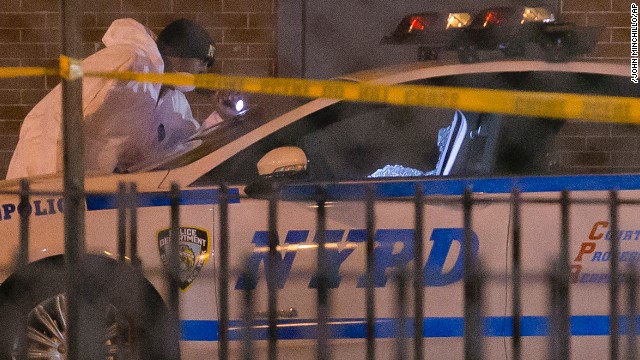 The shooter was found dead in a nearby subway station from a self-inflicted gunshot wound, officials said. The shooter, identified as Ismaaiyl Brinsley, arrived in New York from Baltimore, police said.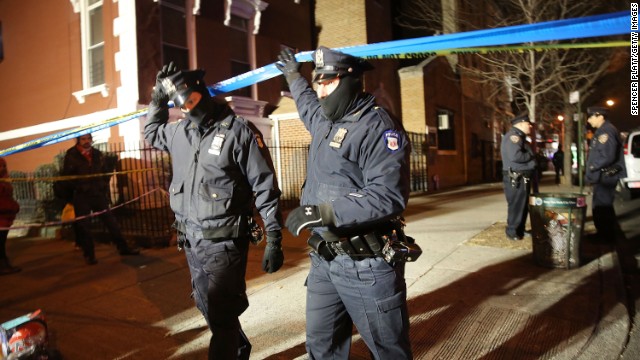 The shooting occurred near Myrtle and Tompkins avenues in the Bedford-Stuyvesant section of Brooklyn.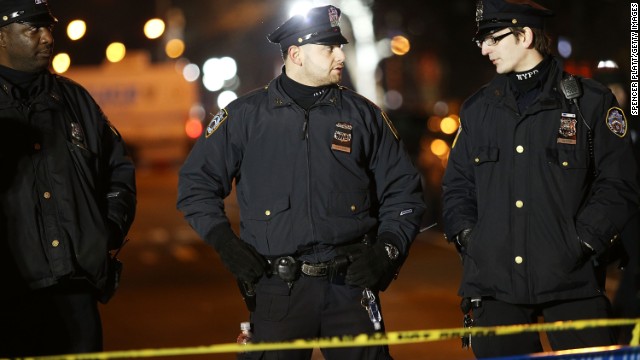 Police officers gather near the scene of the shooting. U.S. Attorney General Eric Holder called the attack "an unspeakable act of barbarism."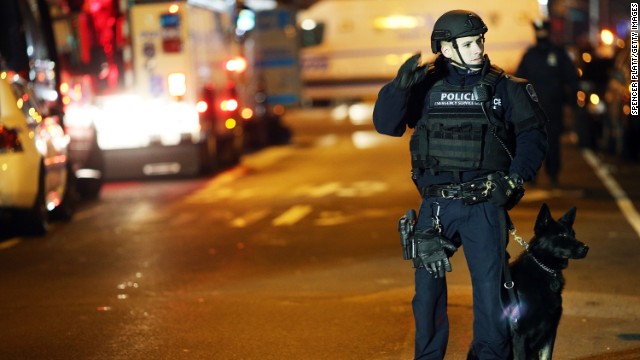 An officer with a police dog monitors the scene on the evening of December 20.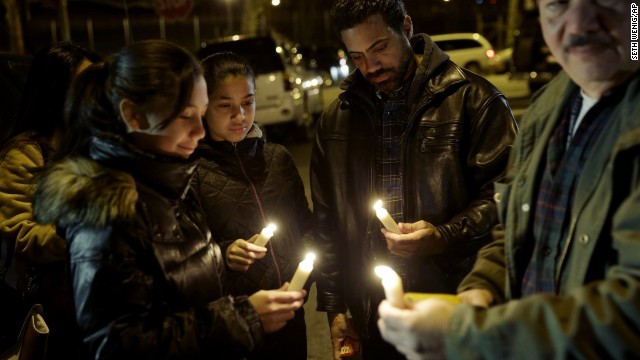 Photos: Two NYPD officers fatally shot
Hours earlier, Brinsley apparently posted on his Instagram account: "I'm putting wings on pigs today … they take one of ours, let's take two of theirs." Brinsley committed suicide after shooting the officers, according to police.
One of the most recent arrests came on Wednesday after a 26-year-old allegedly posted pictures of weapons on his Facebook page along with threats to kill police officers, the NYPD spokeswoman confirmed. That individual is charged with making terroristic threats.
Opinion: Dark times in a divided NYC
Also Wednesday, a 41-year-old was arrested on charges of aggravated harassment and making terroristic threats after he allegedly called into the 84th precinct — where Liu and Ramos had been stationed — and, requesting to speak to Ramos, asked whether the bullets had been removed from the dead officer's head so "he could kill more cops," police spokeswoman Sophia Mason confirmed.
NYC mayor facing tensions further strained by police shootings
Also Wednesday, a man was arrested on weapons and drug charges after he was overheard threatening to kill cops while talking on his cell phone inside a bank in Queens, according to the NYPD.
Of the seven arrests, according to police, three stemmed from postings made on social media and two came on misdemeanor charges of false report incident, in which the suspects allegedly called into 911 — reporting threats made by a third party that were later debunked. One arrest was made after the suspect phoned in a direct threat to 911.
In a tweet Thursday, Mayor Bill de Blasio thanked the police department and the civilian who saw something and said something: "Thank you to the NYPD officers who today arrested a man who threatened to kill cops, and to the good samaritan who provided key information."
CommentsWrite a Reply or Comment: