Obama fills in for Stephen Colbert – CNN
Posted: Tuesday, December 09, 2014
Washington (CNN) — Barack Obama may be the President of the United States, but for a few minutes on Monday, he was also Stephen Colbert, outgoing host of "The Colbert Report."
Obama, who sat down for an interview with Colbert in Washington, surprised the host and took over the taping for a segment.
"You've been taking a lot of shots at my job, I've decided to take a shot at yours," Obama said before taking over for Colbert on "The Word," a segment where Colbert (in this case, Obama) says a line or two before a witty word or phrases flashes to the right. "How hard can this be? I am just going to say whatever you were about to say."
From there, Obama launched into a monologue about Obamacare, congressional Republicans and his last two years in office.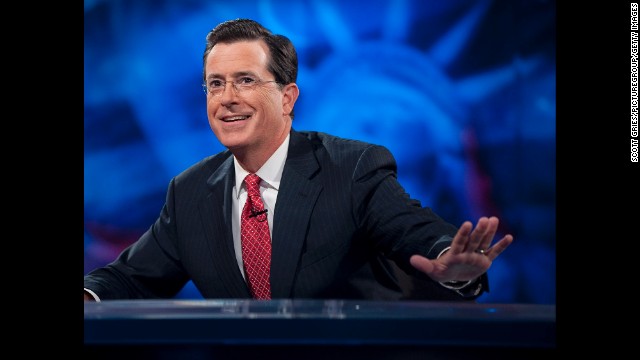 Stephen Colbert will take over "The Late Show" upon the retirement of David Letterman in 2015. Colbert's rise includes a number of notable moments.
Colbert, left, was originally one of "The Daily Show's" correspondents. He began with the show during its Craig Kilborn era and stayed when Jon Stewart, center, came to host in 1999. Others on the show included, from left, Ed Helms, Rob Corddry and Samantha Bee.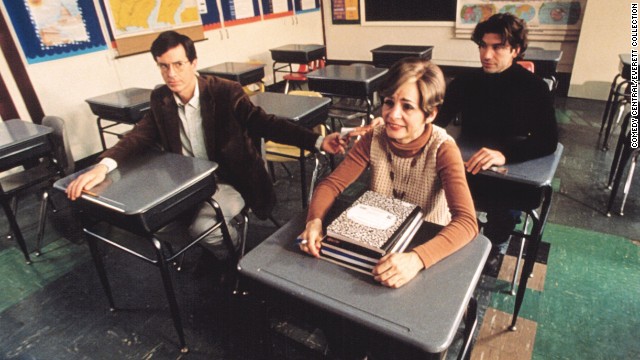 While appearing on "The Daily Show," Colbert was also part of the cast of "Strangers with Candy," a comedy series with Amy Sedaris and Paul Dinello. He met the pair while he was a member of the Second City comedy troupe in the early '90s.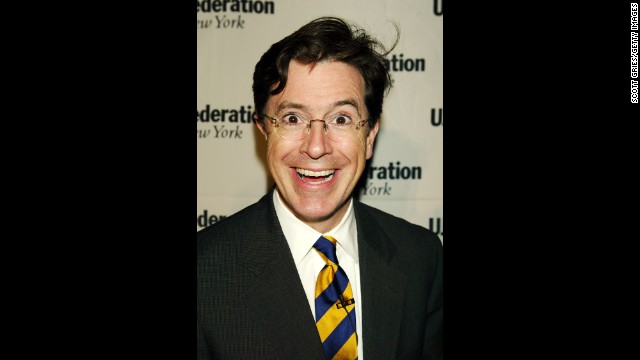 As a "correspondent" and later an anchor, Colbert developed a character that has been, at turns, pompous, pious and egocentric — basing the persona on many others in television.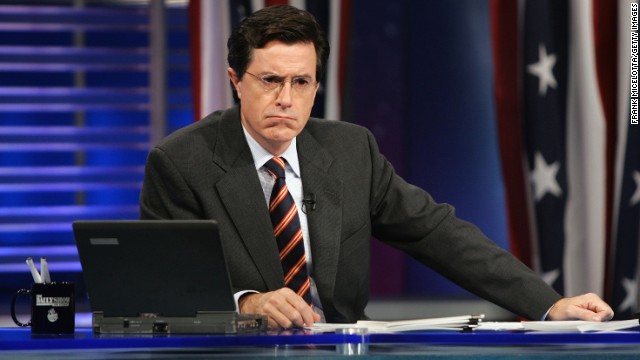 As correspondent, Colbert was key to "The Daily Show's" election coverage. Here he takes part in Election Night 2004.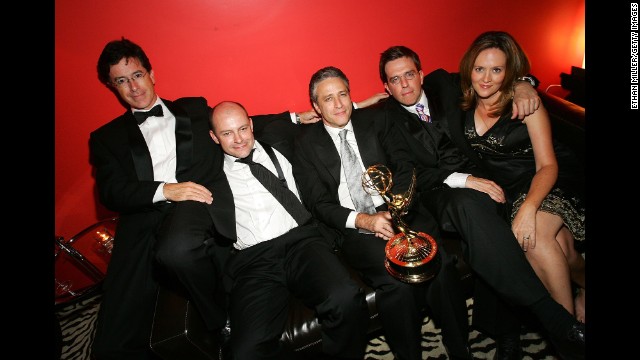 Colbert's work on "The Daily Show" contributed to a number of awards — including several Emmys. He poses here with, left to right, Rob Corddry, host Jon Stewart, Ed Helms and Samantha Bee.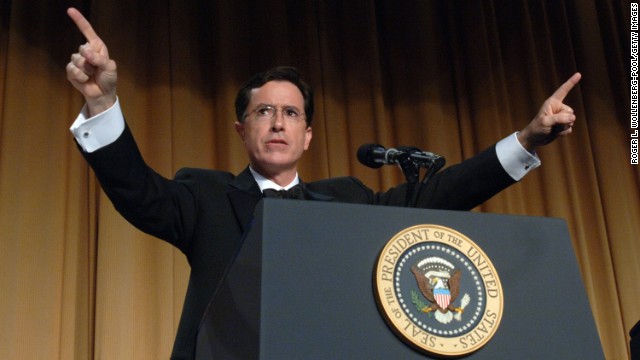 Colbert earned praise — and notoriety — for his hosting of the 2006 White House Correspondents Dinner. In character, his barbs about President George W. Bush and the political news media drew blood.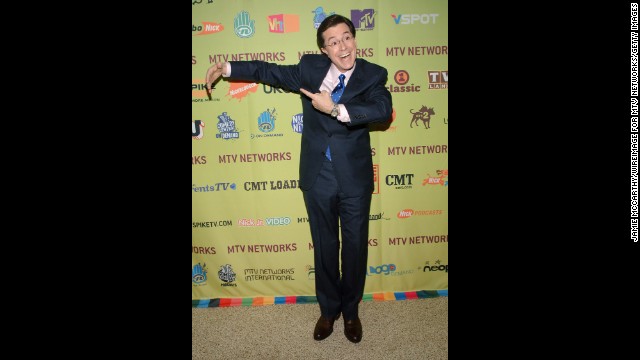 On "The Colbert Report" — and that's pronounced "Col-bear Rap-pour" — Colbert highlights the foibles of politicians with such segments as "Better Know a District," a proposed 435-part series in which he offers a take on every House District. The representatives he interviewed sometimes haven't been aware of the joke.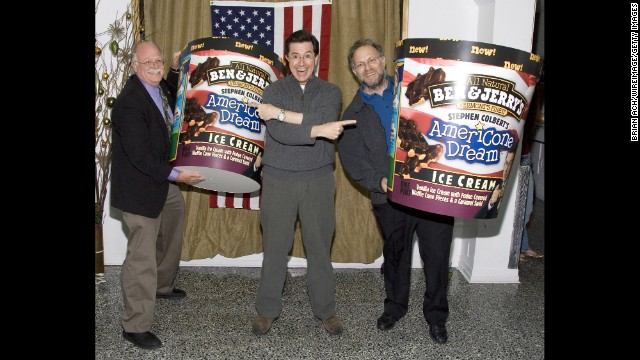 Very quickly, Colbert's influence rose so high that he got his own Ben & Jerry's ice cream flavor: AmeriCone Dream. Here he poses with Ben Cohen, left, and Jerry Greenfield at the flavor's launch party.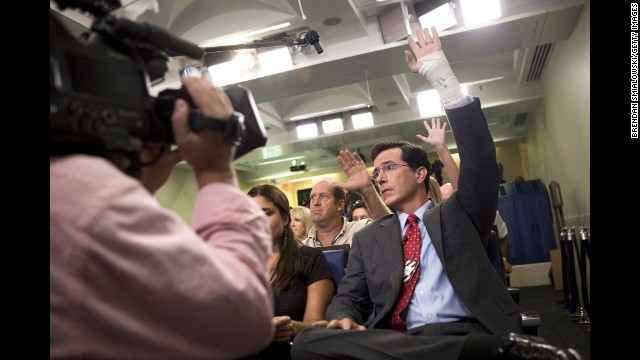 The White House hasn't been immune to Colbert's charms. He showed up for a mock press conference in 2007.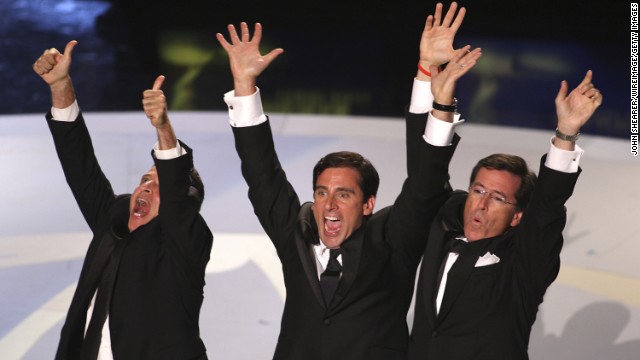 "The Daily Show" may have won a bunch of Emmy awards, but in 2013 "The Colbert Report" broke its streak of 10 straight awards for outstanding variety series. It's also won two Emmys for writing, as well as two Peabodys.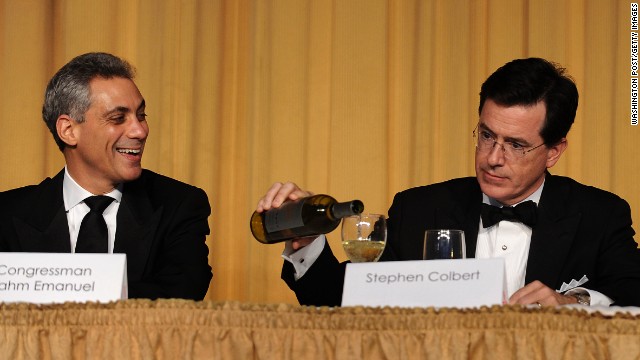 Colbert hosted a roast for then congressman — and later Chicago mayor — Rahm Emanuel in 2008. Colbert, a South Carolina native, has ties with Chicago, having gone to college at Northwestern, in nearby Evanston, and worked in the city's comedy scene.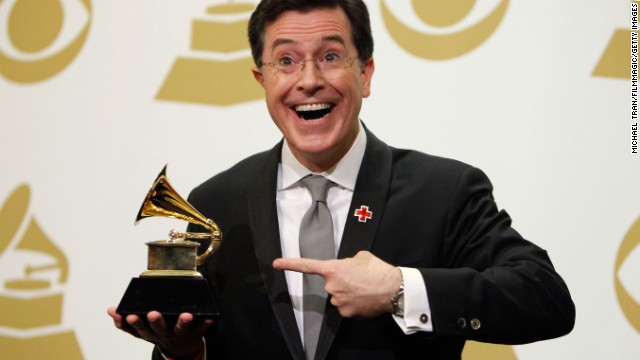 Colbert's awards haul isn't limited to Emmys and Peabodys. In 2010 he won a Grammy for his Christmas album, and four years later won another for best spoken-word album.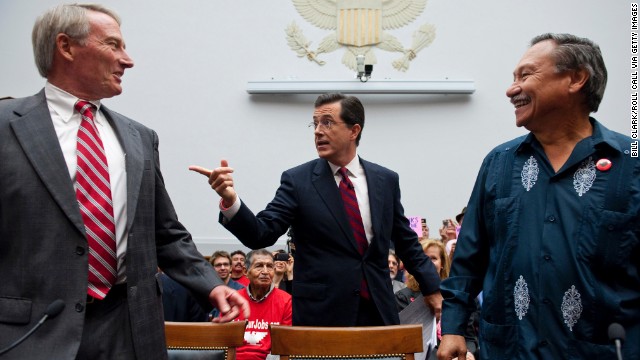 In September 2010, Colbert testified at a hearing on immigration. He took time to chat with Phil Glaize, chairman of the U.S. Apple Association, left, and Arturo Rodriguez, president of the United Farm Workers. Again, some representatives didn't get Colbert.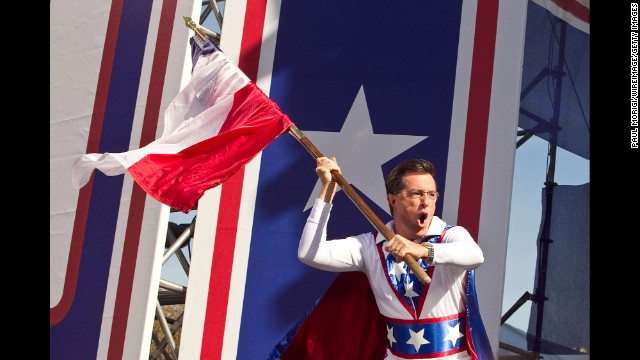 In October 2010 Colbert teamed up with Stewart for a Washington rally, "Rally to Restore Sanity and/or Fear." Stewart handled the sanity; Colbert took care of the fear. The rally was a response, sort of, to rallies led by Glenn Beck and Al Sharpton.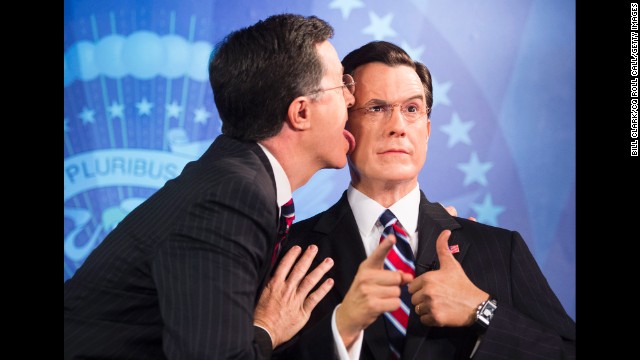 Colbert's character definitely loves himself. He went so far as to lick himself during the unveiling of his wax figure at the Madame Tussauds wax museum in Washington in 2012.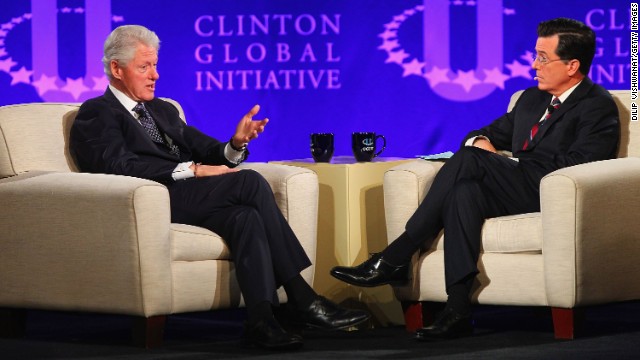 Colbert may be responsible for Bill Clinton being on Twitter. When the former president appeared on his show in 2013, Colbert set up an account, @PrezBillyJeff. Clinton later set up his real account, @billclinton.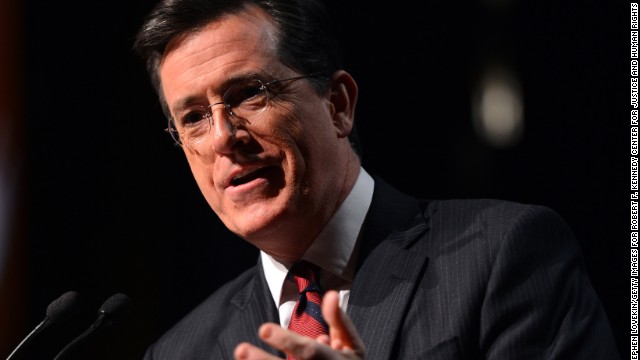 Colbert, a devout Catholic, has taught Sunday school and talked about social justice. He spoke at the Robert F. Kennedy Center for Justice and Human Rights 2013 Ripple of Hope Awards dinner.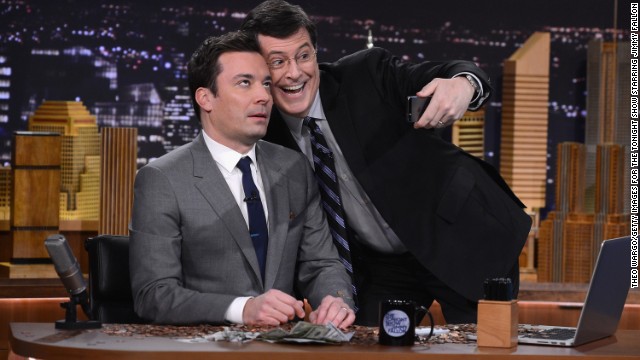 Colbert faces a changed talk-show landscape. Jimmy Fallon, left, has gotten off to a fast start as new "Tonight Show" host on NBC, and ABC's Jimmy Kimmel also has a strong fan base. Observers are curious whether Colbert will bring his character with him to "The Late Show." We'll find out when David Letterman steps down.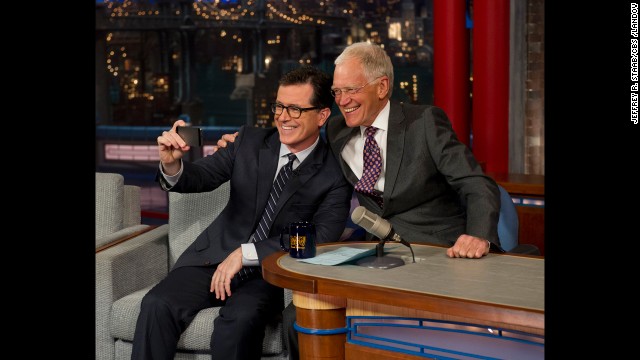 Colbert takes a selfie with Letterman on the "Late Show with David Letterman" on Tuesday, April 22. CBS began to introduce the next host of the "Late Show" by having its current host interview him.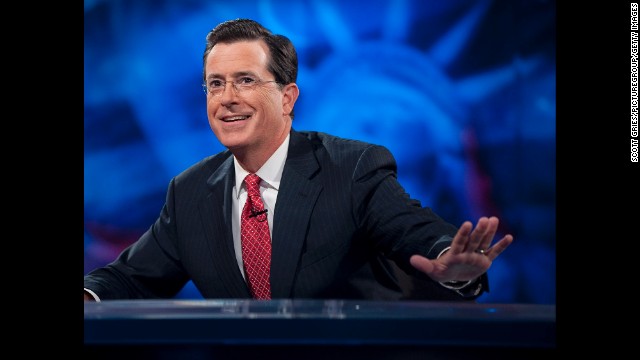 Funnyman Stephen Colbert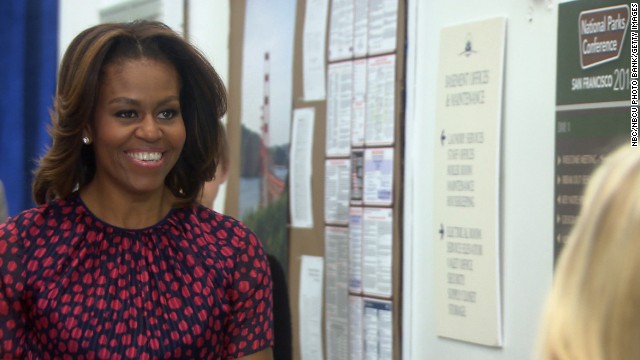 First lady Michelle Obama makes an appearance as herself in NBC's "Parks and Recreation," which airs April 24. Obama has appeared in a variety of TV shows since her husband was elected president. Click through the gallery to see her TV appearances.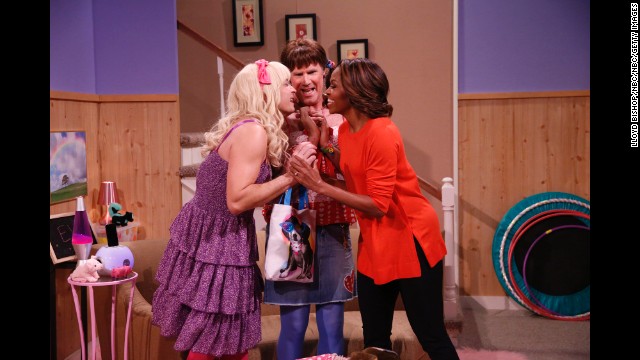 On "The Tonight Show Starring Jimmy Fallon," host Fallon, actor Will Ferrell and Obama perform the "Ew" skit on February 20.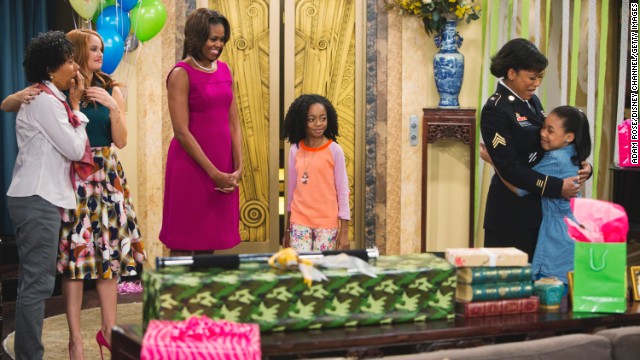 Obama, center left, guest stars in "Jessie." She appears in this January episode that talks about military families.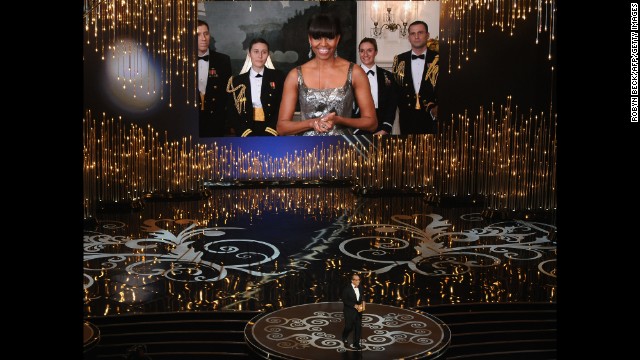 Via video, Obama announces the Oscar for Best Picture along with actor Jack Nicholson onstage at the 85th Annual Academy Awards on February 24, 2013.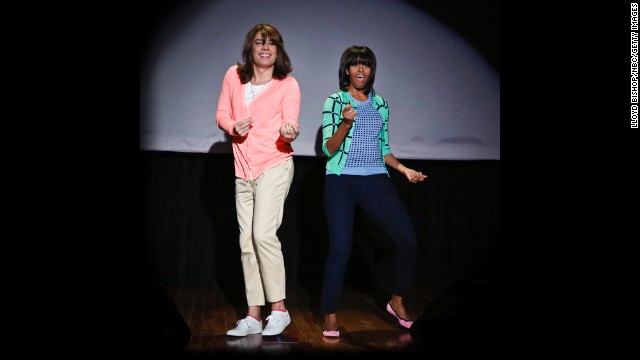 Obama, right, appears with Jimmy Fallon on "Late Night with Jimmy Fallon" on February 22, 2013.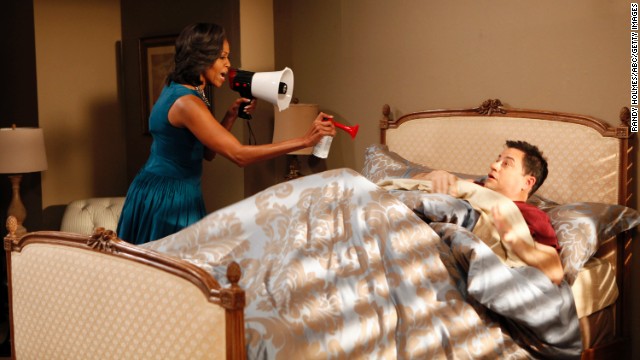 Obama appears on "Jimmy Kimmell Live" on October 25, 2012.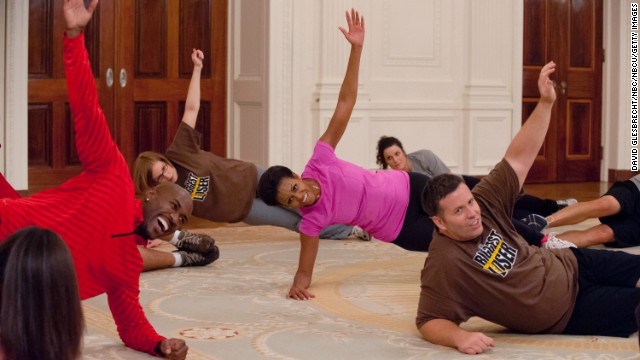 Obama works out on "The Biggest Loser" on February 18, 2012.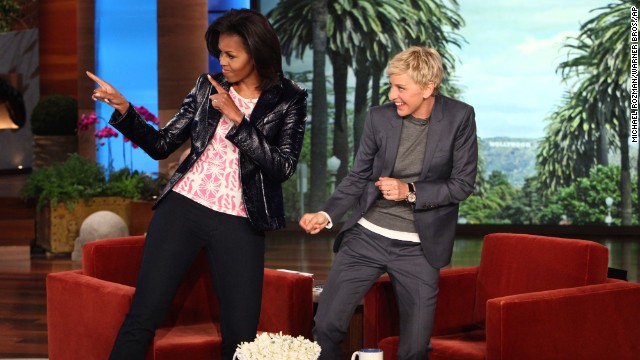 Talk-show host Ellen DeGeneres dances with Obama during a taping of "The Ellen DeGeneres Show" on February 1, 2012.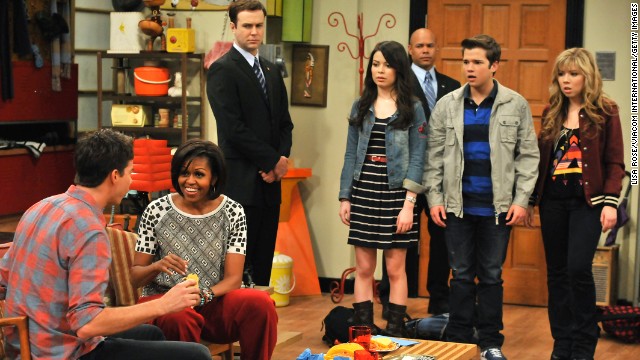 Obama, second from left, speaks to Jerry Trainor during a special appearance on Nickelodeon's series "iCarly" on June 13, 2011.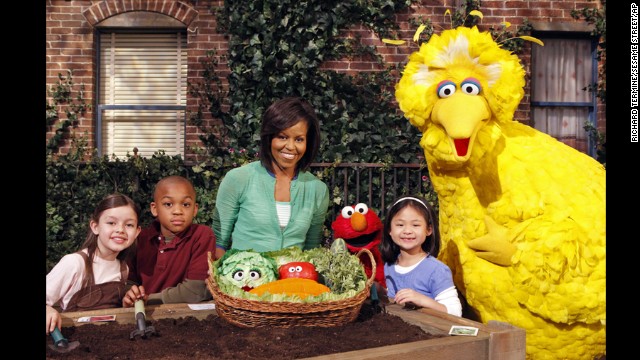 The first lady joins the Sesame Street gang in "Michelle Obama Plants A Garden" in Astoria, New York, on May 5, 2009.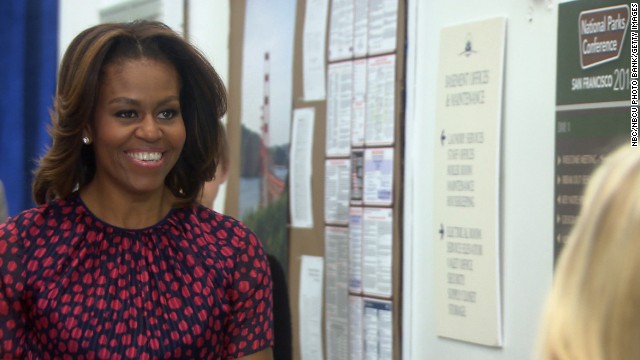 Michelle Obama TV Appearances
"Nation," Obama said, referring to his audience like Colbert does. "As you know, I, Stephen Colbert, have never cared for our President. That guy is so arrogant. I bet he talks about himself in the third person."
After talking about Obamacare, the President asked, "How do you stop something that more and more people are starting to like?"
Next to Obama flashed "Move it to CBS," a nod to the fact that in two weeks Colbert will be stepping down from his Comedy Central show to take over for David Letterman at the "The Late Show" on CBS.
The President went on to detail how Republicans could stop Obamacare.
"They could pass a bill repealing Obamacare. But the President still has the veto and if I know that guy, he is willing to use it," Obama said. "And let's face it, even if Republicans somehow did repeal it, they would have to replace it with their own health care plan. Once they touch it, they own it, and then if anything goes wrong, suddenly everybody will be complaining about Mitch McConnell-care."
"Walk It Off.gov" then flashed next to the President.
Near the close of the segment, Obama joked, noting that last year's Obamacare rollout was "a little bumpy."
"I think that is where Disney got the idea for Frozen," the President said to laughs.
Obama stayed in character for the end of the segment, too.
"We will be right back with the leader of the free world," the President said, looking at his page like he couldn't remember his own name before adding, "Barack Obama."
Following a break, Obama and Colbert sat down for a somewhat more traditional interview, where the President defended his decision to issue an executive action on immigration reform and the recent positive jobs report.
"The economy is growing at a faster rate than it has for years," Colbert said. "Why didn't you fix the economy before the midterm elections? I would have done it before the midterms so people were happy when they voted."
"Actually, the economy has been on a pretty good run," Obama said, before listing a number of economic indicators about job creation and growth that his White House regularly pushes.
"I'll give it to you. You've employed a lot of people, mostly as secretary of defense," Colbert said, a crack at the fact that Obama recently parted ways with his third, Chuck Hagel, and nominated his fourth, Ash Carter.
On immigration, Obama said his decision to issue an executive order is "scrupulously within the law" and something that both Democratic and Republican presidents have done.
"You realize you are an emperor now. It has been declared," Colbert joked, referring to an attack some Republicans used against the President during his immigration decision. "You are Barackus Maxamus the First."
Obama seemed to enjoy his time behind "The Colbert Report" desk, too.
"I will say, I felt more powerful behind that desk," Obama said.
Colbert responded with a self-deprecating joke: "With great power comes medium cable ratings."
CommentsWrite a Reply or Comment: