Obama offers condolences over Islamic State hostage – USA TODAY
Posted: Sunday, January 25, 2015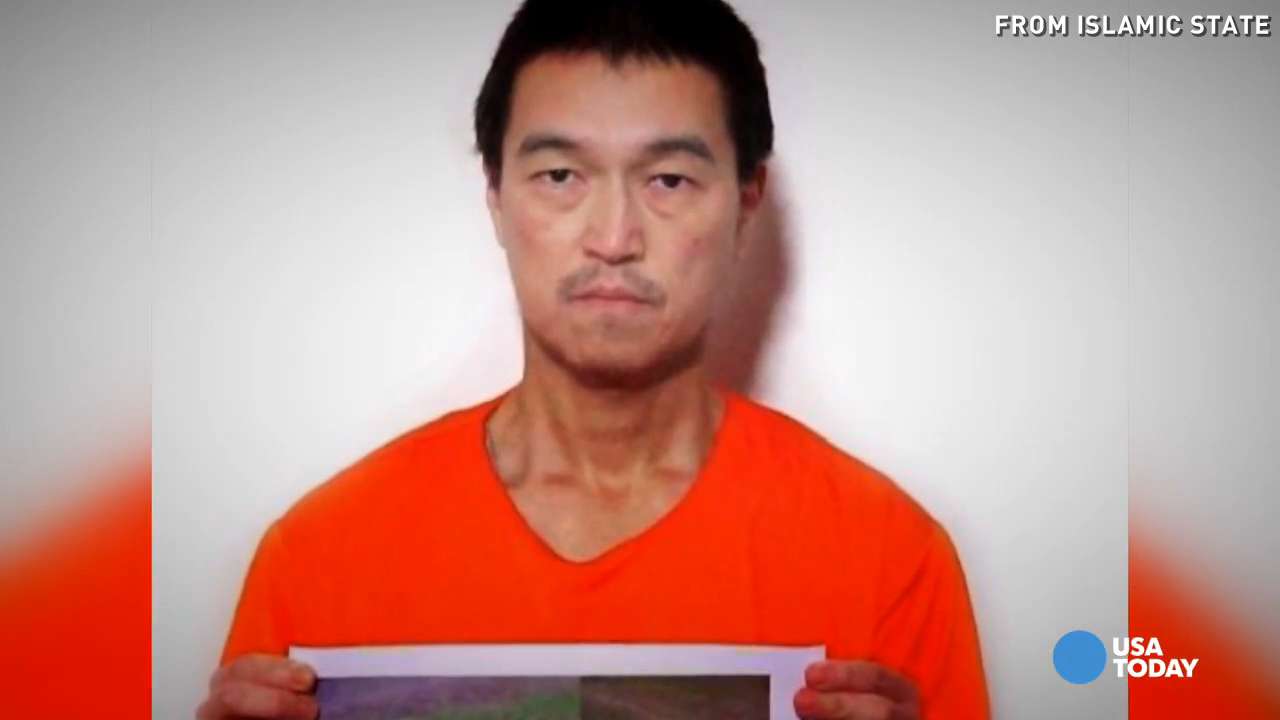 UP NEXT
03
The Islamic State has reportedly released a new video claiming that one of two Japanese hostages has been beheaded. While the Japanese government works to confirm its authenticity, at least one militant claims the message is fake.
VPC
President Obama offered condolences to the Japanese prime minister Sunday after an online video purportedly showed that a Japanese hostage was murdered by the Islamic State group.
The president offered his sympathy and support in a phone call to Shinzo Abe from India, where he arrived for a three-day visit Sunday, the White House said.
A video released by the extremist group — also known as ISIL or ISIS — on Saturday shows Japanese freelance journalist Kenji Goto holding a photo that apparently shows the dead body of the second hostage, Haruna Yukawa.
Abe said Sunday he was "speechless" and demanded Goto's release. He told Japanese broadcaster NHK that the video was likely authentic, though he said the government is still reviewing it. Abe offered condolences to Yukawa's family and friends.
"I am left speechless," he said, stressing he wants Goto released unharmed. "We strongly and totally criticize such acts."
He said the government was still working on the situation, and reiterated that Japan condemns terrorism.
Yukawa's father, Shoichi, said he hoped "deep in his heart" that the news of his son's killing was not true. "If I am ever reunited with him, I just want to give him a big hug," he told a small group of journalists invited into his house.
A statement issued by Obama on Saturday said: "The United States strongly condemns the brutal murder of Japanese citizen Haruna Yukawa by the terrorist group ISIL. Our condolences today are with the people of Japan for their terrible loss." The statement, which calls for the release of Goto and other remaining hostages, did not say how the U.S. knew Yukawa was dead.
Obama says in the statement that the United States will stand "shoulder to shoulder" with Japan. The White House says he also conveyed that message to Abe during their conversation.
French President Francois Hollande said he "strongly condemned the barbaric murder" of Yukawa and praised Japan's "determined engagement in the fight against international terrorism."
Some people criticized Abe's drive for a more assertive Japan as responsible for the hostage crisis.The criticism touched on his push for an expanded role for Japan's troops — one that has remained strictly confined to self-defense under the pacifist constitution written after the nation's defeat in World War II.
About 100 protesters, some of them holding placards that read, "I'm Kenji" and "Free Goto," demonstrated late Sunday in front of the prime minister's residence, demanding that Abe save Goto.
Demonstrator Kenji Kunitomi, 66, blamed Abe as bringing the hostage crisis on himself.
"This happened when Prime Minister Abe was visiting Israel," he said. "I think there's a side to this, where they may have taken it as a form of provocation, possibly a big one."
While in the Middle East, Abe announced $200 million in humanitarian aid to the nations fighting the militants. The Islamic State group addressed Abe and demanded the same amount of money as ransom for the two hostages.
Jun Hori, an independent journalist, bemoaned Abe's directly mentioning the Islamic State in announcing the aid.
Goto's mother, Junko Ishido, was skeptical about the voice on the video claiming to be her son's.
"I'm petrified," Ishido told NHK. "He has children. I'm praying he will return soon, and that's all I want."
Japanese government spokesman Yoshihide Suga said the audio was still being studied, but there was no reason to deny the authenticity of the video.
SITE Intelligence Group, a U.S.-based organization that monitors extremist websites, said the video, which could not be independently verified, had been distributed across several ISIL-linked Twitter accounts. SITE has reported on several Islamic State videos in the past that proved authentic. Kyodo News agency reported the same video had been e-mailed to the wife of one of the hostages
"I am Kenji Goto Jogo," the journalist is heard to say in the video, which was directed at his family. "You have seen the photo of my cellmate, Haruna, slaughtered in the land of the Islamic Caliphate. You were warned. You were given a deadline, and so my captives acted upon their words."
ISIL demanded a $200 million ransom for the release of the two men. The 72-hour deadline passed on Friday. Abe refused to pay a ransom.
In the video Saturday, Goto said ISIL had changed its ransom demand and no longer wanted money.
"Their demand is easier. They are being fair. They no longer want money. So you don't need to worry about funding terrorists. They are just demanding the release of their imprisoned sister Sajida al-Rishawi," he said.
Sajida al-Rishawi is a female suicide bomber dispatched by al-Qaeda in Iraq to attack a hotel in Jordan in 2005, SITE reported. She survived when her explosive belt failed to detonate. Al-Rishawi was arrested by Jordanian authorities at the time of the attack on the Radisson SAS hotel in Amman that killed 57 people, many of whom were at a wedding reception.
She was later shown on Jordanian TV confessing to participating in the attack, the BBC reported. Jordanian police said she was the wife of one of three Iraqi male suicide bombers involved in the assault.
Goto was abducted after entering Syria to search for Yukawa, the 42-year-old founder of a private security firm who was taken captive in August, according to reports on Japanese television.
In an earlier video released on Tuesday, both men were shown wearing orange clothing and kneeling in the desert on either side of a masked militant holding a knife.
Japanese media, citing unnamed officials, reported last week that Goto's wife had received an e-mail in December demanding a ransom of about $17 million.
ISIL has carried out previous threats, posting videos showing the beheading of American hostages James Foley and Steven Sotloff and British hostages David Haines and Alan Herring. Both the U.S. and Britain reject paying ransoms to free hostages.
Contributing: Gregg Zoroya; the Associated Press
0) { %>
0) { %>
<!–
CommentsWrite a Reply or Comment: