My authority on the subject of high winds on British motorways isn't unchallengeable, but I can tell you one thing: how it feels to drive the BMW X1, amid leaves and twigs swirling like the start of The Wizard Of Oz, and wee Fiats and Corsas buffeting involuntarily between fast and slow, like a safety video about lane discipline. It feels good. I felt like a king. It is as solid as a rock, and so poky in its upper ranges that a lesser driver might have hit 104mph without noticing. A hurricane couldn't shift it, with its imposing proportions and quality heft. The sports 20d version – diesel, all-wheel drive, sporty in inception, but with a touch of executive ego-padding in the body roll (don't bump the executive! He is working on his spreadsheet!) – is the one everybody will want. It's got the best automatic gear changes (sharp, exciting, somewhat exhibitionist) I've come across for ages, maybe ever.
In-house, they think of it as an SUV, though it doesn't loom pointlessly above all the other cars and has no bull bars, so it's not for the person with a howling problem of the self, awaiting the apocalypse. Indeed, from the outside, it's not the nattiest Bimmer, possessing neither the frisky sportiness nor the all-weather machismo for which the marque is known. You don't start to see the point of it until you get in and notice the roominess – acres of leg and head space for everyone – and the buttery leather.
A screen peeps out above the steering wheel to beam your speed holographically into the distance. (I've never seen the point of those, except that they are classy.) Every drawer and compartment has a bell or a whistle, whether it's a USB port or a secret drawer for your phone (in that drawer is a picture of a phone wearing a tiny phone-seatbelt, and the whole experience is so plush, so future, that I became convinced there really was a tiny seatbelt for my phone. (That turned out not to be the case, but no matter.)
It isn't cheap; it's not even cheap-for-what-it-is. It could be a lot worse in the consumption, though, with a combined mileage of 57.6, so you don't feel like a complete wastrel. The boot is gigantic: and when you fold down the passenger seats, you could fit another car in there.
This is a vehicle that could insulate a person from life's shocks and shifts, not just literally in the ride and the handling, but figuratively, too. When you're on a seat so solicitous about your comfort that it seems to mould itself to your specific contours, it's hard to imagine anything bad ever happening. Whether this appeals probably depends on whether or not you're ready for the executive life.
BMW X1: in numbers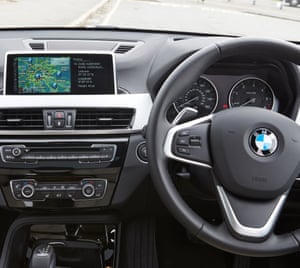 Price £31,900
Top speed 137mph
Acceleration 0-62mph in 7.6 seconds
Combined fuel consumption 57.6mpg
CO2 emissions 128g/km
Eco rating 7/10
Cool rating 6/10